NJDOC Officer's Kindness Makes Impact on Accident Victim
By Matt Schuman, NJ Department of Corrections
Published: 03/14/2016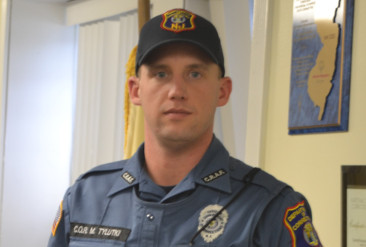 Correction Officer Recruit Michael Tylutki certainly doesn't consider himself a hero. Daniela Bossi, however, respectfully disagrees.

Tylutki and Bossi were total strangers until the early-evening hours of December 23. They were brought together in the aftermath of a three-vehicle accident in Hamilton, NJ.

One of the vehicles involved was driven by Bossi's boyfriend; she was a passenger. Bossi, a senior at Notre Dame High School in Lawrence Township, NJ, sustained a broken right ankle and fibula in the crash.

Shortly after the accident occurred, a vehicle occupied by Michael and Michelle Tylutki and their three daughters – all between the ages of 2 and 5 – passed by. Mom was driving, and Dad was seated next to her, his lap occupied with three pizzas. They were on their way to his mother's house.

"When we came upon the accident, we immediately realized it must have just happened, because there were no EMTs, police or anyone else at the scene," related Tylutki, a member of New Jersey Department of Corrections' Basic Course for State Correction Officers, Class 235. He was assigned to the Central Reception and Assignment Facility (CRAF) after graduating in November 2015.

"Both my wife and I saw that there was someone in one of the cars," he continued, "so I said to my wife, 'We have to stop.' She pulled over."

After exiting his vehicle, Tylutki encountered two males on cell phones who were standing outside the vehicles that had been involved in the accident. He showed them his credentials and asked if everyone was okay. One of the men said that his girlfriend was injured.

Tylutki approached the young woman, who turned out to be Daniela Bossi. At the time, she was still in her boyfriend's vehicle.

"She was pretty upset," Tylutki recalled. "She said that she couldn't feel her right foot and that she had pain up to her knee. Her boyfriend said he'd called 911, so I tried to comfort her until the EMTs arrived. First, I told her not to move her leg. Then I attempted to calm her down. I held her hand, told her the ambulance would be there soon, and everything was going to be alright.

"Here it was two days before Christmas, a cold and rainy night, and the girl is sitting in the car, injured, waiting for an ambulance to come," he added. "Nobody else had stopped. I really felt badly for her."

Once police and EMTs responded, Tylutki provided them with as much information as he could, then returned to his family and proceeded with his plans for the evening.

He assumed that his role in what transpired that evening had been concluded. That assumption proved to be incorrect.

A few weeks later, Tylutki and a co-worker at CRAF were discussing the importance of the Correctional Officer Training Academy's lessons on how to be a first responder. That prompted the 30-year-old correction officer recruit to share his account of the December 23 incident.

"I'm telling him what happened, and he's looking at me real intently," Tylutki remembered. "Finally, he says he has to ask me a question. He asks, 'Did you hold the girl's hand?' I'm wondering if I'd done something wrong, but I said I did hold her hand. He then tells me, 'I read about this on Facebook.'

"I have to say, I was pretty surprised."

Indeed, Bossi had posted her own account of the episode on Facebook. Since she didn't know Tylutki's name, she simply identified him as a correction officer. Bossi's posting also said that she wanted to locate the officer so that she can personally thank him and let him know how much his assistance meant to her.

Once Tylutki's wife also saw the Facebook posting, the couple was able to contact Bossi, who then was able to personally deliver her message of thanks.

"He was like my angel in the moment," Bossi said. "That night, I was in the car, in excruciating pain, and he held my hand, settled me down and got me to stop focusing on what had just happened. Even though I was in agony, he had me laughing. He was awesome.

"I honestly didn't expect to find him, but what I wrote on Facebook got so many shares. Once we reconnected, I was so excited."

Since then, the Tylutkis have regularly checked on Bossi's progress as she recovers from her injuries.

"I grew up having so much respect for law enforcement," Bossi stated. "These days, I know that not everybody feels that way. That's why I want as many people as possible to know what happened the night of the accident. Here was an officer, off duty and with his family, who was willing to help. I can't even express how grateful I am."

Tylutki, who was employed as a butcher before going to work for the New Jersey Department of Corrections, is convinced that there was nothing extraordinary about his actions on December 23.

"What if, God forbid, one of the accident victims wasn't breathing, and nobody stopped?" he said. "My view is, if you are able to help, you should help. I suppose that's why I wanted to work in law enforcement." There was, he admitted, another reason he lent assistance at the scene of the accident.

"I would hope that when my children are old enough to drive, if they're ever in that situation, that somebody would stop," he concluded.

Matt Schuman is a former newspaper report and editor who serves as the Public Information Office for the NJ Department of Corrections. He has been with NJDOC since 2000.
---