New Girl Scout Troop Boosts Confidence Among Daughters of Incarcerated Parents
By Rachel Friederich, Washington Department of Corrections
Published: 03/21/2016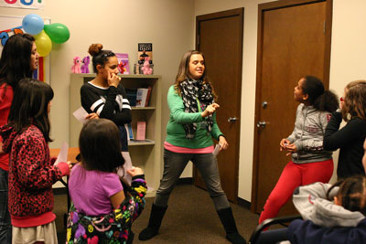 TACOMA – Nine-year-old Patience sat at a table with three other girls and her stepmother, cutting out patches they could attach to brown Girl Scout sashes. They laughed, talked, recited the pledge and learned to fold a flag.

In other words, it's a normal Girl Scout troop. Except the girls here share a secret they generally don't tell others – they all have a parent in prison.

Patience's dad has been incarcerated since she was a toddler.

"After I finished talking to him (her father) on the phone when I was little, I would start to cry because I wouldn't see him very often," Patience said. "All my other friends get to live with their mom and dad and it's hard."

The Girl Scout troop is the result of a partnership between the Washington State Department of Corrections (DOC), and Girl Scouts of Western Washington. They plan to launch a series of "community troops" in western Washington to help girls like Patience gain self-esteem and cope with the tough emotions kids with incarcerated parents often experience.

More than half of the 2.3 million people behind bars nationally are parents to children under the age of 18, according to a 2010 analysis by the Pew Charitable Trust. In Washington state, a 2015 DOC survey showed that 7,917 offenders — or 46 percent of the offender population — reported having one or more minor children.

The community troops are for girls who have a parent in prison, or recently released from prison. In addition to traditional Girl Scout activities, girls have the opportunity to talk with their peers and scout leaders about how incarceration has affected them and their families. The experience is something DOC and Girl Scout officials hope will help build girls' resilience.

"Girls who have incarcerated parents can feel or be viewed by others as having a stigma attached to them," according to Janet Francis, a community corrections supervisor in Tacoma who is part of the team spearheading the effort. "Our troop offers them a place where they can participate in the regular activities of Girl Scouts without fear of judgement or embarrassment by others. They can talk freely about their situations and feelings in an atmosphere of support and understanding."

The community troop, which met for the first time last month at the Tacoma Resource and Opportunity Center, is part of the national Girl Scouts Beyond Bars (GSBB) program. GSBB began in 1992 as a National Institute of Justice initiative. GSBB has dozens of troops across the country. The DOC and Girl Scouts of Western Washington also plan on launching community troops in King and Kitsap counties.

In addition to the community troops, GSBB has troops that meet at Mission Creek and Washington Corrections Center for Women, as well as the Monroe Correctional Complex. These troops are focused on helping girls maintain and strengthen bonds with their incarcerated parent through visits, and allows parents to plan and participate in activities with their daughters.

Amy Graves, a program coordinator for Girl Scouts of Western Washington, says those troops are a way to keep incarcerated parents involved in their children's lives. Distance and or a lack of financial resources are all reasons children may not be able to see their parent in prison, she says, adding GSBB is one of the few opportunities offenders may have to nurture relationships with their children while they're behind bars.

"It's important to maintain that parent-child bond," Graves said. "Our program allows parents to remain in that parent role and help them to be confident in this role."

Rachel Friederich is a Communications Consultant for the Washington State Department of Corrections. She earned her bachelor's degree in communications from Central Washington University. She has worked communications and public relations for various Washington non-profit organizations as well as a reporter at newspapers and radio stations across Washington including The Daily World, Yakima Herald-Republic, and KGY-AM in Olympia.
---