The Ultimate Greening of Floor Care
By Matt Montag
Published: 03/21/2016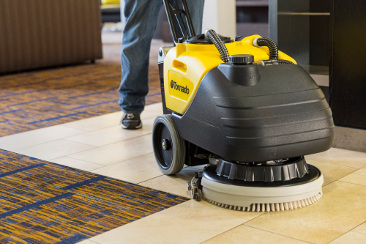 A trend we see happening in professional cleaning is likely to find its way into more and more correctional facilities. That trend essentially focuses on finding new ways to clean and clean effectively using smaller amounts of cleaning solutions or, going all the way, using no cleaning chemicals at all. Yes, you read that right. While chemicals will likely always play a role in professional cleaning, that role is diminishing and expected to be reduced considerably in years to come.

A big part of this is the result of the green cleaning movement, which is now completing its second decade in the professional cleaning industry. The goal of green cleaning is to reduce cleaning's impact on the environment, consequently the reason cleaning chemicals and solutions were developed using safer, less toxic ingredients. But if no chemicals are used whatsoever in the cleaning process, this eliminates essentially all of cleaning's impact on the environment, making the cleaning process what some call, "greener than green cleaning."

So how is this accomplished? First, cleaning tools and equipment have now been developed that perform effectively with fewer or no chemicals. We see this especially with floor care equipment, and because floor care is such a major cleaning task in a correctional facility, let's focus on three examples:
Microfiber, which has become commonplace in the professional cleaning industry, is a perfect example. While the amounts can vary, some cleaning professionals report they use as much as 90 percent less cleaning chemicals when mopping floors with a microfiber flat mop than when they mop with a traditional string mop.
The use of cylindrical brush floor machines. With a rotary brush machine, likely found in most correctional facilities, the machine's pad rotates over the floor. The machine is very dependent on the cleaning solution applied to loosen soils so that they can be removed by the machine from the floor. With a cylindrical brush machine, counter-rotating brushes scrub the floor. The brushes are able to scrub deep into the floor grout and pores with less dependence on cleaning solutions. Typically these machines use about one-third less chemical than standard rotary machines.
The development of "square" or orbital floor machines. These machines use no chemicals whatsoever. Essentially what they do is "sand" off or scrub off soils, contaminants, and finish from the floor. While no cleaning solutions are typically used in the cleaning process, these machines may not prove beneficial when cleaning very large floor areas, as are often found in correctional facilities.
Engineered Water

The floor care products and technologies discussed above are not new. They have been revisited and are now receiving more attention because they require less or no cleaning solution to work effectively. However, a technology that is new and is proving very effective is the use of engineered water for cleaning.

Engineered water essentially means mechanically or electronically converting water into an effective cleaning agent. In its simplest and oldest form it can be the use of vapor cleaning systems. Water is heated to approximately 250 degrees (F) or more allowing it to essentially melt away and eliminate soils on all types of surfaces. Vapor cleaning systems have proven very effective at cleaning smaller surfaces such as counters and smaller floor areas.

Electrolyzed water is a more recent example of engineered water. We find automatic scrubbers using electrolyzed water. Describing exactly how these systems work can be a bit complicated, but basically water that has been electrically charged is used to break down soils. Then, as the floor machine is walked over the floor, it removes and vacuums up the soils and moisture, just as would a traditional scrubber.

However, the big step forward in floor care is the use of aqueous ozone cleaning systems. Ozone is naturally found in the atmosphere. Through the interaction of water and electricity, these systems create aqueous ozone. It is either dispensed from an upright rolling unit, often called a "caddy," or a system can be wall-mounted and attached directly to a cold water pipe, such as that found in a janitorial closet.

Either way, the ozone can be applied to the floor using a flat or traditional mop or used with an automatic scrubber. No rinsing is required, and the ozone reverts back to water and oxygen after use. The effectiveness of ozone as a cleaning agent has been known for decades, however recent tests by the University of Nebraska find that as far as removing germs and bacteria from floors, it can be as effective as the key ingredients found in most disinfectants.

So Why Do We Need to Know This?

I once had a professor that ended many lectures asking, "Why do we need to know this?" referring to his presentation. For correctional facility administrators, why they should be aware of advances in reduced or no cleaning chemical systems is that it helps them green their facilities with little or no impact on effectiveness or health.

It also helps make correctional facilities much more sustainable. When no chemicals are used, we are reducing the amount of plastics and packaging materials used to package cleaning chemicals as well as the need to transport these products around the country. But another reason that cannot be ignored is that these systems can help save money, in fact considerable amounts of money.

Cleaning chemicals typically amount to about 5 to 10 percent of the cost of cleaning. But when it comes to floor care, those percentages can easily double or climb even higher. Using the technologies discussed here mitigates those costs. At the same time they produce a facility that is doing its part to reduce cleaning's impact on health and the environment.

Matt Montag is the Distribution Sales Manager for CleanCore™. CleanCore™ is a cleaning technology that infuses cold water with ozone gas to create aqueous ozone, a natural and robust cleaning solution. He can be reached at mmontag@cleancoretech.com.
---