Why So Much Water?
By Klaus Reichardt
Published: 04/18/2016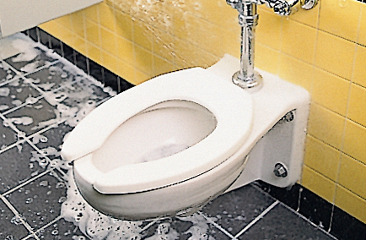 It may be a surprise to some, especially those that have no contact with state or federal prisons, that inmates tend to use more water per person than people who are not incarcerated. Not only is this a surprising fact, it leads to the big question, which is why?

First of all, according to studies in some correctional facilities, each prisoner uses about 120 to as much as 150 gallons of water per day. Compare that to someone outside a correctional facility who uses about 80 to 100 gallons per day.

As to our question, the best answer why those incarcerated use more water is because they can. And they most often take advantage of this capability with the toilets installed in each cell. These fixtures are the "water use problem centers" in a correctional facility. Many inmates use a toilet for far more than just flushing human waste. Their other uses include the following:
They may jam things down the toilet to get rid of them. This could be anything from pages in a book to clothing. In so doing, they flush the toilet over and over to get items down the drain.
Many inmates have no trashcans in their cells. The result is just about anything that will fit gets sent down the toilet.
Some inmates like to get guards' attention – and bother them – by flooding their cells. They may block the toilet so that it overflows creating potentially dangerous situations.
Related to this, flooding their cell is one way to get more time out of the cell, possibly even to be sent to a recreational area.
If a search is planned, inmates often use toilets to flush contraband.
The result of all these actions is a lot of wear and tear on the toilet. If the toilet has been designed to use 1.6 gallons of water per flush, this wear and tear can cause it to use far more water.

Another issue that comes up as a result of this abuse is that many prisons are under pressure – if not mandated, as they are in California – to restrict water use. Further, water and sewer costs are escalating around the country, and correctional facilities must pay water and sewer bills just like everyone else. However, these increasing costs are inevitably passed on to taxpayers, most of whom appear to have little interest in spending large sums to operate prisons.

Fortunately, new technologies are being developed that are helping correctional administrators deal with this toilet situation. For instance, toilets designed to only use 1 gallon per flush have been designed for correctional facilities. Because they are designed for correctional facilities, they are typically better able to handle both use and abuse.

Other systems are designed to monitor water use in each cell. If an inmate appears to be using an unusually large amount of water, these systems allow administrators to turn off water to that cell entirely. Related to this, many prisons now limit or turn off access to water before a search. This saves water and helps prevent contraband from being flushed down the toilet.

While toilets in prison cells are the big water wasters, this does not mean correctional administrators should put all of their energy – and resources – into controlling toilet use. Large amounts of water are used in shower areas as well. Even if the amount of shower time is restricted, ensure that water-conserving heads are installed in all showers. Also, try to prevent inmates from using showers for other purposes, such as doing their laundry. This is not uncommon and activities such as this can result in them stretching out their allotted time and using more water than is typically necessary.

Looking a bit outside the box, one of the easiest and most cost effective ways to reduce water consumption in a correctional facility is to replace traditional water using urinals with no-water or waterless urinals. While water using urinals do not get abused as much as toilets (unless they have flush handles), the fact of the matter is that one urinal can use anywhere from 30,000 to 40,000 gallons of water per year. This huge sum of water is eliminated when a waterless system is installed.

Before taking any steps to reduce water consumption, correctional administrators must investigate if introducing the technologies just discussed or urinals that use no water will not only solve their water consumption issues but also prove cost effective. The technologies mentioned that could help monitor use of toilets, for instance, can potentially be costly. On the other hand, waterless urinals typically cost less than a traditional water-using toilet, but some have far more costly upkeep once installed. This does not apply to all no-water urinals so investigate this before making a product selection.

Further, should administrators decide to adopt any of these technologies, they should try to get as much inmate help with the installation as possible. It helps inmates realize the value and importance of water and why it should be used efficiently, and this becomes a cost savings as well.

Klaus Reichardt is CEO of Waterless Co. Inc, Vista, Calif. Reichardt founded the company in 1991 with the goal to establish a new market segment in the plumbing fixture industry with water conservation in mind. Reichardt is a frequent writer and presenter, discussing water conservation issues. He can be reached at klaus@waterless.com.
---