Instructor Has Been Molding Trainees into Correction Officers Since 2001
By Matt Schuman, NJ Department of Corrections; Photo Credit: Chris Carden
Published: 06/13/2016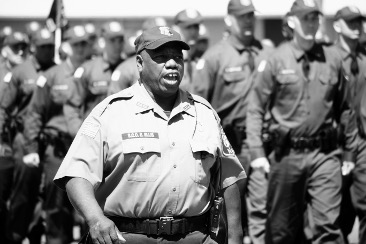 Senior Correction Officer Edward Ellis and his colleagues at the New Jersey Department of Corrections (NJDOC) Correctional Staff Training Academy have long since lost track of how much time they've spent getting trainees to grasp the importance of teamwork. They insist that trainees think in terms of "we" instead of "I."

Unfortunately, it is not an easy lesson to impart.

"I'll walk into the barracks, and a trainee's shoes are [lined up] backwards," said Ellis, a former Army drill sergeant who has served as an instructor at the Training Academy, located in Sea Girt, NJ, since 2001. "Everyone else's shoes are straight," he continued. "Why is that? If we, as instructors, see it, the others in the barracks had to see it, too.

"So we'll mess up everybody's shoes until they understand that they have to come together as a team. Either they're all right, or they're all wrong. It's a matter of making sure they're in the proper mindset before they leave here and get to an institution, because if they're not, that could create all kinds of problems."

Two decades ago, Ellis was learning lessons at the Training Academy, not teaching them. He had recently retired from the Army after 21 years of military service and, after a yearlong stint as an employee at a juvenile detention center, he went to work for the NJDOC.

"We're a paramilitary organization, and after my time in the Army, this seemed like a good fit for me," the 61-year-old Ellis related. "When I went through the Academy, I had instructors who were younger than me." One of his instructors was Wayne Manstream, who is now a major and the highest-ranking member of the Training Academy's custody staff.

"We go back a long way, and it's hard for me to even express how much Eddie has meant to me and to so many others," Manstream said. "He's that guy, the one who everybody goes to in order to get something done. He's almost like the heart and soul of the Academy."

Training Academy Director Guy Cirillo wholeheartedly agrees.

"There are teachers you come across while you're in school that you'll never forget," Cirillo said. "It's no different here at the Academy. If you ask the last 14 or 15 years of recruits their enduring memories of the Academy, Eddie's name will be mentioned over and over again. He'll be one of the common denominators. His impact has been – and continues to be – nothing short of remarkable.

"When I first got here back in 2002, I'd already had quite a bit of experience in the department, but I was in an all-new environment. From the very beginning, Eddie extended his hand to me and let me know that he'd do whatever he could to help. For all these years, I've been proud to call him a friend."

Cirillo is not alone. Men and women throughout the NJDOC cherish their friendship with Ellis.

Ironically, Ellis doesn't believe that making friends is part of his job description. Rather, his focus is to transform trainees into elite correction officers.

"For the first six weeks, we're extremely tough on the trainees," he said. "That's when they might resent us. After the first six weeks or so, we slowly but surely start building them up and emphasizing what needs to be done to become a correction officer. Sometimes, you get a new class, and they look terrible. Yet, they progress, they become motivated, and eventually, it all comes together. You may start with 240 trainees and finish with 180, but those 180 are the cream of the crop.

"It's important to stress discipline, because if they're not disciplined here, they're not going to be disciplined in the prisons," he added. "That said, I always treat everyone the same, and I never disrespect someone as a person.

"Since I've been here, I've helped put two of my son's friends through the Academy, I've put a niece through here and put several children of my friends through. Once they got here, I treated them the same way that I treated the others in the class. I make it a point to be consistent from one day to the next."

Ellis makes sure the recruits understand that correction officers represent the department both in and out of the workplace.

"I tell them that when they get to their institutions, follow the lead of those veteran officers who are interested in teaching and setting a professional example at all times," he pointed out. "The officers who might call you 'rookie' in a disparaging manner or play games that could jeopardize your safety aren't the ones you want to follow.

"I also let them know that the job doesn't end when you leave the institution. If I walk into a store and encounter an officer I helped put through the Academy, and he looks terrible, it's not just me who notices. To the public, that person might as well be the face of Corrections. That's why we, as Corrections professionals, need to convey a positive image at all times."

It was a lesson that Jason Franks, an officer at the Central Reception and Assignment Facility in Trenton, NJ, and a member of Class 235, remembers well.

"One of the many things I learned from Officer Ellis is that it doesn't only matter what you do when someone is watching," he said. "It also matters what you do when no one is watching,"

Ellis is proud of the fact that his value system was largely formed during his years in the military, where he received a Bronze Star for valor, denoting participation in an act of heroism involving conflict with an armed enemy. The incident for which he was recognized took place during Operation Desert Storm.

"At the time, large numbers of Iraqi soldiers were surrendering to our platoon and others," Ellis recalled. "We'd take their weapons and confine the soldiers. Anyway, these two Iraqi soldiers acted as if they were surrendering, but they were behaving strangely.

"We had two soldiers – our point men – approaching them to get their weapons, but it just didn't feel right, so I called our soldiers back. As soon as I did, the two Iraqis opened fire on us. It turned out that they were waiting for our point men to get close enough so that they could shoot them."

The split-second decision Ellis made saved the lives of at least two members of his platoon.

"It's like I tell the trainees, being part of a team means having each other's backs," he stated.

Said Cirillo: "It's a privilege for those of us at the Academy to be able to say Eddie Ellis is the backbone of what we do."

Members of the Training Academy staff recently spent a few weeks in a prison setting to make certain they were as familiar as possible with the operations of the facilities. Like most of his colleagues, Ellis enjoyed his stay, but he got the impression that some of his co-workers at the prison were rather uncomfortable.

"As soon as I arrived, people were asking me why I wasn't at the Academy," he said, chuckling. "It was as if everyone thought the Academy is where I belong."

Precisely.

Matt Schuman is a former newspaper reporter and editor who serves as the Public Information Office for the NJ Department of Corrections. He has been with NJDOC since 2000.
---