Inmates Find Peace through Symphony Music
By Rachel Friederich, Washington Department of Corrections
Published: 07/11/2016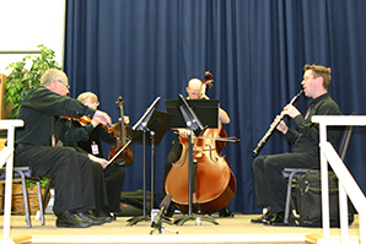 MONROE – A violinist from the Seattle Symphony swayed back and forth, his bow flying over the strings. Four other musicians joined in on viola, oboe, clarinet and bass, their notes coming louder and faster.

The music flowed through the Washington State Reformatory's chapel for more than an hour on May 17 as more than 40 inmates listened, entranced, to pieces by Mozart, Couperin and Prokofiev.

"I like to be drawn into the music and I let it take me where it wants to go," said Bill Joice, a 62-year-old inmate who is serving 31 years for murder charges. "It's not someplace here, it's somewhere in the music."

The Seattle Symphony began playing the Monroe Correctional Complex (MCC) north of Seattle, about five years ago. The first performance was by a string duet, followed by an interactive question-and-answer workshop with musicians and inmates. It was so well-received, the symphony decided to hold more performances at the prison.

The concert was part of the symphony's Community Connections project, which brings music to underserved members of society by allowing its musicians to perform for social service groups and non-profit organizations.

The performances make the musicians feel appreciated for their work and give them a better understanding of the criminal justice system, said Thomasina Schmitt, community engagement manager with the symphony.

"A lot of them have a perception of what prison is and they go and discover it's filled with people who have goals and talent," Schmitt said. "They (inmates) may have made some bad choices, but it doesn't mean they can't get their lives back on track."

Steve Bryant, a violinist in the symphony, told inmates said he's played music at the opening ceremony at the 2000 Olympics in Sydney Australia, as well in a concert at the Grand Canyon, but says playing at a prison is unique because he gets a chance to interact the audience.

"Hearing composers and what they wrote, is a pinnacle every day, but having a concert here, and to be able to communicate with you in this intimate setting, what could be better than that?"

Since 2011, the symphony has held performances at the Twin Rivers Unit and Washington State Reformatory at MCC. It's also performed at the Washington Corrections Center for Women in Gig Harbor last fall.

Prison and symphony officials say listening to music has a positive impact on inmates.

For inmate Ryan Risner, listening to the symphony reminds him of his Native American heritage. He said in his culture, he often uses songs and the sounds of nature to tell stories.

"Music to me is like telling a story," said Risner 49, who is serving a 23-year sentence for two rape charges and stealing a car. "In Native culture, you listen to the forest and the noise you hear is the wind and the animals … With music, I can go within myself and be at peace. When you listen to the music composers have written, it tells the stories of who they are. Music comes from the heart."

For others, music provides calmness in what's often a loud, stressful environment.

"It's so nice to get away from it all, there's no guys telling me how bad their day was," said Dwayne Bender, who is serving a life sentence on an aggravated murder charge. "There's no gloom and doom. It's a peaceful experience."

Bender said listening to music often reminds him of the things he used to enjoy before he was incarcerated. Like skiing down a mountain on his snowboard or spending time with family.

"We don't take anything for granted anymore, things in the free world," Bender said. "I don't take my family for granted. Or driving my car. I would love to drive my car again."

Attendance was first come, first serve. Bender had attended a past performance at MCC and was one of the first to sign up to attend over a month ago.

"I was excited to have them come back, lots of guys look forward to it," Bender said. "It's a calming experience. When we're in there listening, everybody's focused and there's no messing around. We don't want to lose this because we don't have a lot of things like this offered. It's a joy for us."

Rachel Friederich is a Communications Consultant for the Washington State Department of Corrections. She earned her bachelor's degree in communications from Central Washington University. She has worked communications and public relations for various Washington non-profit organizations as well as a reporter at newspapers and radio stations across Washington including The Daily World, Yakima Herald-Republic, and KGY-AM in Olympia.
---