Correction Officer Back on Duty After Recovery from Accident
By Minhaj Hassan
Published: 07/25/2016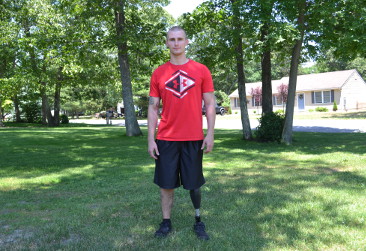 In the weeks following a horrific accident on May 13, 2015, Senior Correction Officer Kyle Hand of Southern State Correctional Facility in Delmont, N.J., wondered just how drastically his life would change.

On that day, a sport utility vehicle failed to maintain its lane and struck Hand, pinning his left leg into the gas tank of his motorcycle. Hand, who had just exited the parking lot of a local fitness center, tried to steer clear of the oncoming vehicle by veering onto the shoulder. But the motorcycle's brakes locked, making the accident unavoidable.

Since the accident, Hand has had 10 surgeries to repair his shoulder, elbow and wrist. Most of the surgeries were successful. However, efforts to save his left leg were unsuccessful, which resulted in the biggest change to his body: the installation of a prosthetic leg.

Hand's physicians tried reconstructing the veins in his left leg, but the leg failed to fight off the persistent infections during the next few weeks.

"The muscles were already infected," he explained. "They basically took 90 percent of the muscle out of my leg."

The doctors presented Hand, who is 24 years old, with two options.

"They said you could either continue to try to fight off the infections, or you could get a prosthetic leg," he recalled.

Hand chose the prosthetic. He said it was a fairly easy decision, especially if he wanted to feel and walk again.

"I would have had a dead foot. If the infection spread, it would have done much more damage," Hand stated. "It would have been easier to walk with a prosthetic than a leg that you couldn't feel."

Despite that accident, Hand was determined to make a full recovery. As his recovery gained speed, Hand had planned to return to his job at Southern State, where he had worked since 2012.

"When I was in the hospital, they projected I wouldn't be home for two months," he said.

In fact, Hand returned home in just one month and attended intensive therapy sessions. Less than a year had passed when Hand returned to work on April 23, working his usual second-shift assignment.

The remarkable recovery earned Hand the facility's Officer of the Year honor. He was recognized at the Policeman's Benevolent Association, Local 105, Awards Ceremony, in Atlantic City, N.J.

"He is unstoppable with this mental strength that he has," the award's statement reads. "Meeting him gives you an overwhelming feeling to never give up and to keep your head up."

Hand's duties remain the same at Southern State, where his father, Oscar, also works.

"I can still do any job at the jail," Hand stated. "I have no restrictions. I wouldn't have been hired back if I couldn't."

Hand pointed out that the recovery process was hardly easy. He worked hard on strengthening and conditioning exercises. He admits to falling a lot while learning to run again.

"I've had my times where I wasn't all there. I was down," he acknowledged about his physical and emotional state.

But Hand eventually regained his optimism. When he reconnected with his colleagues at Southern State, it felt as if all the hard work was worthwhile.

"They were all happy and excited. They wanted me to come back," Hand recollected. "I was very upbeat. One of my bosses joked that the accident didn't seem to change my ego."

Administrator C. Ray Hughes welcomed Hand back to the prison.

"A couple of days following Officer Kyle Hand's return to work, I visited him at his post," Hughes recalled. "As we talked, I noticed the smile on his face, his soft-spoken words and the calmness he displayed. That convinced me he was happy to be back in the environment he loved most ... his job in the New Jersey Department of Corrections."

Major Barbara Rochow admires Hand's resilience and how he hasn't lost his ability to carry out any of his responsibilities.

"It's amazing how brave he is and what a fighter he is, after all that he had gone through," she observed. "His main goal was to return to work. He is doing his job just like everyone else. He is an asset to the department." Hand credited friends and family for assisting in his recovery.

"I had a ton of them come by," Hand said. "I was never alone."

Added his girlfriend, Amanda Dods: "Just watching how quickly he was recovering really inspired me. It got me through that tough period. He is doing a lot better. He has the same schedule he had before the accident." That schedule includes going six mornings a week to the same gym he was leaving when the accident took place.

"At first, we did everything we could to avoid that road," Hand remembered. "But I eventually started driving there again. We (him and Dods) joke about it, probably too much. I guess that's my way of coping."

While putting on his clothes requires a few additional minutes, and he needs to use a seat to take showers, Hand estimates he could do "98 percent" of the things he did prior to the accident. Driving is virtually the same, and he can walk and run without difficulty.

Hand said if he really wanted to, he could start riding his motorcycles again. However, he admitted he has no desire to do so. There also is another reason about his reluctance to return to what used to be his favorite hobby.

"I don't think my parents would be very happy with that," he said.

Still, he and Dods take part in other activities, such as fishing, kayaking and playing basketball.

After the accident and the grueling recovery, Hand knows one thing for sure.

"Don't take anything in life for granted," he concluded.

Minhaj Hassan worked as a journalist before coming to the New Jersey Department of Corrections' Public Information Office in January 2015.
---