Zeroing in on the Write Stuff
By Joe Bouchard
Published: 08/01/2016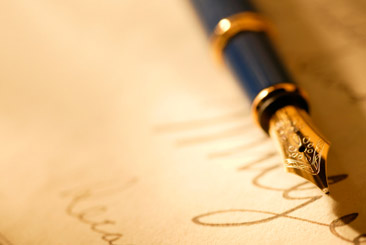 The following is an installment in "The Bouchard 101", a series featuring "Ice Breaker's" designed to promote training awareness and capabilities in the corrections industry.

It is no surprise that some prisoners will compose letters that are unsigned and have no real means of identification. These letters are often sent to staff anonymously.

Prisoners do this for a few obvious reasons. Anonymous letters may be issued to unnerve staff. Or, a prisoner will disguise handwriting and send a security oriented message to send an informant's message without being labeled as a "snitch". (There will be a hit in C unit, for example).

Whatever the reason, it is difficult to uncover masked handwriting. Still, the identification of the writer may be important in order to obtain more information or to secure a potential threat to the order and security of the institution.

There may be official hand writing comparers in the institution. There may be others untried who have a natural talent for this. Zeroing in on the write stuff is an icebreaker that can hone the skills of seasoned handwriting comparers and inspire would-be script sleuths. This is how it works:
Three students write the following phrase in block, cursive, print, and with non-dominant hand in any style. So that would be four different styles of writing on three separate pieces of paper.


"The quick brown fox jumps over the lazy dog"

Each of these is given a different name or number as identification. These are the three known samples from three suspects.
One of those three writer composes a short letter in natural handwriting or printing – whichever is the natural way that person writes.
This letter is written in secret so the class does not know the identity of the unidentified letter.
The short letter should be like this: "There is metal in the level two on the north side. Lots of people will be hurt. The dude with the shank is going to hit staff then convicts that work in the kitchen. I ain't telling you who wrote this because I don't want to get hit."
Four comparison teams are assembled. They should be small, as to not put too many cooks in the kitchen.
Four teams are given a photocopy of the three samples. They find and highlight similarities of the anonymous letter as compared to the known samples.
The four teams use the yellow highlighter to mark the similarities between known samples and the letter in question.
The teams write the similarities on a separate piece of paper and present their findings at the end of the exercise.
A valid answer to this is "INCONCLUSIVE" of "AUTHOR UNKNOWN".
At the end of fifteen minutes (unless it is solved earlier) the first team to identify the letter is declared the winner.
While the four teams work in a separate area the rest of the class is questioned about elements to look for. The question is: What should you focus on when comparing known writing samples to an anonymous letter? Participants are welcome to come to the marker board to illustrate their ideas. Some of the elements that you may hear are:
Letter sizes
Darkness of script
Odd things like underlining
Text talk
Emoticons
Slant
Grammar and spelling errors
Use of capital letters in mid word
Handwriting comparison skills can help provide evidence to secure an otherwise unsecured threat. When clues are in (with an adherence to due process and the prisoner discipline policy) the facility will be a safer place.

Joe Bouchard is a Librarian employed with the Michigan Department of Corrections and a collaborator with The International Association of Correctional Training Personnel (IACTP). He is also the author of "IACTP's Corrections Icebreakers: The Bouchard 101, 2014". The installments in this series include his opinions. The agency for which he works is not in any way responsible for the content or accuracy of this material, and the views are those of the contributor and not necessarily those of the agency. While some material is influenced by other works, all of the icebreakers have been developed by Joe Bouchard.

Visit the Joe Bouchard page

Other articles by Bouchard:
---