Why Disinfectants May Not Protect Inmates and Staff
By Robert Kravitz, President AlturaSolutions
Published: 08/15/2016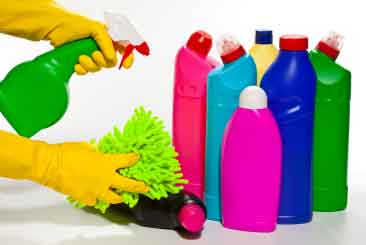 According to an article in The Atlantic magazine, "the penal system [in the United States] remains a source of diseases that spread among prisoners at rates far exceeding those in the communities from which they came. Of more than 10 million incarcerated people in the U.S. alone, 4 percent have HIV, 15 percent have hepatitis C, and 3 percent have active tuberculosis."[1]

While many of these diseases are sexually transmitted, blood transmitted, or drug-related, others can spread through cross-contamination – a prisoner touching a contaminated surface and then touching their eyes, mouth, nose, or food. This can be true of tuberculosis as well. While the bacteria that causes "TB," as it is more commonly known, is airborne and spreads from one person to another by inhaling the bacteria, it can also spread to surfaces when someone sneezes, spits, or coughs. Once again, once someone touches these surfaces, cross-contamination can occur.

For many correctional administrators, the way to address infections that are spread via contaminated surfaces is to step up the use of EPA-registered disinfectants. "EPA-registered" means the disinfectant has been tested and approved by the U.S. Environmental Protection Agency.

However, this alone will not address the problem. In fact, it may not kill the bacteria and germs causing infections at all. The problem is that many administrators, as well as members in the professional cleaning industry, are not using disinfectants properly.

Here is the problem in a nutshell. If a surface is contaminated with pathogens that can cause disease, the surface must be cleaned first, before the disinfectant is applied. In other words, it's a two-step process. According to the EPA, here is the reason for the two-step process:

"Germs can hide underneath dirt and other material on surfaces where they are not affected by the disinfectant. Dirt and organic material can also reduce the germ-killing ability of some disinfectants."[2]

The first reason – germs hiding underneath dirt and other materials – is easy to grasp. The second point – that the germ-killing ability of the disinfectant is reduced when applied to a soiled surface – may be harder to understand.

The reality is that all cleaning solutions, from all-purpose cleaners to sanitizes and disinfectants, tend to lose their effectiveness as they are used. What often happens is that the cleaning cloth used to apply the disinfectant absorbs some of the disinfectant, and as the cloth gets soiled, the disinfectant mixes with those soils. When that happens, its effectiveness at killing germs is reduced.

This explains why surfaces should be cleaned first and then disinfected. And some public health officials take this even further. For instance, the Food Standards Agency, which serves Scotland and the United Kingdom, suggests two more steps are necessary. After cleaning a surface, it should then be rinsed, and then after disinfecting, it should be rinsed once again. The reasoning: cleaning solutions often leave a chemical residue on surfaces. This residue can act like a magnet, pulling more soils and pathogens to the surface.

Now that administrators are better aware of the importance of using disinfectants properly, how can we convey this information to correctional custodial workers or inmates with cleaning duties? The first step is education and more specifically, conveying why the two- (or four-) step process is necessary. Expect some reluctance from cleaning workers to get on the two-step bandwagon. Obviously, this procedure will add to their cleaning time. But if the reasons are conveyed effectively, it should overcome objections.

The next step is to look for cleaning alternatives. For instance, some schools and office buildings are now using what are called aqueous ozone cleaning systems. These machines use the power of ozone, mixed with water, to clean surfaces. This is a fast cleaning process, which can address the time issue just mentioned. But the other benefits of aqueous ozone are the following:
It does not leave a chemical residue
It is safer for users and eliminates concerns about inmates drinking potentially toxic chemicals
It is environmentally safer because no harsh cleaning chemicals are used
Using aqueous ozone on a regular basis can effectively remove pathogens, which can potentially make using a disinfectant unnecessary.
We should also note, as part of the education process, that custodial workers or inmates performing cleaning tasks must learn to read the labels on all cleaning solutions but especially disinfectants. For instance, do you just spray it on and wipe or does the disinfectant have to remain on the surface for a few minutes before wiping? Is it diluted 5:1 (five parts water, one part chemical) or 3:1? Is it designed to kill the pathogens of concern?

All of these questions and far more are answered on the product's label. Make reading product labels your first move in protecting the health of correctional facilities.

Robert Kravitz is a frequent writer for the professional cleaning and building industries.

[1] "Mass Incarceration Is Making Infectious Diseases Worse," by James Hamblin, The Atlantic, July 18, 2016. [2] "Available from the U.S. Environmental Protection Agency" https://www.epa.gov/sites/production/files/documents/ece_curriculumfinal.pdf.
---