Community Supervision Officers Assist Injured Woman
By Rachel Friederich, Washington Department of Corrections
Published: 08/22/2016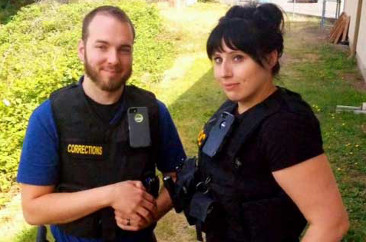 LAKEWOOD — Two community corrections officers with the Washington Department of Corrections recently helped rescue an injured woman on the side of a busy street in Lakewood.

Officers Jonathan LeFaive and Erika Toth were driving around the city, making contact with people under Department of Corrections community supervision, when they noticed a woman on the ground in a fetal position.

LeFaive, who spotted the woman at about 1:30 p.m. June 16, said he stopped because "the way she was slumped over, her position was just weird."

Toth said she thought at first the woman might be dead. When they got out of the car and approached, they saw that she had two disposable electrocardiogram (EKG) patches attached to her chest and blood running down her arms from having yanked out an IV tube.

When Toth checked on the woman's condition, she opened her eyes and tried to get up a couple of times, but kept falling down. Toth talked with the woman and discovered she was a patient at St. Claire Hospital and had somehow walked out of the facility on her own before collapsing on the sidewalk.

LeFaive called 9-1-1 for an ambulance. As they waited, Toth tried to keep the woman calm and prevent additional injuries by keeping her seated and as still as possible away from the roadway. Paramedics arrived and took the woman back to the hospital.

"I'm proud of both Jon and Erika and believe all staff within the community corrections division have this same intention of assisting the communities they help to protect," said Community Corrections Supervisor Matthew Goebel, who supervises LeFaive and Toth. "They could have easily driven by, but took the time to help."

Toth said the incident is an example of the many things corrections professionals do that the public doesn't often associate with the career.

"A lot of people think the DOC just puts handcuffs on people, but that's not all we do," Toth said. "We're helping people in the community, too."

Rachel Friederich is a Communications Consultant for the Washington State Department of Corrections. She earned her bachelor's degree in communications from Central Washington University. She has worked communications and public relations for various Washington non-profit organizations as well as a reporter at newspapers and radio stations across Washington including The Daily World, Yakima Herald-Republic, and KGY-AM in Olympia.
---