From Prison to Goat Cheese Bruschetta
By Andrew Garber, Washington Department of Corrections
Published: 09/05/2016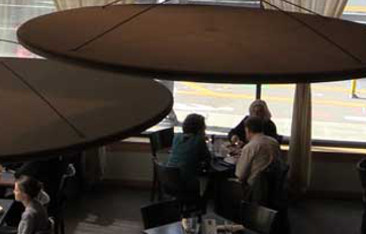 Seattle may have one of the hottest labor markets in the country, but Tim still feels lucky to have a job.

Any job.

And with good reason – Tim spent 10 years in prison. As he put it, "Trying to get out and get a job as a felon is tough."

After his release in 2014, Tim eventually landed a good job at a local bakery. But he gives full credit to an unusual program in downtown Seattle, called FareStart, which helps disadvantaged people turn their lives around.

It does so through food.

Located inside an old building that was converted into a modern, airy restaurant with high wooden beams, FareStart trains people how to prepare and serve high-end meals.

Each day, up to 200 people come into the restaurant for lunch to enjoy delicacies such as goat cheese bruschetta, curry lamb cannelloni and green tea crème brulee. Expansive windows let diners see the food being prepared by white-smocked students inside a gleaming kitchen.

Founded more than 20 years ago to help the homeless, FareStart recently partnered with the Washington state Department of Corrections, DOC, to see if it could also help people coming out of prison.

Megan Karch, FareStart's chief executive officer, said it's been a success, noting that more than 90 percent of all FareStart's graduates find jobs. "They are making competitive wages. They're getting housing. They are getting their lives back," she said.

Stranger in a Strange Land

Tim was the first to enroll in FareStart's 16-week program as part of the new partnership with DOC.

He didn't want to discuss his crime, use his last name, or talk about his current job at a local bakery because of the stigma attached to serving time in prison. The reticence is understandable. Nationally, surveys indicate as many as 75 percent of people are jobless up to a year after release from prison.

Tim is a fit, 57-year-old Washington native with a touch of gray in his dark hair and arms made powerful from hard work.

He seems both streetwise and vulnerable as he describes his experiences.

He talks, for example, about living in a big city after spending 10 years inside prison. Things most of us take for granted could seem strange and scary to him.

"The street lights are a big one. It sounds weird, but when you're on the inside, traffic is all one way because it's all (prison) movement. But out here, everybody goes everywhere. And there are so many lights. The shadows will be here, and here, and here," he said pointing at the ground. "It's like, who the heck is jumping me."

Even making basic decisions was hard at first.

"Suddenly you go from a place that's confined, but there are rules about everything. Rules about using the bathroom at night and how you can do it. How many people go at one time. Then suddenly there are no rules. Now what do I do? Where do I go? What do I do? There's nobody around to tell you."

Healing House

That's where FareStart came in, providing the support he needed to navigate a suddenly unfamiliar world.

Joan Curvey, a life counselor at FareStart, works with clients like Tim and guides them through the 16-week program.

"FareStart, I call it a healing house," she said. "Where you can really come and start the process of sorting things out. We have everything in place for you. We have professional counselors, we have employment counselors. If you need shelter from the streets, we support you."

Then there's the food.

In addition to preparing meals for customers each day, students and staff gather in a common room each day to eat together. They joke about the "FareStart 15," referring to how many pounds many of them put on after enrolling.

Wayne Johnson, FareStart's executive chef, said the meals add something special.

"Food feeds the soul," he said, recalling big Thanksgiving dinners he attended as a child and the special memories they created. "I think the food helps them remember. It helps them be soulful, thoughtful and caring."

75 Pounds of Carrots

That's not to say everything is easy.

Tim, for example, recalls the first day he walked into FareStart, after taking a bus to Seattle from prison.

"The first day you come in and they show you all the knives and they say, this is a chef's knife. The next day they give you 75 pounds of carrots and say chop them up."

It's a lot of work, but Tim said those types of chores also force students to work as a team and communicate with each other, FareStart staff and customers.

It's practice many people need getting out of prison, he said.

Tim recalled a team building exercise where he and other students stood in a circle and had to lower a Hula Hoop waist high using only their fingers.

"We had arguments and actually fighting about how we were going to lower it all together. Can we do it? We never made it. Our circle couldn't get it done. But that kind of contention brings home the differences between people."

Over time, Tim said, everyone learned to get along. They cooked together, ate together. Gained weight together.

Then, all too soon, the 16 weeks are up and it's time to find a job.

Tim remembers calling restaurant after restaurant looking for work.

"I had a lot of no's. 'Felon, no. Felon, no, Felon, no.' It just got to the point where you'd call up and say, 'well I'm a felon are you guys hiring felons? I'm not going to go through all the rest of the crap.' "

FareStart, however, has a deep network of contacts and found him a job at a restaurant near the stadiums washing dishes. Tim proved he was reliable and a hard worker. FareStart kept in touch and later found a higher wage position at a bakery.

He seems happy now. Even optimistic.

Tim said he's in a far different place now than when he first got out of prison.

"If you've been down for a while, you know that nobody out there gives a hoot and heck about whatever you've got going on. Nobody really cares. Nobody is going to give you nothing," he said. "Your whole way of thinking changes while you're inside.

"To develop the ability to start thinking rationally, you need some time. You need some help. FareStart gives you a chance."

Andrew Garber has more than 30 years' experience as a reporter at daily newspapers in South Carolina, Florida, Maine, Idaho and Washington. He spent 14 years at The Seattle Times with most of that time as a statehouse reporter covering the governor's office, the Legislature and state government. He joined the Washington Department of Corrections in March 2015.
---