What the hell is in that cell?: Adhesives
By Joe Bouchard
Published: 08/22/2016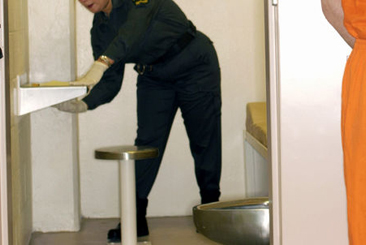 Imagine your life without tape, shoelace, Velcro or staples. These items always seem to be around. In their absence, when need is great, one might think, "My kingdom for a staple!" These are useful and often overlooked inventions.

Scarcity of resources is a fact of life for prisoners. Quite simply, offenders are in circumstances that do not allow for their possession of many items. Things that adhere are often on the forbidden list. Staples, tape, and Velcro are contraband in most jurisdictions.

Agents of adhesion are not usually what comes to mind when one thinks of contraband. But, they are tools that help conceal forbidden items. A cell phone taped under a locker serves as an example. A shank or razor that is hidden on the underside of a table with adhesive bandages is another. Notes containing information about staff or escape plans "glued" between pages in a book is yet another example of the dangerous utility of stick substances in the hands of some offenders.

Staples, paperclips, and tape are generally forbidden in the hands of prisoners. Still, staff have these items in their desks and work stations. So, they are just a diversion away for the prisoner. Offenders assigned as a clerk in the library, office, or warehouse have access to these items, especially if staff are complacent.

Staff must monitor the many uncommon uses of other items not normally thought of as fastening agents. Here is a short list of adhesives at the fingertips of enterprising offenders:
Adhesives can also come in the form of items that one can normally buy in the commissary. Toothpaste is a good sticky agent.
Glue from envelope flaps also works well to join things.
Things that are thrown away by staff are fair game in the mind of the contrabandist. Some prisoners will dive in the garbage in order to retrieve gum.
Caulk from the windows can form an effective seal between pages.
Naturally produced elements such as semen, mucus or blood can be used as fasteners. As sickening as it seems, necessity is the mother of invention in many cases. This is a reminder of the omnipresence of other potentially infectious materials in the corrections setting.
Contraband in the form of adhesives is often overlooked by staff. It is like the story of a person who smuggled wheelbarrows across a checkpoint in Berlin during the Cold War. The soldiers at the checkpoint diligently searched the dirt as the wheelbarrow was pushed one way. Returning the other way without the wheelbarrow was not questioned. The person was smuggling the wheelbarrows.

Sometimes the tool is another part of the contraband. Common fastening items are so ordinary that staff forget their utility. They are, in effect, hidden in plain sight. Staff must think like contrabandists in order to take these subtle and effective items out of circulation.

It behooves staff to check their agency's prisoner property policy directive and contraband control policy directive. This will surely help mitigate the peril in everyday, yet overlooked contraband like adhesives.

Joe Bouchard is a Librarian employed with the Michigan Department of Corrections and a collaborator with The International Association of Correctional Training Personnel (IACTP). He is also the author of "IACTP's Corrections Icebreakers: The Bouchard 101, 2014". The installments in this series include his opinions. The agency for which he works is not in any way responsible for the content or accuracy of this material, and the views are those of the contributor and not necessarily those of the agency. While some material is influenced by other works, all of the icebreakers have been developed by Joe Bouchard.

Visit the Joe Bouchard page

Other articles by Bouchard:
---