Proper Hand Protection to Prevent Infection
By Vicky Adams
Published: 09/19/2016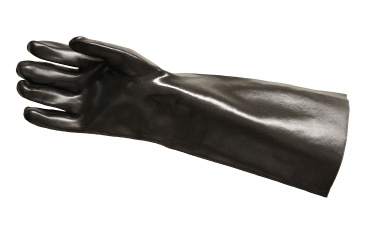 As correctional administrators know, the crowded – often overcrowded – conditions in many correctional facilities make it a perfect environment for the transmission of infectious diseases. These problems are made worse because some inmates are already sick with an infectious disease upon entering a correctional facility, and many have transferred from one or more facilities, making diagnosis of disease more difficult.

Plus, many inmates have limited access to clean laundry or soap and water, and they may not properly wash hands or wash them as often as they should. This also increases the possibility of infection, not only for inmates, but also for administrators and staff working in the facility.

The result is that protection from infectious disease is a major challenge for correctional facilities. For administrators and staff, the best things they can do to protect their own health is to wash hands frequently and properly and wear gloves as much as possible.

Handwashing

Unfortunately, many correctional facilities lack adequate facilities for proper handwashing. Because of this, hand sanitizers should be available to all correctional staff. The proper way to use a hand sanitizer is to squirt the sanitizer into the palm of one hand and then rub the hands together.

That's what most people do, but what they often forget to do is to also rub the sanitizer thoroughly over fingers and, most importantly, under fingernails. To use an old real estate term, view the area under the fingernails as "location location" for germs and bacteria.

However, a sanitizer does not replace handwashing. It only kills germs and bacteria on the hands at the time of use and does not remove soils. Because of this, resoiling of the hands with germs and bacteria can happen very quickly. This is why hands must be washed frequently and properly.

These are the steps to wash hands properly:
Wet the hands first with warm water.
Apply liquid, bar, or powder soap.
Rub hands together vigorously for at least 20 seconds.
Wash all areas of the hand, including the backs of your hands, wrists, between fingers, and under your fingernails.
Rinse well.
Dry your hands with a clean or disposable towel (electric hand dryers are not recommended).
Turn the faucet off with your towel and use a fresh towel to open or close restroom doors.
Gloves

Gloves used in the workplace are referred to as personal protective equipment (PPE). And that is exactly what they are. Work gloves are designed to protect your hands not only from germs and bacteria but also from acids, chemicals, peroxides, oils and fuel, solvents, and a host of other items that can injure the hand or result in the transfer of contaminants.

We have to understand, however, that not all work gloves are designed for the same purposes. This is very important to know because some workers will select any work glove and assume they are protected from different elements. This may even cause them to feel emboldened to take more risks. But if the wrong glove is being worn, a serious injury or health risk may result.

While staff working in a correctional facility will likely not need to wear gloves such as those used in an industrial location, there are certain types of gloves they should be wearing while working in a correctional facility. What differentiates one glove from another is the material used to make them.

Based on the tasks they perform each day, here are the three types of gloves that correctional staff should wear:

Latex gloves. Latex is a natural rubber. These gloves are often referred to as "general use" gloves because they can be used for a variety of tasks when cleaning, in food service, or, because they are usually so comfortable, for day-to-day tasks. While they will help prevent the wearer from infectious disease, a problem with latex gloves is that over time, they may develop tiny punctures that are difficult to detect. This would allow contaminants to work their way onto the user's hands. Also, some people are allergic to latex.

Nitrile. This is a synthetic, latex-free material. Nitrile gloves are also considered a "general use" glove and will help protect the hands from infectious materials. It is easier to detect punctures or tears with these gloves. Additionally, nitrile is stronger than latex, making it more likely punctures and tears will not occur.

Neoprene and PVC. These are two different materials, often used in industrial settings, but can also prove beneficial in a correctional facility. Neoprene is most effective when working with acids, alcohols, fuels, and other types of hazardous materials. PVC, which stands for polyvinyl chloride, offers similar protection, but these gloves boast better resistance to tears, cuts, and abrasions – which means they may hold up longer.

We should also note that often it is more protective to wear a glove that covers more than the hand, but also the wrist and the lower part of the arm. Such gloves are typically about 12 inches long so that, for instance, if someone is working with chemicals, there is less likelihood that spills or splashes from those chemicals will reach skin above the hand.

Staff working in a correctional facility know they are in a tough environment. However, without taking steps to protect their hands, they may be more at risk than they realize. Proper hand care is essential in many workplace settings. In correctional facilities it can mean the difference between an outbreak of infectious disease and a safe and healthy workforce.

Vicky Adams, is Senior Category Manager, Safety and Gloves, at Impact Products. Impact-Products makes a wide-range of work gloves and related PPE gear for all types of work settings. Vicky can be reached by email at vadams@impact-products.com.
---