Courtroom Security, Maintaining Control of our Inmates
By Gary York
Published: 09/26/2016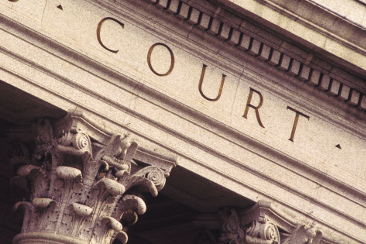 Acts of Violence


With the recent turn of events involving escapes by jail inmates during courtroom appearances, I feel the need to discuss courtroom security. Recently in Florida a murder suspect was in court and bolted right out of the courtroom after receiving help from his girlfriend and three other people. Everyone involved in aiding the escape was arrested and the escapee was recaptured days later. Just one week later at the same courthouse another inmate managed to obtain a Deputy's handcuff key. After a massive search the key was found in the possession of an 18 year old inmate who was not the original suspect. The original suspect was an inmate in a wheel chair. Incidents of this nature cause great embarrassment to the agency and to the sheriff.

The worst recent courthouse news this year was the incident in a Michigan courthouse involving two bailiffs who were fatally shot by a jail inmate during an attempted escape. The inmate was handcuffed in the front and was able to obtain one of the bailiff's weapons during a fight that broke out among inmates in one of the court holding units.

We must not forget the Fulton County courthouse murders that occurred in Atlanta, Georgia on March 11, 2005. Inmate Brian Nichols was escorted by one deputy to attend court for his rape trial. Nichols badly beat the deputy and took her weapon. Nichols used the weapon to shoot and kill a judge, the court reporter and a deputy. He then escaped the courthouse. Two days prior to this incident Nichols was caught hiding two homemade knives at the jail. Brian Nichols or someone like him could be in your courtroom!

On April 19th 1995, Timothy McVeigh, bombed the Murrah Federal Building in Oklahoma City. McVeigh rented a Ryder truck and carried a bomb made up of several chemicals he put together with a fuse. He parked the truck in a drop zone under the federal buildings day care center, lit the fuse, exited the vehicle and headed for his get-away vehicle. The rest is sad history. Timothy McVeigh or someone like him could be in your courtroom!



Purpose


The purpose of courtroom security is to protect everyone. The judicial staff, court employees as well as the public need to feel safe inside the courthouse. In this day and age of increased threats to public safety, general court security measures remain a prudent necessity. We must protect the integrity of the court proceedings and sustain the rights of individuals before the court. We must deter those who would take violent action against the court or its participants and sustain the decorum of the court. Bailiffs must ensure the safety and dignity of the court is never compromised.



Prevention depends a lot on visibility as well as good communication


Prior to the start of the business day bailiffs should have already conducted a security check of the courthouse and courtrooms by searching all areas for anything out of the ordinary such as weapons, abandoned articles, or drugs. Some agencies use K-9 teams periodically for these searches. Alarm checks must be conducted prior to court as well as phone and radio communications checks. All inmate holding cells must be searched prior to any inmate entering the cells. Cameras in holding cell areas and courtrooms need daily inspections as well. Each bailiff team must communicate by keeping eye contact with each other and visually surveying the courtroom. A plan of action between bailiffs working together in a courtroom should be discussed daily and coordinate signals to ensure security in the courtroom. Know who is going to be in your courtroom for court. Review the docket and see what type of inmates you will have appearing before the judge. Are these inmates escape risks, dangerous inmates with a prior history of violence, or do they have mental health issues? These are all inmates that you can coordinate with the court clerks and your judge to have called first in order to get them out of your courtroom and back to the court holding cells. Remember the longer they are in your courtroom the more chance of an incident occurring. If any factor regarding an inmate or a street case gives you reason to believe a problem may occur then notify your supervisor immediately that you will need additional assistance in your courtroom. Better to be safe than sorry and always be ready for the unexpected!



Positioning


Always position yourself so you can see all entry and exit doors. Make sure when you visually survey the courtroom you can see the Judge, court clerks, jury panel and the gallery with visitors and street cases. You must also keep eye contact with your bailiff partner so you both know the others location. Two bailiffs working in harmony will create a safer environment and a quicker response to an emergency. It is very important that you have your "head on a swivel" in order to be prepared for unknown dangers. What may seem like a calm environment can explode without warning.



Major Reasons for the Increase in Courtroom Violence


There are several issues associated with courtroom violence and one of the leading causes is emotional distress associated with divorce cases. A vast majority of emergency response calls are due to family members from opposite sides arguing, such as a new spouse arguing with the former spouse. The emotions run high in divorce court and domestic violence court. It is a good idea to add additional bailiffs in these areas to help prevent violence. Special needs defendants such as persons with mental health issues often become disruptive due to fear, stress and the overwhelming feeling of being attacked even though they are not in any danger. Crisis intervention training with courtroom scenarios should to be taught to bailiffs to help with handling defendants with mental health issues. Anti- government defendants such as "Sovereign Nation" have become a big issue in courthouses across our country. They do not believe they fall under our laws and they do not have to follow our courthouse security procedures. Gang members in the courtroom supporting other gang members or family members causes a need for heightened security and extra support staff during trials. Many fights have broken out in court due to gang violence. No matter what the case may be, never underestimate any defendant or anyone entering your courtroom. Any day may be the day someone is planning to escape or harm someone in your courtroom.



Activities That Hinder Good Court Security
Safety first / No person shall enter the courthouse holding cell areas with a weapon
Do not turn your back on the courtroom audience and laugh or talk with the clerks
Do not text on your phone and not pay attention during court
Do not work on your laptop during court proceedings, security first!
Do not eat in the courtroom it looks very unprofessional and we do not allow others to do this.
Do not sleep in a courtroom, no matter how boring some trials may be this is a big deal. Call for relief if you cannot stay awake or stand-up.
Never give advice to anyone regarding legal issues. Bailiffs are not attorneys and have not gone to law school.
Never-ever discuss a case with a jury panel or give them your opinion. Let the judge answer any questions regarding the case. You can talk about the weather and their comfort needs but stay away from the case issues
Never tell a juror how pretty she is or how handsome he is. Getting to personal can backfire on you fast.
Do not allow an inmate defendant to hug his or her family, this leaves open a gateway to passing contraband
Do not except notes, letters or reading material from friends or family to give to an inmate. This opens the door to coded messages and drug soaked mail. (Meth Infused Paper)
Things that seem harmless can turn out to be devastating
Regular Training Reduces Liability


If your agency is not using role play/scenario training inside the courtroom or courthouse maybe you should consider doing so. Courthouse violence has been on the rise each year for the past decade. Threats against judicial staff are on the rise as evidenced by the statistical data from the United States Marshall's office and National Center for State Courts. We must train for hostage situations, active shooter situations, terrorist attacks, general courtroom outbursts, weapon retention, evacuations and many other emergency response issues. Never leave out training for your inmate holding areas. Cell extraction training should be provided annually and strict requirements are needed requiring no weapons in holding cells other than pepper spray or a non- lethal agency approved weapon. An inmate with a bailiff's firearm results in the death of bailiffs and judicial staff. Training in the area of inmate searches and proper restraints before the inmate leaves the jail is essential to the safety of the courthouse and just as important as any other training. Inmates should be searched again once they arrive at the courthouse prior to being place into the court holding cells.

We must have a commitment to training and we must embrace this philosophy! It is not only our duty but a necessity and a responsibility.

Gary York is a retired Senior Prison Inspector and is an Ethics and Crisis Intervention Instructor. He is also the author of the books "Corruption Behind Bars" and "Inside the Inner Circle".

Other Articles by Gary York.
---