Chemical Dilution and Control Provides Savings and Safety
By Michael Wilson
Published: 10/17/2016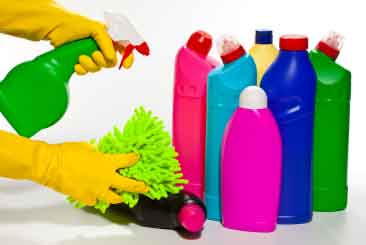 Correctional facilities, as we know, are always looking for ways to reduce operating costs. And with a growing inmate population in so many facilities, reducing operating costs can be a very tough task indeed.

However, such difficulties also open the door to potential opportunities and this is especially true when it comes to selecting cleaning chemicals. One of the trends that has evolved over the past few years as a result of the introduction of green or environmentally preferable cleaning solutions is that most all are delivered in concentrated form. And by selecting more concentrated cleaning solutions – green or traditional – correctional facilities are usually able to reduce cleaning supply costs and stick closer to a budget, among other benefits.

For a good thirty or more years, many facilities selected ready-to-use (RTU) cleaning solutions. Purchasing cleaning solutions this way was a convenience administrators appreciated, plus they liked the fact that the chemical was already pre-mixed, so there was no concern about mixing or diluting. And correctional facility administrators also believed they were safer . . . less chance of inmates having access to potentially harmful chemicals.

However, facilities paid a price for RTU. They were invariably more expensive than cleaning solutions in a quart or gallon container; required much more storage space; and with increased concerns today on green and sustainability issues, were considered environmentally harmful, (due to the chemical propellants in aerosols) and wasteful.

Let's use the following example to better comprehend the cost savings. We are choosing between purchasing glass cleaner in an RTU form or glass cleaner in large concentrates. The costs below are what we might expect to pay for each:
A case of 12 ready-to-use bottles of glass cleaner costs about $42.00, which equates to $3.50 per quart.
A case of 4, two-litre (about half a gallon) containers of concentrated glass cleaner costs about $75.00, but this will make 352 quarts at $0.21 each.
While the more concentrated glass cleaner costs $35.00 more to purchase than the RTU glass cleaner, in reality it results in a cost savings of $3.29 per quart ($3.50 - $.21 = $3.29).
This type of savings is possible on an entire host of cleaning solutions. Further, this compared the use of two-litre containers versus RTU. Many cleaning chemicals today are available in five-gallon containers, which can offer further economies of scale.

How to Dilute

OK, the savings are evident, but to enjoy those savings requires that cleaning solutions be properly diluted. Our goal is not to waste chemical – to save money – but also to ensure that the chemical is diluted properly so that it meets the facility's cleaning needs. Correctional administrators can address this in two ways.

First, they can purchase pre-diluted chemicals in packs. Essentially the cleaning worker opens the pack, pours it into a properly selected container, and proceeds with cleaning. While there may be a savings, once again we may be paying for convenience, so the cost savings we want may be less than we want or not materialize at all.

The other option is to select an auto-dilution system, also known as a chemical proportioner. With these systems chemical and water are mixed and then poured into a container, be it a bucket for mopping floors or a handheld sprayer. Many of these systems also allow the user to control the dilution mixture.

For instance, if the cleaning task at hand is to clean a very soiled area, the dilution could be set to use more chemical and less water. For very light cleaning tasks, the opposite is true. So, now we not only save money by selecting concentrated chemicals instead of RTU, but also we are able to scale back the dilution when appropriate and avoid using more chemical than necessary.

Safety

We must never forget, cleaning chemicals are just that: chemicals. And remember, we are using concentrated cleaning chemicals, so safe handling is critical. Some traditional chemicals, specifically, can release fumes if they are being mixed without some type of chemical porportioner, burn the skin on contact, or cause damage if splashed in the eye.

Safety precautions need to be maintained even when mixing green chemical solutions. Green cleaning chemicals have a reduced impact on the environment…but only when mixed and used properly.

Steps to Take

We now know that selecting concentrated cleaning solutions can be a cost savings. Plus, we understand that the cleaning solutions must be mixed properly, both to realize those savings and for the safety of the user.

Before making your next order of any cleaning solutions, the best step administrators of a correctional facility can take is to meet with a knowledgeable janitorial distributor. Take advantage of their experience; distributors can recommend all types of cleaning solutions along with dispensing systems, and some distributors have access to web-based "dashboard" systems. These dashboard systems essentially "peel the roof" off the facility, so administrators can get a better look at their facility's cleaning needs and then select cleaning solutions that best meet their needs, eliminating trial-and-error decision making.

Proper and effective cleaning is crucial in a correctional facility. We all know that. But that does not mean we can't look for ways to reduce the costs of cleaning. Start by selecting concentrates in place of RTU chemicals and tap into the expertise available through a wise distributor to help uncover cost-effective solutions to your cleaning challenges.

Michael Wilson is Vice President of Marketing for AFFLINK, developers of the ELEVATE process, an online system that allows users to learn about and select products that will help operate their facilities in a greener, more sustainable, healthier, and more cost effective manner. He can be reached at wmwilson@afflink.com
---