Wheels for the World
By Rachel Friederich, Washington Department of Corrections
Published: 10/24/2016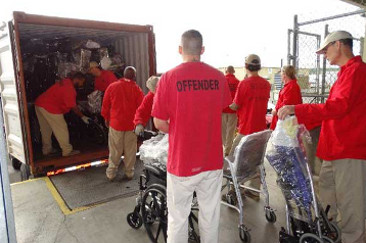 ABERDEEN—Bree Forbish's work station is surrounded by piles of upholstery, metal frames, seat cushions and rubber tires—stuff one might find in a landfill. But Forbish, an inmate at the Stafford Creek Corrections Center just west of Aberdeen, is giving new life to these odds and ends.

He's part of a group of four inmates at the prison who refurbish old wheelchairs into like-new condition. The wheelchairs are sent to people in developing countries around the world who have disabilities.

"I get to give back," said Forbish, 69, who is serving a 15-year sentence for a sex offense. "It's been rewarding throughout the time I've been in this shop."

Stafford Creek receives wheelchairs through a program called "Wheels for the World." It's a program the prison has participated in since 2010. It's is run through a partnership with the California based non-profit organization, Joni and Friends Volunteers collect wheelchairs and bring them to prisons for inmates to restore. Stafford Creek is one of only 16 correctional facilities in the nation that participate in the program. Stafford Creek inmates restore about 250 wheelchairs per year.

A second DOC prison, Monroe Correctional Complex in Snohomish County, also began restoring wheelchairs for the program this year. Since May, a dozen inmates at Monroe have restored around 150 wheelchairs for the program. Staff at Monroe expect to receive another batch of wheelchairs in need of repair this month and say they're on track to restore 500 wheelchairs by the end of the year.

"The work that these guys do is amazing, and the chairs are changing lives," said Chris Idso, facility manager at Stafford Creek. "These chairs are literally picking people off the ground sometimes."

The wheelchairs are distributed to more than 100 countries across the globe, including Uganda, Thailand and El Salvador. In August, a batch of 100 wheelchairs inmates restored were sent to the Kingdom of Tonga, a small island nation in the south Pacific 1,480 miles north of New Zealand.

Officials with the non-profit organization say wheelchairs are not widely available in the Kingdom of Tonga because having a disability is often seen as a social stigma. Furthermore, the nation has a high rate of diabetes and limited treatment options, resulting in patients requiring limb amputation, according to Public Health Action data . from the National Institutes of Health .

The inmates aren't limited to restoring wheelchairs. For example, Forbish once used parts from a portable toilet to build a walker.

"We don't throw away much of anything because you don't know what might be useful," Forbish said.

Inmates also restore old bicycles for the Aberdeen Lions Club, who give the bikes to low-income children in Grays Harbor County.

Forbish knows the work he does in the shop can't undo the crime he was convicted of, but it gives him a sense of purpose while he's in prison. It also reminds him of his job as a motorcycle mechanic prior to his incarceration.

"I appreciate the opportunity to use tools again," Forbish said. "Most places (in prison) don't give you that opportunity and I also get to create something meaningful for someone else."

Rachel Friederich is a Communications Consultant for the Washington State Department of Corrections. She earned her bachelor's degree in communications from Central Washington University. She has worked communications and public relations for various Washington non-profit organizations as well as a reporter at newspapers and radio stations across Washington including The Daily World, Yakima Herald-Republic, and KGY-AM in Olympia.
---