Correctional Education's Turnaround in Washington – From the Trenches to Triumph
By Maria Peterson, Washington Department of Corrections
Published: 11/07/2016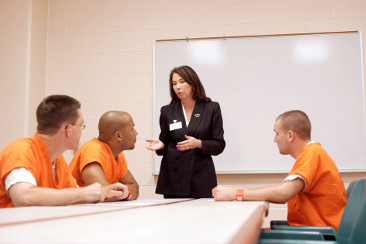 By a variety of definitions, Washington's current correctional education system is a success. From national reports showing Washington Department of Corrections (DOC) leads the country in the number of GEDs earned by inmates in prisons, to local benchmarks for post-release employment data shows that correctional education is operating efficiently in Washington.

"It's been the quiet program that works," said Correctional Education Administrator Mike Paris, who many credit for bringing Washington's educational performance to its current high level.

That wasn't always the case. When Paris came to DOC in 2005, the Department was hemorrhaging money to provide basic education, academics and vocational programs to inmates. The Department was paying for classrooms spaces that were not full and for classes that were never held, losing an estimated one million dollars allotted for inmate students who never completed a single class. Paris, the newly hired administrator, knew something had to be done.

"We can't continue to operate this way," Paris said of the state of the program in 2005. "Taxpayers are, understandably, going to get mad."

Education for inmates is supported by strong evidence that it reduces recidivism . The program's successful operation was, and is, an essential part of DOC's strategic initiatives to improve public safety. The classes are provided through a contract with the State Board of Community and Technical Colleges (SBCTC) . In Paris's mind, the programs simply had to improve to ensure DOC was meeting its responsibility to the citizens of Washington.

Between meetings with college presidents and a specific set of goals, Paris began to evaluate if SBCTC was meeting its contractual obligations. If the colleges weren't performing, he found out why.

"Mike was a consistent, calm, thoughtful presence as we started to try to untangle the knotty problems that were impeding offender students' ability to progress in their educational programs," said SBCTC Policy Associate Kathy Goebel, who worked with Paris in the college system during this tumultuous time. "He didn't come from either world - not the DOC or the college world. He could ask 'why?' and be open to the answers."

For DOC the answer to the problem was implementing quarterly changes to the contract. For example, if a prison was having trouble finding an instructor, the number of students was moved to a different college that was having success filling classes. The agreement between corrections and the colleges was straightforward. They adopted a shared measurement system that included maintaining a 15-student classroom, minimum hours of instruction and a set number of student completions. Every quarter corrections and the colleges would meet to ensure the terms of the contract were being met.

Within one year, the contract went from underperforming to surpassing the number of students taking classes by eight percent. The contract was no longer losing money and continues to see positive performance.

"We took a program that was really failing and improved it by generating goals and objectives and measurements, implementing those things, having the colleges react to that and do the work, which ultimately led to the results that are impactful on the offender," said Paris. "I am proud of that."

According to Goebel, Paris was instrumental in this success because of his attention to the data, which supported his contract recommendations and unprecedented solutions.

"The colleges saw that Mike used data to tell stories," she said. "It was hard to refute data when it was sitting there in front of you. He worked hard to understand our system. By listening and talking through problems he was able to put through performance measures that made sense to both the colleges and DOC."

Paris' background is in the Employment Security Division's Labor Market and Employment Analysis division, where he served as Deputy Director for the division that provided Washington communities labor market statistics, unemployment rate calculations and other labor data. Once the contract fulfillment issue was resolved, Paris set his sights on the vocational programs within DOC.

"It was a good fit to come over to corrections," said Paris. "We had a bunch of vocational programs but we weren't producing skills that were needed in the labor market. So we were training offenders for occupations they wouldn't get a job in."

Using his skills in labor trends, Paris led a Vocational Program Advisory Committee to evaluate every job training program in the corrections system to ensure that the agency was training potential employees for the actual labor market where they would release. The programs were scored using a ranking system to rate effectiveness. Once again, Paris created a structure that was defensible to critics built on data and research.

"Whenever there's been any question about methodology or evidence, or the way things are done, I've been able to produce and show that we are doing work correctly and we're keeping track of it correctly and it's defensible," he said. "People might question what we did, but I was able to very easily demonstrate how we do the programs, how we measure the programs, and how we describe the results of the program. That's helped a lot."

DOC's Senior Administrator for Programs, Jeff Landon, says he's looked up to Paris throughout his career in the Offender Change Division. He says he admires Paris's ability to create a sound methodology for success no matter what the constraint and his willingness to share his time and knowledge with other programs experiencing utilization challenges.

"More than his technical expertise, what I suspect has led to his personal success, and that of prison education under his leadership, is his personal investment and commitment to our shared vision," said Landon. "This goes far beyond reduced recidivism to restoring our population and preparing them with the necessary tools to contribute to our communities and live with meaning and purpose."

While his career and reputation for success has been built on data, performance and collaboration, ultimately Paris says his biggest achievement is the impact his work has had on the incarcerated population.

"We are able to meet the needs of students from very basic literacy all the way to academics and everything in between," said Paris. "That has been a really important piece of the work. Trying to get these pathways set up so that an offender, regardless of where they are currently at, in terms of education, they can move forward and they can go as far as they want."

Maria Peterson has been working within the Corrections field for more than nine years, working within the communications and information technology areas. She spent five years in television broadcast journalism in Oregon and Alaska, and two years as a public relations/marketing manager for a humane society in Alaska. She joined the Utah Department of Corrections in October 2016 as their agency-wide Public Information Officer.
---