Prison Basketball Game Changes Inmate's Life
By Nancy Simmons & Rachel Friederich, Washington Department of Corrections
Published: 11/28/2016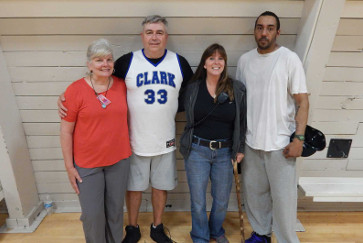 YACOLT – Sterling Weirzalis, a former inmate at Larch Corrections Center, never knew that a chance meeting with a citizen at a prison basketball game during his incarceration would change his life forever.

That citizen turned out to be Bob Knight, the president of Clark College .

In 2008, Weirzalis participated in the first annual community basketball game held at Larch, which allowed inmates to play against community members. The idea for the game came from Nancy Simmons, a corrections specialist and past member of the Clark College Foundation . She helped arrange an annual basketball shoot off between Knight and the president of Lower Columbia College , David Beyer. The game between administrators at both schools proved so successful, Simmons decided to start a similar game at Larch and recruited Knight to participate. For inmates to participate in the game, they must be infraction-free for 30 days.

"Everyone thought it was fun, so when I came to the prison, I thought the inmates would think it was cool to play against Bob," Simmons said. "The game teaches inmates about character, playing by the rules, and good sportsmanship. It teaches inmates about life."

Clark College has a long history of collaboration with Larch, offering basic education courses to inmates to help them get their GEDs. It also offers a number of vocational skills classes such as the automotive program in which inmates can receive certifications that can make them more competitive in the job market upon release.

When Knight arrived at the prison, he handed out his business cards to the inmate players and encouraged them to contact him if they were interested in attending Clark College after they completed their sentences.

Wierzalis took one of the business cards and followed up on Knight's offer.

"I gave him my business card and I never expected to hear from him again," Knight said. "He sent me two handwritten letters in the fall of 2008 to confirm his intent to attend Clark College."

Wierzalis completed his 36-month sentence for an assault charge in 2009. Knight was impressed with Wierzalis' determination to attend college. He picked Wierzalis up from the prison on Werzalis' release date and helped him find some temporary housing and enroll at Clark College.

Wierzalis attended Clark College for a couple of quarters and was able to find a job at a local company that manufactures and installs marble countertops. He said his time at the college and interactions with Knight helped him become more disciplined and boost his confidence.

Wierzalis recently returned to Larch, but not as an inmate. He, along with Knight and team members of the Vancouver Volcanos, volunteered to play at the most recent Larch community basketball game to share their stories of success with the current inmate basketball team.

Knight's impact on the community has not gone unnoticed. Knight was recently selected to receive the 77th annual Clark County First Citizen Award . The Community Foundation of Southwest Washington gives the award to individuals who have improved Clark County for the better. In addition to his volunteerism at Larch, Knight is being recognized for his U.S. Army service and his role as a post commander of Vancouver Barracks when it was targeted for closure. He is scheduled to receive the award Nov. 2 during a ceremony at WareHouse '23 in Vancouver.

Rachel Friederich is a Communications Consultant for the Washington State Department of Corrections. She earned her bachelor's degree in communications from Central Washington University. She has worked communications and public relations for various Washington non-profit organizations as well as a reporter at newspapers and radio stations across Washington including The Daily World, Yakima Herald-Republic, and KGY-AM in Olympia.
---