Do You Want Some Candy?: Part II
By Joe Bouchard
Published: 12/12/2016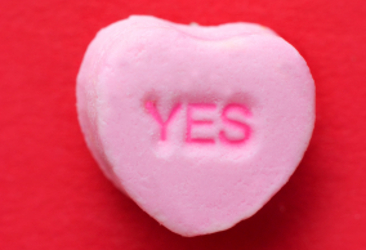 The following is an installment in "Operation Icebreaker: Shooting for Excellence", a series featuring "Ice Breaker's" designed to promote training awareness and capabilities in the corrections industry.

"Do You Want Some Candy?: Part I" appeared in a previous Icebreaker book.

I have a trusted friend who is an early child education professional. Her creativity is boundless. And her bag of tricks rivals that of twenty-year Early Childhood Education veterans. Like me, she knows that the lessons that we need to impart to our students can always be augmented with a demonstration of some sort.

While teaching a bit of science, she mixed Mentos candy/breath fresheners with Diet Coke. This resulted in a fizzy overflow of the beverage. Kids love to see this and often ask questions about what happened. This is an early childhood education mainstay.

After she conducted the classic Mentos demonstration, she was left with two plastic containers. They were made of light plastic and fit well inside one's palm. As she handed them to me, she said, "what can prisoners do with these?"

My friend knows of my fascination with contraband control. I have often said to her that much of corrections is made safer through simple observations about illicit items and their removal. In its basic state, contraband control is a low tech, highly effective way to maintain security inside the walls.

I took that question to my CJC 103 Criminology class. I offered the scenario that carless staff brought the containers within the secure perimeter. Prisoner porters brought them back to their unit and bartered them. What could be made with these containers? The outcomes I expected were:
as a hiding place for small items like a thumb drive;
as a melt-able material for a shank or a handle;
as a squirt gun – with pressure exerted by the hand on the outside and water or any fluid on the inside, and a small hole, this could be a weapon to shoot a stream of liquid in the eyes.
Here were some of the answers the generally novice group of students offered:
as a place to hold smokes or drugs
as a palm-sized way to exchange small items
as a container to hold feces/urine concoction to assault or "dress-out" others
as a tiny place to hold alcohol while fermenting
to use as a condom (probably unlikely, but creative, never-the-less)
Often a fresh look at a situation brings new ideas. While number five of the student's list above is unlikely, it still warrants consideration. That may put others on a path of thinking that can enhance safety. In any event, novelty containers are an interesting wrinkle in the fabric of contraband.

Joe Bouchard is a Librarian employed with the Michigan Department of Corrections and a collaborator with The International Association of Correctional Training Personnel (IACTP). He is also the author of "IACTP's Corrections Icebreakers: The Bouchard 101, 2014" and "Operation Icebreakers: Shooting for Excellence". The installments in this series include his opinions. The agency for which he works is not in any way responsible for the content or accuracy of this material, and the views are those of the contributor and not necessarily those of the agency. While some material is influenced by other works, all of the icebreakers have been developed by Joe Bouchard.

Visit the Joe Bouchard page

Other articles by Bouchard:
---