Inmates Decorate Governor's Mansion For The Holidays
By Rachel Friederich, Washington Department of Corrections
Published: 12/19/2016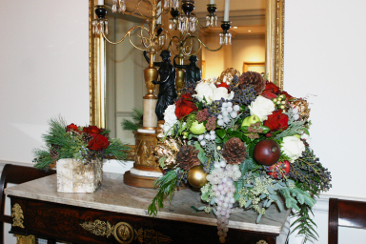 OLYMPIA – Hundreds of people visit the Governor's mansion during December to get a glimpse of the residence adorned with twinkling lights, elaborate floral arrangements and larger-than-life wreaths.

But the creative vision for the décor comes from a place many visitors don't expect: prison. Six inmates at the Washington Corrections Center for Women (WCCW) , visited the mansion Dec. 1 to decorate it in preparation for its annual holiday tours, which run every Wednesday in December prior to Christmas.

"With this experience you get a whole new sense of wanting to live and do better for your community and set goals," said 59-year-old inmate Delora Jean Bostic. She has just over a year remaining on her sentence for drug possession and wants to work with an organic farming company after her prison release to teach residents in rural communities to grow their own food. "I'm proud of this day and it means everything to me."

Inmates enrolled in the prison's floriculture program, led by instructor Bob Andren, spend two weeks arranging flowers, constructing wreaths and garlands with fresh greenery that the public sees during the mansion tours. No taxpayer money is used to fund the decorations, according to Frances-Munez Carter, an executive residence administrator at the mansion. The majority of funding comes from donations from private events.

Decorating the mansion has become a tradition for inmates in the program. Four years ago, First Lady Trudi Inslee toured WCCW. The programming at the prison impressed her so much, she invited inmates from the floriculture program to decorate the mansion for the holidays.

Inmates who decorate the mansion are enrolled in or have completed a college level floriculture class taught at the prison by instructors at Tacoma Community College . It's one of several education programs offered through the Department of Corrections aimed at reducing recidivism rates by giving inmates job skills, technical training and opportunities to continue their education after releasing from prison. Several inmates who take the floriculture program also complete the prison's horticulture program, which focuses on the science of plant cultivation and management. Inmates who complete the programs at the prison can receive certifications that can be used to obtain credits at Tacoma Community College.

DOC officials add the experience also helps reduce idleness among inmates and serves as a motivator for them.

"It stimulates intellect and gives something for the inmates to work toward," said Ed Tharp, a horticulture instructor at WCCW. "The best part is seeing these ladies succeed, build their self-esteem and gain self-confidence. It's rewarding for them to give back and showcase what they've learned."

DOC officials take steps to ensure public safety and security during trips to the mansion. Trained correctional officers and a class instructor accompany inmates at all times, and security officers at the governor's mansion are notified of the inmates' visit.

DOC officials acknowledge being able to take a trip to decorate the mansion is a privilege and inmates must meet a strict set of requirements to be eligible. Inmates must be infraction free for at least a year, have a minimum-security custody level and have fewer than four years left on their sentence. Additionally they must have earned a GED, be enrolled in the floriculture or horticulture program and not have any connections to known gang members or crime victims in the community.

The inmates say spending the afternoon at the mansion made them feel humbled.

Candace Ralston has completed the floriculture and horticulture courses and wants to return to school to get her Master's degree in psychology after she finishes her sentence for theft and forgery charges in 2019. She wants to teach art therapy to people suffering from mental and physical trauma.

"You make mistakes in life you can't take back, but this experience has helped me look forward to the future and helps people see the change you've made in yourself."

Spaces on the holiday tours of the Washington State Governor's Mansion are full. However, the Department of Enterprise Services Capitol Tour Office has a waiting list, should any spots become available. To be added to the waiting list, call (360) 902-8880. For more information about mansion or other capitol campus tours, visit http://wagovmansion.org/ .

The Washington Corrections Center for Women is a Department of Corrections facility located in Pierce County. It houses 738 inmates with minimum, medium and close custody levels. It offers several educational, work and technical skills programs including ornamental horticulture, Braille transcription, Computer Assisted Drafting, cosmetology and Trades Related Apprenticeship Coach (TRAC) training.

Rachel Friederich is a Communications Consultant for the Washington State Department of Corrections. She earned her bachelor's degree in communications from Central Washington University. She has worked communications and public relations for various Washington non-profit organizations as well as a reporter at newspapers and radio stations across Washington including The Daily World, Yakima Herald-Republic, and KGY-AM in Olympia.
---