Ya sick sonovagun!
By Joe Bouchard
Published: 12/19/2016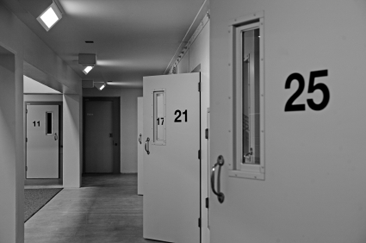 The following is an installment in "Operation Icebreaker: Shooting for Excellence", a series featuring "Ice Breaker's" designed to promote training awareness and capabilities in the corrections industry.

I told students in my Tuesday night CJC 101 Introduction to Corrections class to try to think of the most shocking punishments possible. As you will see, the following was not just an exercise in sinister thoughts. This was for a prelude to the "History of Punishment" lecture. I intended to demonstrate that punishment methods are relative, not absolute.

With that premise in mind and a method to my madness, I led the students in the following manner.
Split class into groups
Appoint leader for each
Have leader appoint a scribe
Direct leader to appoint a spokesperson
Tell a tale – Murders have been committed.
A 25 year old man and woman of the same age were on a date at a beautiful but remote National Park. They were abducted and later chained in a garage in an equally remote location. Because they could not provide an instant ransom, they were suffocated slowly in the closed garage while a car was running. The CO2 got to them. Of special note, the man had a small ring and was going to propose marriage. The woman, too, had a surprise. She was going to tell her boyfriend that their wishes had come true. She was pregnant.
Give background for the society in which the murders took place
You are the judge in a post-apocalyptic, underpopulated world. New births are sacred and murder is more than immoral in our current sense.
Murder eats away at human lives – a rare commodity in the scenario society. Traditional punishment conventions are off the table. It is your job to find a fitting punishment for this crime. How do you deter future criminals from committing such heinous crimes as described above? How do you appease the howling public, who in this scenario are quick to kill a judge who is too soft on crime?
Think with a vengeful, twisted mind. List five fitting punishments for this scenario.
Compare all groups' punishments to those of today in the United States.
The suggestions that the groups contrived were creative and even a bit scary. Still, they followed directions and learned that harsh societies may develop harsh punishments. For the record, I credit them for their imagination and truly do not think them sick sonsovaguns. Thanks CJC 101 students for test-driving this icebreaker.

Joe Bouchard is a Librarian employed with the Michigan Department of Corrections and a collaborator with The International Association of Correctional Training Personnel (IACTP). He is also the author of "IACTP's Corrections Icebreakers: The Bouchard 101, 2014" and "Operation Icebreakers: Shooting for Excellence". The installments in this series include his opinions. The agency for which he works is not in any way responsible for the content or accuracy of this material, and the views are those of the contributor and not necessarily those of the agency. While some material is influenced by other works, all of the icebreakers have been developed by Joe Bouchard.

Visit the Joe Bouchard page

Other articles by Bouchard:
---