WCCW Sends Quilts, Infant Clothes to Incarcerated Mothers in Thailand
By Melissa R. Johnson and Carrie Hesch, Washington Department of Corrections
Published: 01/09/2017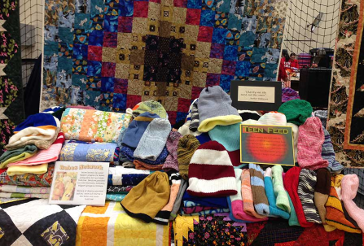 GIG HARBOR – Incarcerated women and their babies inside Thailand prisons have a little extra warmth and comfort, thanks to a group of quilters from the Washington State Department of Corrections (DOC).

The Sisters of Charity, a group of approximately 15 inmates from Washington Corrections Center for Women (WCCW) in Gig Harbor, make items for social welfare organizations and donates to about 25 charities a year. For a recent donation, The Sisters of Charity sent handmade quilts and decorated onesies to mothers inside Thailand prisons. The items are distributed through the Dallas, Texas-based Thai Christian Foundation , a charity that does humanitarian work in Thailand.

"When they (Thailand inmates) find out the gifts are made by women at WCCW, their eyes and hearts light up, and they're filled with appreciation, new inspiration and hope," said Laurie Dawson, a member of the WCCW Local Family Council.

"It's an honor to be able to deliver these gifts made by women at WCCW, and experience the encouragement their hard work and hearts of compassion bring inside prisons in Thailand," Dawson adds.

The Sisters of Charity's efforts are in support of the "Bangkok Rules ," a minimum standard of treatment for female inmates that supplements guidelines set forth by the United Nations. Her Royal Highness Princess Bajrakitiyaha of Thailand implemented the standards in 2010, which focus on preserving human dignity and safety of incarcerated women while encouraging mother-child bonding. They include improving social relations and after-care of inmates who are pregnant or breastfeeding, and providing tools to help incarcerated mothers rehabilitate and reunite with families when they return to society. There are at least 15 women's prisons in Thailand that allow mothers to care for their babies while inside prison.

Similarly, WCCW has a residential parenting programYouTube video that allows pregnant, minimum-security inmates with sentences shorter than 30 months to keep their babies with them after giving birth. The intent of the program is to give mothers the chance to form bonds with their children and the tools to help them transition into work release so there will be no separation.

"It was and is a blessing to share in this exchange from Washington to Thailand," Dawson said. "These items are going to people who need them and the inmates are thankful to have an opportunity to make a difference."

WCCW has been in partnership with the Thai Christian Foundation since 2014, when an inmate suggested The Sisters of Charity create knitted hats for landmine victims in Thailand's neighboring country of Myanmar. The Sisters of Charity have made over 200 hats for landmine victims. In February 2016, The Sisters began sending the quilts and onsies, which have been disseminated to two women's prisons and three community health projects in Thailand.

Meaningful work promotes facility safety by providing individuals opportunities for self improvement, promoting the adoption of a strong work ethic, and reducing inmate idleness. The Department is committed to reducing recidivism through a corrections system that reflects these values of the community (RCW.72.09.010 ).

Melissa Johnson is an administrative assistant 4 and the public information officer at the Washington Corrections Center for Women in Gig Harbor, Washington.

Carrie Hesch began working for the Washington Department of Corrections in May 2016 as a recreation specialist 4 at Washington Corrections Center for Women in Gig Harbor, Washington. Prior to working for Washington Corrections, Carrie was the 24-year owner and operator of The Health Coach, a company that specialized in designing, managing and coordinating health and wellness programs for a variety of regional non-profit organizations. Carrie earned her Bachelors of Arts degree from Pacific Lutheran University in Health Education and Communication.
---