Selecting the Correct Gloves Using a Glove Audit
By Vicky Adams
Published: 01/16/2017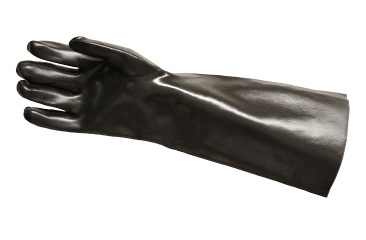 Here's the situation: working in a correctional facility can be dangerous, we all know that, and one area of our bodies that is most vulnerable is our hands. Whether dealing with a difficult inmate, handling bodily fluids, or attending to potentially contaminated surfaces, correctional officers should wear gloves. In addition, they must wear the correct type of gloves.

According to the U.S. Centers for Disease Control and Prevention (CDC), hand injuries account for more than one million emergency room visits every year. Many of these are cuts and punctures to the hand in varying degrees of seriousness.

Also, according to a study conducted by the U.S. Bureau of Labor Statistics (BLS), up to 70 percent of these cut and puncture injuries could have been prevented if gloves had been worn. Many more could have been prevented if the correct gloves were worn. This tells us selecting gloves for correctional facility workers is not to be taken lightly. Just because workers are wearing gloves does not mean their hands – and their health – are safe. There's a lot more to it than that.

The Glove Audit

The first step in selecting the proper gloves for correctional facility workers is to conduct a glove audit. Begin by identifying the different types of workers in the facility that might need gloves. This could include cleaning and maintenance workers; building engineers; food service staff; and correctional officers. The type of glove selected must match the type of work performed. A staff food service worker, for example, will not necessarily require the same type of glove that a correctional officer or an engineer would need.

Now, identify the potential hazards and risks to hands and health in a correctional facility that could be prevented by wearing the proper gloves. As you review your facility, keep these definitions in mind:
A hazard is something that has the potential to cause harm
A risk is a situation in which there is a likelihood that harm will occur
Using our earlier example, a food service staff worker rarely will need to work with powerful acids. Because it is rare but still possible, this would be referred to as a hazard. By comparison, a correctional officer may encounter blood or bodily fluids on a regular basis. This would be considered a risk.

One way to help determine what is a hazard and what is a risk is to gather accident and injury reports for the past two or more years for each type of work performed in the facility. Having a couple of years of reports provides a more solid and reliable benchmark. In most cases, hazards and risks to hands fall into the following exposure categories:
Chemicals and acids
Electrical hazards
Pathogens, biohazards, and similar microbiological agents
Sharp objects
We can use this information to help us select the correct gloves for different situations. However, we should first look to see if we can eliminate the potential hazard or risk.

For instance, let's say staff workers manually mix cleaning chemicals to be used to clean the correctional facility. What if this task was eliminated by using an auto-dispensing systems that mixes and then pours the diluted solution into a container? With the task eliminated, so is the hazard.

Correct Glove Selection

Proper glove selection is based entirely on knowing what types of gloves are available and what situations – hazards and risks – they are designed to minimize or eliminate. As to the types of gloves, it all comes down to the materials used to make the glove.

Some of the key materials used and types of gloves available are the following:

Neoprene
A neoprene-coated glove is designed to protect hands from extreme heat and very hot and very cold liquids and chemicals. These gloves are appropriate for inmates or correctional workers working in kitchens and food-processing areas.

Nitrile
Nitrile gloves are a replacement for natural rubber, vinyl, or latex gloves (eliminating allergies) and, in some situations, the neoprene gloves just discussed. They are designed to protect hands from many types of acids, chemicals, oils, and grease and are also more resistant to punctures, abrasions, and cuts than traditional latex gloves and other materials.

PVC (Polyvinyl Chloride)
PVC gloves work well for correctional workers such as engineers who may have to work with petrochemicals, oil, or grease. They help protect hands from hazards that can come from working with fats, oils, caustics, petroleum by-products, alcohols, and glycol ethers.

Vinyl/Latex
Vinyl and latex gloves are used most frequently by health care professionals. While they do have the potential to tear, as mentioned earlier, they are useful for dealing with blood or bodily fluids. These are relatively inexpensive gloves and should be changed frequently and correctly when used. (See Sidebar)

Steel Mesh
Steel mesh gloves are designed to be used around knives, power saws, and other cutting devices. While these gloves are most often used in industrial settings where there is a high risk of cuts and punctures to the hand, correctional staffers who work with knives, blades, wire fencing, metal cuttings, or metal-cutting devices may need to wear them. But beware: These, nor any gloves, are cut- or puncture-proof. Instead, they are resistant to cuts and punctures. Care must always be taken when using sharp objects.

The bottom line is administrators don't want their staff to be one of the 70 percent not wearing gloves even though a hazard or risk is present. Nor do they want their staff to be injured while wearing gloves but not the right gloves. Give glove selection serious thought. It can even be a life saver.

Vicky Adams is senior category manager for Safety, Gloves, and Foodservice products for Impact Products, the dominant manufacturer of the Supplies and Accessories Category of the cleaning and maintenance industry. Vicky can be reached by email at vadams@impact-products.com.

Sidebar:
How to properly remove gloves exposed to contaminants:
Grasp the outside edge of the left-hand glove at the highest point near the wrist.
Peel the glove off the hand, turning the glove inside out.
Place the removed glove in the gloved right hand and discard.
For the right-hand glove, slide the index finger under the glove at the highest point near the wrist.
Peel the glove off from the inside and then discard.
Finish by washing hands with soap and water.
---