Would You Rather: Part II
By Joe Bouchard
Published: 01/16/2017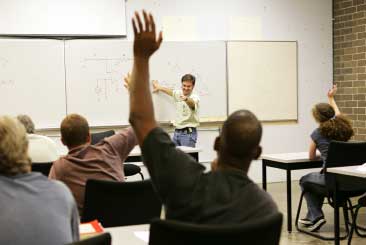 The following is an installment in "Operation Icebreaker: Shooting for Excellence", a series featuring "Ice Breaker's" designed to promote training awareness and capabilities in the corrections industry.

On October 1, 2014, I gave my CJC 110 Criminal Justice class the assignment to create a "would you rather?" statement. This is a set of two things that are both unpleasant, but the person has to choose one.

Would you rather ________________ or _________________?

This what I offered as an example.

Would you rather fight a horse sized pug or ten pug sized horses? The students saw this as a parallel to the question "Would you rather face a large, formidable problem or many small problems?".

Here are a few more:

Another is: Would you rather listen to a drunk Donald Trump for two hours or go car shopping with Hillary Clinton?
Or
Would you rather take Sasquatch out for dinner or go to the movies with Chewbacca?

That was such a fun exercise that I ran it again on 1/13/2016 for my CJC 104 Client Relations class.

I told them, "Now it is your turn. Come up with three would you rather statements." Here is what they came up with.
Deal with 10 rowdy inmates or one ringleader?
Be an inmate or an officer?
Serve time in general population or isolation?
Be in charge of level I or level V prisoners?
Work night shift or day shift?
As an inmate, would you rather stick to yourself or be in a clique?
Be stuck inside during a riot with the possibility of talking the perpetrators out of it or be stuck outside with no control over the situation?
Be dressed out or face a prisoner with a weapon?
Eat food in general population chow hall or alone in your cell?
Work in a male prison or a female prison?
Become corrupt officer in order to maintain peace or stick to your guns but have an entire cell block against you?
Now, trainers and instructors, ask yourself this:

Would you rather use the questions above or formulate your own in class with the help of the students?

Joe Bouchard is a Librarian employed with the Michigan Department of Corrections and a collaborator with The International Association of Correctional Training Personnel (IACTP). He is also the author of "IACTP's Corrections Icebreakers: The Bouchard 101, 2014" and "Operation Icebreakers: Shooting for Excellence". The installments in this series include his opinions. The agency for which he works is not in any way responsible for the content or accuracy of this material, and the views are those of the contributor and not necessarily those of the agency. While some material is influenced by other works, all of the icebreakers have been developed by Joe Bouchard.

Visit the Joe Bouchard page

Other articles by Bouchard:
---