Honor Guard Does 'Whatever It Takes' to Pay Tribute to Fallen Officers
By Rachel Friederich, Washington Department Of Corrections
Published: 02/06/2017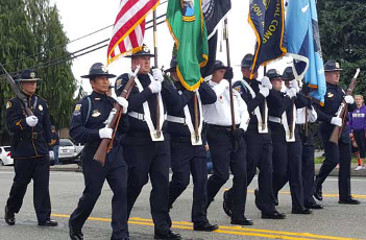 When an officer dies in the line of duty, the community is shaken to its core. Family members, friends and co-workers grieve. While everyone else mourns, the honor guard steps up to ensure the officer's tribute is flawless.

"It's not just about the person who died," says Corrections Officer Roland Pascua, an honor guard member at the Monroe Correctional Complex (MCC). "We do whatever it takes to honor their family member. It's the last impression they'll see of how their loved one is remembered. It's your duty to always be there for that family member."

Pascua has been an honor guard member for 30 years and was one of the Hawaii Department of Public Safety Corrections Division's first honor guard members. He took a job at MCC in 2008 and has partaken in several remembrance ceremonies for Corrections Officer Jayme Biendl. An inmate murdered Biendl inside a chapel at MCC in 2011 at the end of her shift. January 29 will mark the six-year anniversary of her death.

Biendl's family members are invited to a ceremony at MCC on the last Friday of January each year. Pascua's gotten to know some of them and says providing support and comfort to family members is one of the most important duties an honor guard member has.

"It was very hard for all of us to see what happened and go through what we went through," Pascua said. "But when family members come up to you after a ceremony to say 'Thank you, thanks for doing this,' it makes you feel so humble and loved. It makes up for almost everything else you go through."

Duties of Honor
There are several tasks honor guard members perform after a line of duty death. From the moment an officer dies to the moment they are buried, honor guard members are assigned to watch over the officer's body 24 hours a day to ensure he or she is never alone. This includes transport of the body to the medical examiner's office or funeral home, to the ceremony site and to its final resting place. Honor guard members are also assigned to watch over family members before, during and after a memorial service and escort them to their seats during the service.

Line of duty death memorial services aren't the only events in which honor guard members participate. They can also perform at departmental formal graduation ceremonies, award celebrations, parades and Veteran's or Memorial Day commemorations. They may partake in department-approved funerals for current or former employees. Additionally, honor guard members may be deployed to assist other law enforcement or correctional agencies with any of these events all across America.

Teaching Others
Corrections staff who have coordinated line of duty death memorial services have helped teach others about the best ways agencies can support itself and families of fallen officers. Greg Miller, the Washington Department of Corrections' Chief of Emergency Operations who is also a member of the Behind the Badge Foundation's Line of Duty Death Response Team, helped facilitate a briefing in Aurora, Colo., this month for law enforcement officers from 18 agencies. Aurora Police Chief Nick Metz asked Miller and three other members of the Line of Duty Death Response Team to speak about how team members in Washington plan and manage memorial services and provide support to agencies and family members. Miller shared Biendl's story and his insights as a logistics section chief. He and the team discussed all the components of making sure each service is as solemn and professional as possible.

"Every family member is watching their loved one's service, every audience member and every news station is watching and you only get once chance to get it right," Miller said. "Surviving family members often say the things that stick out to them in memory were the things that didn't go well or made them feel unimportant. The affected agency and family is counting on us to get it right."

He adds the most rewarding part of teaching to others is to honor the memory of Biendl.

"Every time I get deployed to teach, share a plan or memorial service I do it for Jayme," Miller said. "Her sacrifice has had a great impact in the agency, around staff safety and relationships we now have with other law enforcement agencies that I can call when I need help or when someone needs us. My ability to do this work is only there because of Jayme. It's my job, it's our job, to represent her and never forget."

For more information about the DOC's Honor Guard or to request a deployment, please visit our Honor Guard page..



Rachel Friederich is a Communications Consultant for the Washington State Department of Corrections. She earned her bachelor's degree in communications from Central Washington University. She has worked communications and public relations for various Washington non-profit organizations as well as a reporter at newspapers and radio stations across Washington including The Daily World, Yakima Herald-Republic, and KGY-AM in Olympia.
---