OJJDP Sponsors Institute for Police-Youth Engagement
By Office of Juvenile Justice and Deliquency Prevention
Published: 02/06/2017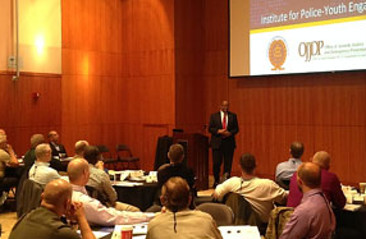 On November 15–17, 2016, OJJDP sponsored the first Institute for Police-Youth Engagement to explore best practices and innovative approaches for improving interactions between youth and law enforcement. The meeting, held in Louisville, KY, was led by the International Association of Chiefs of Police (IACP) in partnership with the Coalition for Juvenile Justice.

Police chiefs from urban, suburban, tribal, and rural communities across the nation gathered for roundtable discussions on current agency practice and policy in response to young people, opportunities for improvement, and the development of action plans within individual agencies to improve police-youth engagement.

Topics covered included the police chief's role in advocating for youth; strategies for engaging, communicating, and problem-solving with youth; diversion of youth from the juvenile justice system as a way to promote positive life outcomes; implicit bias and disproportionate minority contact; the science of adolescent development; and the long-term effects of children's exposure to violence and other adverse childhood experiences.

Research has shown that more than 90 percent of youth desist from criminal behavior as they mature into adulthood. In response, the juvenile justice system is in the process of moving away from a juvenile justice model focused on punishment and toward approaches that foster prosocial development and accountability. In addition, many youth who come into contact with law enforcement have been exposed to violence and trauma in their neighborhoods, schools, and homes. Traumatized children are more likely to suffer from a substance use disorder; experience depression, anxiety, and posttraumatic stress disorder; fail or have difficulties in school; and become involved in the juvenile and criminal justice systems.

"We must look holistically at these young people, not just at behavior that is often viewed as delinquent," said Administrator Listenbee in his remarks at the institute on November 16. "We must not label these children as delinquent or bad, but learn to identify and respond to children who have been exposed to violence."

Administrator Listenbee provided an overview of the U.S. Department of Justice's (DOJ's) recently launched national campaign to raise awareness, teach skills, and inspire public action to address children's exposure to violence and childhood trauma. The multiyear Changing Minds campaign will assist teachers, coaches, law enforcement officers, counselors, health professionals, social workers, and others who regularly interact with children to take meaningful action in supporting children who may be affected. Developed through the DOJ's Defending Childhood Initiative, which is administered by OJJDP, the national education campaign features digital and print content intended to reach adults who interact with children and youth in grades K–12.

Resources:
To learn more about the differences between the developing adolescent brain and the adult brain and how these differences present key challenges for law enforcement, read the OJJDP–IACP brief, The Effects of Adolescent Development on Policing.

For information on the science of childhood trauma, and how five everyday gestures can help children heal, visit the website of the Changing Minds public awareness campaign.
---