Wax On, Wax Off...
By Joe Bouchard
Published: 02/13/2017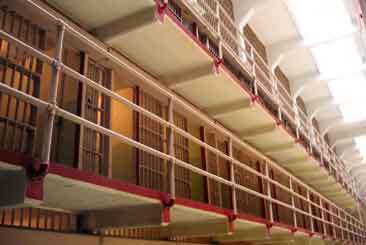 The following is an installment in "Operation Icebreaker: Shooting for Excellence", a series featuring "Ice Breaker's" designed to promote training awareness and capabilities in the corrections industry.

Thanks to students in the spring 2016 Gogebic Community College Client Relations class. Your hard work made this an instant classic!

Is it manipulation, persuasion, or a lesson in self-defense? Every time you walk into a facility, some lesson from the past may reemerge as a life-saving reminder. It is a fact: someone inside a facility will test one's meddle. "Wax on, wax off…" is a great way to review manipulation and persuasion. It is a great icebreaker to introduce this very important corrections topic.

To bring this home to students, we can look at a clip from a movie from the 1980's featuring actor Pat Morita. What does Pat Morita have to do with persuasion/manipulation? He was the mentor of an aspiring martial arts student (as portrayed by Ralph Machio) in the movie "The Karate Kid".

If you wipe away all of the '80's cheesiness (and for those of you who did not experience this, you have to believe the veracity of my tale), there is a lesson in how the teacher assigned menial tasks to the student. These later served as exercises in muscle memory and built a foundation for understanding the martial arts. In an iconic part of the movie (or, at least it is often quoted), Teacher Miyagi has the student wax old cars in a very deliberate motion. "Wax on, wax off", was the instruction.

For this exercise, the facilitator should find that clip on YouTube, but ask students about the movie prior to showing it. I test drove this exercise shortly before writing this and was very surprised at how many students who were born after the movie debuted knew of the scene. Still, for those who had never seen it, the scene can be described or it can be shown.

Then the facilitator launches into introductory comments about manipulation. This can be wrapped into a brainstorming exercise. After delivering the concept of wax on wax off and talking about manipulation, I split the class into three teams. I told them that they had to think in a persuasive manner. These were the instructions:
The instructor has no time to wash his vehicle and it is very dirty.
He wonders how he can convince a group of students that washing his car is a beneficial lesson for future students.
The instructor says, "Can you list three ways to convince the class next semester to wash my car and that it is part a of a valuable corrections lesson?" I believe that the students in the current class working toward making future classes busy spurred the creativity.
Let the students brainstorm then present their ideas.
It will then be revealed that there will not necessarily be a car washing in next semester's class. Still, this is a time to report to the class that they were used to come up with ideas. Then discuss if this was persuasion to brainstorm or manipulation to come up with parts of an icebreaker.
What ideas did students create to persuade the merits of washing the instructor's car? Here are some of the ideas gathered in the fledgling flight of Wax on, wax off:
It will instill discipline that you will need in the future for corrections
You can get on the instructor's 'good side'
Doing a dirty job well the first time will help show your integrity
This is actually a bribe for the professor for a better grade
Conversely, if you do not wash his car, the semester will be 'hell'
You will be exempt from taking the mid-term
The professor will respect your hard work
Pizza is a (possible) reward for your efforts
Professor may allow class to leave early, allowing for you to enjoy your home, family, friends, etc.
Getting outside during class time to enjoy fresh air and a little work can be invigorating
There is satisfaction in the interaction of classmates while completing a tangible goal
There is an opportunity for teambuilding. For example, how can we best wash the vehicle quickly and effectively?
I disclaim that no vehicle was washed in the making of this icebreaker. I wash my own vehicle and would never adjust a student's grade for washing my car. Some of the suggestions are on the wrong side of instruction. But all suggestions can later be discussed and run through an ethical filter. After all, corrections staff are tested by enterprising inmates and will face similar handling.

Ah, the genius of movies from the 1980's! Even the cheesy, yet irresistible montage song of The Karate Kid is eclipsed by the lasting wisdom of Mr. Miyagi. More importantly, ethics, persuasion and manipulation are topics that will always come up in corrections. It is of no consequence that a car wash will not be done by students. The discussion is the important thing. And remember, you're the best around…

Joe Bouchard is a Librarian employed with the Michigan Department of Corrections and a collaborator with The International Association of Correctional Training Personnel (IACTP). He is also the author of "IACTP's Corrections Icebreakers: The Bouchard 101, 2014" and "Operation Icebreakers: Shooting for Excellence". The installments in this series include his opinions. The agency for which he works is not in any way responsible for the content or accuracy of this material, and the views are those of the contributor and not necessarily those of the agency. While some material is influenced by other works, all of the icebreakers have been developed by Joe Bouchard.

Visit the Joe Bouchard page

Other articles by Bouchard:
---