Former Stuntman, Army Ranger Improves Public Safety on Special Emergency Response Team
By Rachel Friederich, Washington Department Of Corrections
Published: 02/20/2017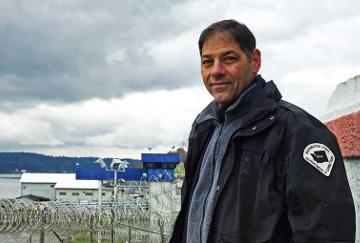 McNEIL ISLAND – A dark-haired, slender man leaps from an aircraft 10,000 feet in the air. He tumbles through the sky and lands in a red Cadillac. Millions of Americans remember the dazzling aerial sequence in 1994's Terminal Velocity, starring Charlie Sheen.

But the man who performed the stunt wasn't Sheen. It was Tom Hili, a Washington Department of Corrections (DOC) weapons specialist and Special Emergency Response Team (SERT) member. He was Sheen's stunt double in the film prior to his corrections career.

"Repelling from a helicopter into a car, then being inside the car being released by the helicopter being in free-fall, having to do whatever stunt I had to do and leave the car before the parachute opened up…It takes a lot of knowledge and confidence in your ability to do what you need to do," Hili said.

Hili jumped out of planes hundreds of times and trained to fire weapons before working at DOC. When he's not doing SERT exercises, he's working on getting his Bachelor's degree in Emergency Management from Capella University. He says his service in the armed forces is the reason for his professional success.

"Military experience has made me the person I am today. It gave me the structure and discipline I needed," Hili said.

Becoming a Ranger
Hili, a New York native, began his career in the U.S. Army in 1984 at the age of 18. He attended infantry and airborne training at Fort Benning, Ga. From there he was sent to Joint Base Lewis-McChord and assigned to the second ranger battalion. Army rangers are trained in direct-action raid force and can perform complex exercises such as conducting airborne assault operations, seizing key terrain, destroying strategic facilities, or capturing or killing enemies of the nation.

One of the reasons Hili said he wanted to enlist in the military to become an Army ranger was because several of his peers were deployed to Grenada in what would be known as Operation Urgent Fury. In late 1983, President Reagan became concerned Grenada had the potential to become another Soviet Union like Cuba. Reagan ordered American Forces to invade the island, citing the need to protect American medical students attending school there, fearing a repeat of the Iran hostage crisis.

Hili remembers everyone at school turning on their television sets to watch the students disembark planes at John F. Kennedy International Airport.

"There was a lot of pride and joy seeing them return," Hili said. "Then a year later listening to their firsthand accounts of the deployment brought a lot of pride knowing that I was now serving in this unit and I actually knew them!"

Golden Knights
Hili's time in the military ignited an interest in skydiving. In 1989, he joined the U.S. Army Parachute Team, also known as the Golden Knights. The Golden Knights is a team of parachutists from all branches of the Army who perform jumps in exhibitions and competitions.

Hili learned how to perfect the art of free-fall parachute jumps and landing safely. In order to become a Golden Knight, applicants have to have a minimum of 150-200 jumps. Hili estimates he had about 500.

He says the best part about skydiving is "the freedom when you are in the air," and "hearing people scream when you are under the parachute and landing with the American flag can be a little overwhelming when people tell you how much joy and pride it brings to them. I never thought about the risk."

Hili was part of the Golden Knights team until 1992. The Golden Knights allowed Hili to travel all over America 300 days a year. He performed jumps during seven games at Giants Stadium in New York as well as at the Rose and Aloha bowls. The Golden Knights even brought him to the 1992 Olympics in Barcelona. The U.S. and British teams wanted to convince Olympic officials to make skydiving an Olympic sport, so they performed about a half dozen jumps a day in towns around the Olympic village. Though the Olympic committee didn't make skydiving an Olympic sport, Hili said the experience allowed him to be an ambassador of the Army and Golden Knights.

"I really enjoyed the travelling," Hili said. "I got to see the world and interact with people. You're talking to kids and you're talking to adults and just that kind of interaction to show what kind of people we (the Golden Knights) are was just phenomenal."

His skydiving expertise led to film work. In addition to performing stunts in Terminal Velocity, Hili used his aerial expertise to be a stunt double for Ray Liotta in 1995's Operation Dumbo Drop. Hili was living in Washington state at the time. Continuing work in the film industry would've required him to move to Los Angeles or back to New York. Work in the film industry was hard to come by, plus he had already made many friends in Washington state, he decided to stay in the Pacific Northwest.

He took a bunch of odd jobs, including one as an electrician's apprentice for one of his skydiving friends. That experience helped him land a job at the DOC as an electrician supervisor at McNeil Island Corrections Center (MICC). He lived on the island with 37 other families until state budget cuts forced the closure of the prison in 2011. He was transferred to the Washington Corrections Center for Women (WCCW) and worked as the facility's electrician supervisor until August of 2016.

SERT
Though Hili enjoyed his work as an electrician supervisor, his prior work in the military led him to discover his real passion: emergency management. Through the DOC, he was introduced to members of SERT. His military background and weapons training allowed him to fit in easily with SERT. In 2016, Hili was promoted to firearms program specialist in the Emergency Response Operations Unit.

Though the MICC is no longer operating, the grounds serve as a training area for the department's SERT. SERT is the correctional equivalent of a Special Weapons and Tactics (SWAT) team. The DOC strives to improve public safety by training SERT members for the highest-level facility emergencies and to respond to situations beyond the capabilities of other response teams. SERT includes marksmen and other deadly-force specialists. Members train for scenarios such as hostage rescues, responding to injured correctional staff, transporting high-risk prisoners and taking the lead in regaining control of a facility during a crisis.

He takes pride in working with new members of the team and says he has the same level of trust with team members as his comrades in the Army.

"These guys are as close to me as the guys that served next to me in the Army and I trust every one of them with my life," Hili said. "Going into a (potential) hostage situation or any dangerous situation where somebody might be shooting back at us, knowing they (SERT) have my back and we're all going to come out of this alive, it's because of the training we're doing. It just makes everybody safer in their working environment.

Rachel Friederich is a Communications Consultant for the Washington State Department of Corrections. She earned her bachelor's degree in communications from Central Washington University. She has worked communications and public relations for various Washington non-profit organizations as well as a reporter at newspapers and radio stations across Washington including The Daily World, Yakima Herald-Republic, and KGY-AM in Olympia.
---