The Invasion of the Private Prison Industrial Complex
By Gary York
Published: 03/20/2017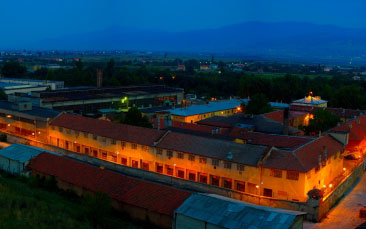 How Did the Private Prisons Start and Why?

The private prison industry kicked into gear around 1979 with the purpose of housing illegal immigrants facing deportation. In the 1980's the government started using private prisons for United States prisoners and the industry blossomed from that point forward. The war on drugs that started in 1971 by President Richard Nixon had been in full swing for a few years and prison beds were filling up. Years later in 1994, President Bill Clinton's Three Strikes Law came into effect, enhancing prison sentences of many convicted felons. A move President Clinton is alleged to now regret because of the new law contributing to the over population of prisons. These two new laws are not the only reason for the invasion of private prisons. The actual majority of the push for private prisons comes from political influence. Big money for everyone involved except for the state prison employees and the inmates used as a pawn to make everyone rich.

What is the Private Prison Industrial Complex?

The Private Prison Industrial Complex is an alliance between state and federal governments with a private non- governmental company for housing state and federal inmates at an alleged lower cost to taxpayers. Also involved are many private vendors who are contracted to supply food services, medical services, inmate clothing and many other services to inmates.

The private Prison Industrial Complex and the Military Industrial Complex are similar in some ways. The Military Industrial Complex is an informal alliance between our nation's military and the private arms industry. Both sides benefit because one side receives arms for the defense of our country and the other is paid to supply them.

In comparison, both the prison and the military industrial complex have a private company taking advantage of government needs. Both have political influence and both are making some people rich. With the prison system however, the bargaining chip is inmates, yes, convicted felons but still human beings. The illusion of saving the taxpayers and state money is the other comparison.

Do Private Prisons Really Save Money?

The New York University School of Law, the oldest school of law in New York with a long record of academic excellence, as well as a few other schools across our country, conducted a study of private prisons. It was determined private prisons do not save the taxpayers any more money than state run prisons. Prisons cost the United States 39 billion dollars a year and there is no sign that private prisons have changed this. The private company Corrections Corporation of America makes about 1.7 billion a year in profits. Several other private prison companies are also making similar profits.

The University of Wisconsin, according to its 2015 study, indicates private prisons keep inmates in prison longer to boost their profits. They do this by giving out twice as many infractions than state prisons to lengthen an inmate's prison stay up to three extra months. This extra time awards the private prison with as much as $3,000.00 extra per each inmate.

My personal observations, through conducting investigations at two Florida private prisons as a senior prison inspector while working for the state of Florida are;
Private prisons do not want costly sick inmates with life threatening diseases due to the high cost of medical care
Private prisons do not want the responsibility of death row inmates
Private prisons only want inmates with a good disciplinary record
Private prisons only want minimum to medium custody inmates
Private prisons have hired officers who have been administratively terminated from state prisons to save money by not having to pay to send them through the correctional academy
The amount of crime and corruption is no different than the state prisons
Private prisons are not willing to cooperate with reporting violations to state inspectors as required by state statute
All of the above personal observations in my opinion are to save money by spending as little as possible on the inmates and staff.

Do Private Prisons do any more towards rehabilitation than State Run Facilities?

There is no sign that the private prison industry is taking any interest in aligning themselves with the needs of society. One of the biggest factors is that private prisons have a zero effect on rehabilitation or the crime rate. They do not have any more educational programs than the state run prisons and as mentioned earlier the goal of the private prison industry is to keep inmates in prison longer for profit. Even with cherry picking only the cream of the crop state inmates, the private prison industry has proven they provide no benefit with aiding in the future of the inmates or providing society with a better run prison system than the state can provide. If the private prison industry wants to prove they can house inmates and save the state money then the private prison system needs to house the worst of the worst inmates and not leave that costly burden to the more experienced state prisons.

Who Wins with Private Prisons?

Everyone wins except for the state employees who lose jobs to private prisons and the inmates. The tax payers do not win either. The big winners are politicians who accept kickbacks from private vendors. It happens much more than most realize. Private food venders, private medical companies, private pharmacies, private video surveillance companies and more are winners also. The lure of money is effecting our decision making regarding private prisons.

Will Private Prisons continue to grow or Fade away?

With a little over 100 private prisons today housing around 62,000 inmates the growth of privately housed inmates is expected to hit 360,000 by the end of the decade. Remember in 1979 private prisons kicked off by housing illegal immigrants. Today we are facing stronger immigration laws and more illegal immigrants to house. The private prison industry will be eagerly waiting to build more private prisons and use this as a stepping stone as they did in 1979. So in my opinion the private prison industry is not going to fade away anytime soon.

Gary York is a retired Senior Prison Inspector and is an Ethics and Crisis Intervention Instructor. He is also the author of the books "Corruption Behind Bars" and "Inside the Inner Circle".

Other Articles by Gary York.
---