Seven Components of a Safer Corrections Library
By Joe Bouchard
Published: 03/27/2017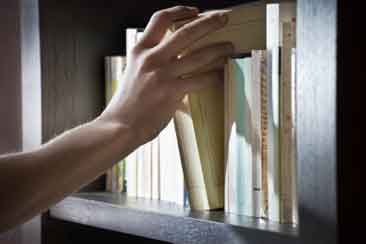 I recently read an article regarding corrections librarianship. The title of that article is "High Potential: A National Study Looks at Correctional Library Professionals" by Donna Ledbetter from NIC. It was featured in the March/April 2017 of Corrections Today. One of the issues raised in the article concerned keeping the library from becoming a pass and drop location for contraband.

This struck a responsive chord with me. One of my foci in my chosen vocation is contraband control. I am drawn to this topic because contraband is everywhere in potential and it is a grassroots danger. I endeavor to teach corrections professionals ways to mitigate the persuasive danger to maintain a safer environment for staff, prisoners and the public.

If contraband is an inevitable series of waves that threaten to erode secure beachfronts in corrections, what can we do to stem the tide? I believe that there are several components that can limit the dangers of contraband in a library. Consider these seven:
Committed, security minded library staff – This is the key ingredient. If library staff is mired solely in quality of library services, the security foundation is diminished. Prisoners who see a safety-oriented librarian will be less likely to circumvent the rules in that area.
Mentality of a security foundation - Once the library is secured, program improvements can develop in a better environment.
Engaged co-workers – Cooperation from custody staff is crucial for the success of a safe library. Yet, co-workers are also found in non-uniformed staff. Their eyes and ears gather data to feed the information machine. Observations and actions that follow keep alive the momentum of safety.
Support from supervision – Those who oversee operations should allow library staff to use necessary search tools and methods. In addition, supervision should schedule a routine search of the library from time to time. Searches could also be used as training exercises.
A routine – Closing the barn door after the horse has escaped is a practice in futility. So, a frantic search after something is found in an area is not as effective as a regular search. The latter is more likely to yield contraband finds than a serendipitous search.
A change as needed – The search process that is regular is useful. However, library staff and custody partners should revise searches on occasion in order to catch otherwise unseen items. For example, if prisoners observe that staff do not look in the non-fiction shelves during an overt search, they may conclude that non-fiction is a safe place to store and pass contraband. Routine is good, but well-conceived change warrants consideraton.
Presence – Like a dog in a yard, a library with visible staff presence is not as likely to be breached as a library devoid of staff. Prisoners notice when staff are watching and when they are delinquent.
Of course, a library where contraband control is employed will diminish trading opportunities. That, in turn, allows the area to be used as intended by operations staff. Programs can grow and improve under such circumstances. In addition, custody/programs cooperation increases as the common goal of safety is achieved with the help of both segments. This helps limit isolation and lowers manipulation of staff by enterprising prisoners.

Realistically, there is no way to completely eliminate contraband in any corrections setting. One might sooner try to sweep the sea back with a whiskbroom. But we can certainly build defenses to mitigate the flow and trade of bootleg. The best way to dissuade would-be contrabandists from using the library as a drop and pass location is to empower the corrections library professional as an agent of detection. In the end, contraband control, done well, is everyone's job.

Joe Bouchard is a Librarian employed with the Michigan Department of Corrections and a collaborator with The International Association of Correctional Training Personnel (IACTP). He is also the author of "IACTP's Corrections Icebreakers: The Bouchard 101, 2014" and "Operation Icebreakers: Shooting for Excellence". The installments in this series include his opinions. The agency for which he works is not in any way responsible for the content or accuracy of this material, and the views are those of the contributor and not necessarily those of the agency. While some material is influenced by other works, all of the icebreakers have been developed by Joe Bouchard.

Visit the Joe Bouchard page

Other articles by Bouchard:
---