Inmates Partner with Community to Build a Better Future
By Tim Kelly, Washington Department of Corrections
Published: 05/01/2017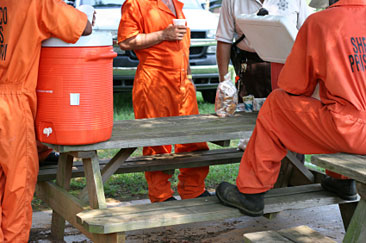 ABERDEEN - Of all the unlikely places to find temporary shelter units being built, Stafford Creek Corrections Center (SCCC) in Aberdeen might be at the top of the list. For close to a year, participating workers in the Correctional Industries (CI) program have partnered with Pallet LLC in Seattle, designing and building cost-effective, secure housing to help in disaster relief or homeless situations.

Pallet came to the program participants with an issue. They wanted houses that were compact and light enough for two people to move the structure and could also be assembled in 20 minutes. The inmates came up with the idea of intermeshing, or nesting, where one wall would fold into another to provide an element of compactness.

"It's not seen to be a permanent solution. It's a stepping stone," says Stafford Creek Correctional Industries General Manager Ryan Sadler. "Let's get you off the street, let's maybe maintain you in your family units, and that's why we look to have the four bunks in there."

The houses are more than one-time use facilities. They're built to be durable and adaptable to both hot and cold climates for year-round use to those in need.

"It can help homeless, migrant workers, it can help disaster relief," said Troy, a inmate engineer on the project from Stafford Creek. "It's gonna be a really good product," he further shared of the finished product and its possibilities at the ribbon cutting ceremony.

Next up for the group is making larger and more adaptable units that can lock together as family units. These units can enhance safety by giving people a secure, lockable area when they are in a temporary housing situation.

The Correctional Industries program provides incarcerated men and women with a way of growing and expanding their skills and abilities, better preparing them for employment post-release and a more successful reentry back into the community.

Tim Kelly is the electronic media producer specialist for the Washington State Department of Corrections, and has worked for the Department since 2016. He earned his bachelor's degree in Communication from Pacific Lutheran University. During his career, he has worked for KNDO-TV, 710 ESPN Seattle, and Spectrum Reach.
---