Crime in Schools - 65 Percent Had Incidents of Violence
By Leonard A. Sipes, Jr.
Published: 06/05/2017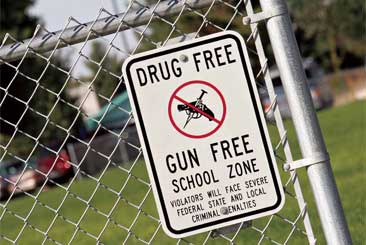 School Crime

The Bureau of Justice Statistics, in collaboration with the National Center for Education Statistics, has released "Indicators of School Crime and Safety: 2016."

This annual report provides the most recent data on school crime and student safety.

It's a massive report that contains a substantial amount of data. What's offered here is a summation of the most requested data on school crime. Please note the decreases in crime at schools which mimic the multi-year reductions in crime nationally, see Crime in America.

The report contains 23 indicators of crime and safety at schools on topics including:
victimization at school,
teacher injury,
bullying and cyberbullying,
school conditions,
fights,
weapons,
availability and student use of drugs and alcohol,
student perceptions of personal safety at school,
crime at postsecondary institutions.
The indicators in this report are drawn from a variety of data sources, including national surveys of students, teachers, principals, and postsecondary institutions.

Violent Deaths

A total of 48 student, staff, and nonstudent school-associated violent deaths occurred between July 1, 2013, and June 30, 2014, which included 26 homicides, 20 suicides, 1 legal intervention death, and 1 undetermined violent death.

Of these 48 school-associated violent deaths, 12 homicides and 8 suicides were of school-age youth (ages 5–18).

Between July 1, 2013 and June 30, 2014, a total of 12 of the 1,053 homicides of school-age youth occurred at school.

During the same period, there were 8 suicides of school-age youth at school, compared with 1,645 total suicides of school-age youth that occurred in calendar year 2013.

Nonfatal Student and Teacher Victimization

In 2015, students ages 12–18 experienced 841,100 nonfatal victimizations (theft and violent victimization) at school and 545,100 nonfatal victimizations away from school.

These figures represent total crime victimization rates of 33 victimizations per 1,000 students at school and 21 per 1,000 students away from school.

Between 1992 and 2015, total victimization rates for students ages 12–18 generally declined both at school and away from school.

Additionally, thefts, violent victimizations, and serious violent victimizations both at and away from school all declined during this period.

In 2015, students ages 12–18 residing in rural areas had a lower rate of total victimization at school (18 victimizations per 1,000 students) than students residing in urban areas (35 victimizations per 1,000 students) and suburban areas (36 victimizations per 1,000 students).

In 2015, approximately 3 percent of students ages 12–18 reported being victimized at school during the previous 6 months. About 2 percent of students reported theft, 1 percent reported violent victimization, and less than one-half of 1 percent reported serious violent victimization.

Between 1995 and 2015, the percentage of students ages 12–18 who reported being victimized at school during the previous 6 months decreased overall (from 10 to 3 percent).

During this period, the percentage of students who reported being victimized at school also decreased for both male (from 10 to 3 percent) and female students (from 9 to 3 percent), as well as for White (from 10 to 3 percent), Black (from 10 to 2 percent), and Hispanic students (from 8 to 2 percent).

In 2015, about 6 percent of students in grades 9–12 reported that they had been threatened or injured with a weapon on school property during the previous 12 months.

The percentage of students who reported being threatened or injured with a weapon on school property was lower in 2015 than in every survey year between 1993 and 2011; however, there was no measurable difference between the percentages in 2013 and 2015.

In each survey year from 1993 to 2015, a lower percentage of female students than of male students in grades 9–12 reported being threatened or injured with a weapon on school property in the previous 12 months.

In 2015, lower percentages of Asian students (4 percent) and White students (5 percent) than of Black students (8 percent) and Pacific Islander students (20 percent) reported being threatened or injured with a weapon on school property during the previous 12 months.

During the 2011–12 school year, a higher percentage of public than private school teachers reported being threatened with injury (10 vs. 3 percent) or being physically attacked (6 vs. 3 percent) by a student from their school.

Ten percent of elementary teachers and 9 percent of secondary teachers reported being threatened by a student from their school in 2011–12. The percentage of elementary teachers who reported being physically attacked by a student was higher than the percentage of secondary teachers (8 vs. 3 percent).

School Environment

During the 2013–14 school year, 65 percent of public schools recorded that one or more incidents of violence had taken place, amounting to an estimated 757,000 crimes.

This figure translates to a rate of approximately 15 crimes per 1,000 students enrolled in 2013–14.

In 2013–14, about 58 percent of public schools recorded one or more incidents of a physical attack or fight without a weapon, 47 percent of schools recorded one or more incidents of threat of physical attack without a weapon, and 13 percent of public schools recorded one or more serious violent incidents

Fights, Weapons, and Illegal Substances

The percentage of students in grades 9–12 who reported being in a physical fight anywhere decreased between 1993 and 2015 (from 42 to 23 percent), and the percentage who reported being in a physical fight on school property also decreased during this period (from 16 to 8 percent).

In 2015, a higher percentage of 9th-graders than of 10th-, 11th-, and 12th-graders reported being in a physical fight, either anywhere or on school property, during the previous 12 months

Fear and Avoidance

The percentage of students who reported being afraid of attack or harm at school decreased from 12 percent in 1995 to 3 percent in 2015, and the percentage of students who reported being afraid of attack or harm away from school decreased from 6 percent in 1999 to 2 percent in 2015

Postsecondary Campus Safety and Security In 2014, about 27,000 criminal incidents on campuses at postsecondary institutions were reported to police and security agencies, representing a 2 percent decrease from 2013, when 27,400 criminal incidents were reported. The number of on-campus crimes reported per 10,000 full-time-equivalent students also decreased, from 18.4 in 2013 to 17.9 in 2014
---