Health and Wellness
By Terry Campbell, Professor, Purdue University Global
Published: 06/12/2017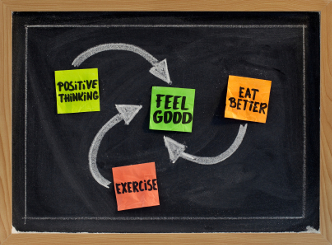 Our article this month focuses on Health and Wellness. This is one of those topics, that we are all familiar with. Yet, many are reluctant to take immediate corrective action and some will wait entirely too long. Consider the following scenario and see if you can relate to this.

I have not been eating healthy and drinking alcoholic beverages more often. I can feel the stress and while dressing for work, I noticed my belt is a little tight. I went to the next belt hole, only to find I was already in the last hole. All of a sudden it dawns on me, I moved to the last belt hole three weeks ago. I look down and cannot see my shoes. Oops! Realization sets in.

I arrive at work, concerned now with my image. I proceed to my assigned post and hear the yell 'fight!'. I begin to run and soon find myself out-of-breath. I cannot defend myself and assist other officers and staff. Is this scenario far-fetched? Not really, this occurs more often than one realizes. Poor health and wellness equals stress and other health related issues.

I suggest you take time and read the following article from the U.S. Department of Justice Office of Justice Programs and Diagnostic Center. Correctional Officer Wellness and Safety Literature Review: July 2013: Correctional Officer Wellness and Safety Literature Review.

The following article outlines many of the issues faced by officers and staff, working in corrections. "One of the greatest threats to the wellness of COs involves the stress they encounter as a result of their occupation. In providing the daily management of correctional facilities in the United States, Cos face a wide array of stressors, that in many cases, are unique to their profession (Morgan, 2009). Stress can have significant negative consequences for COs individually, as it affects their health and well-being, work performance, the inmates they supervise, their co-workers and their families. These consequences can decrease the safety of a correctional institution, can have substantial financial implications for an agency (e.g., turnover, poor performance, lawsuits, and can reduce the legitimacy of an organization in the eyes of its employees (COs) and those they supervise (inmates)." Note: This paragraph is for all who work in corrections. This consists of employees who are uniformed, non-uniformed, those working in our prisons and jails, probation and parole, etc.

There are some additional stressors to consider:
"Inmate-related threat of violence/injury, inmate mental illness, substance abuse, suicide, etc.
Occupational (inherent to the profession): closed work environment, hyper-vigilance, etc.
Organizational/administrative mismanagement, poor leadership, inadequate resources/pay, understaffing, etc.
Psycho-social: fear, work/family conflict, media scrutiny, etc.
The information provided so far should be an eye opener, if not, see if the following comes as a surprise.
Cheek (1984): The average life span of correctional officers, at age 59 years of age, is 16 years lower than the national average.
The Bureau of Labor Statistics, Census of Fatal Occupational Injuries, shows that 38 percent of the intentional fatalities suffered by COs were suicides by self-inflicted gunshot wounds (Konda, 2012).
Note: This does not take into account suicides outside of the workplace. As you can see, there is a need for additional research.
We have a responsibility not only to our agency, but our families, friends, and ourselves to be in control of our health and wellness.

Our next area looks at some preventative measures, and availability of Employee Assistance Programs (EAPs). Something I learned a long time ago; 'for change to occur, the individual must accept the responsibility and consequences for their own actions.' (Campbell). One of the obstacles we face is admitting we have the problem and do not know how to deal with it. Erase the macho image and seek assistance before you become a casualty.

Probably most of us can do with some lifestyle changes. To begin with, when was the last time you had a physical and bloodwork? While visiting your doctor, you can also discuss with them a need to begin an exercise program. My knees are shot and do not allow me to pound the pavement anymore. So I ride my bicycle and walk. I started out gradually and now walk 5- 6 miles Monday-Friday. I can tell the difference. Do I walk the miles at one time? No, I walk a couple in the morning, and then spread the rest throughout the day.

At the same time, I limit my intake of certain beverages. Also I have become aware of eating healthy. I still like to pig out occasionally, when I do I get back on track. It has taken a while for me to recognize the benefits and I actually feel better. Especially as I am in my 60's.

I strongly suggest you contact your agency and ensure you are aware of any Employee Assistance Programs (EAPs) available. This information should be posted, part of the employee handbook, and available through the Human Resource Department and administrators offices.

These areas are usually available through your agency or referral service: health, marital, family, financial, substance abuse, legal, emotional, and other issues. These services are usually available to you and family members. Take the next step and seek assistance, you will feel better and notice a weight removed from your shoulders.

Remember you work in a stressful and volatile environment. The inmate population has nothing better to do than watch us. Guess what? The inmates and others soon recognize we are in better health and shape than before. This coincides with engaging our family in more and improved positive ways. You are not a health risk, but a valuable part of the corrections profession. We all want to retire and enjoy our senior years.

Stay safe out there.
Best regards, Terry
---