What is Your Lame Excuse for Being Late?
By Joe Bouchard
Published: 08/07/2017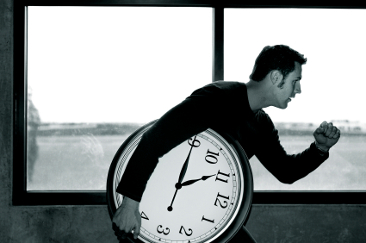 The following is an installment in "Icebreakers 101: The College Edition", a series featuring "Ice Breaker's" designed to promote training awareness and capabilities in the corrections industry.

We all know people who will be late to their own funeral. Try as they might, the state of being early is never in their cards. But that does not exempt the rest of us from occasional delay. Even for those of us that are painfully punctual, we will likely be tardy at one time or another. With so many variables, possible roadblocks and mistakes, the odds simply will not always be in our favor.

It is obvious that classroom participation runs the gamut. But it is important to open communications and interplay. Otherwise, no matter how well written the instruction materials, it will be a two-dimensional endeavor.

To start each class off with a chance for everyone to participate, I write four questions in the board. In formula icebreakers, the first three are almost always the same, generic introduction questions.
What is your name?
What year of school is this for you?
What is your ultimate vocational goal? ("Uncertain" is an acceptable answer.)
The fourth question is the slightly odd, icebreaking question. For this icebreaker, the pivotal question is "What is your lame excuse for being late for class?" I used this on the first week of class this semester with a suitable buildup.

"As you enter the room, the class is already assembled. The instructor stops abruptly in mid-sentence. He looks up from his roster and locks eyes with you, piercing your unsuspecting soul. Ashamed, you nod in a sheepish manner. Without drawing additional attention to yourself, you try to find a seat as far from the front as possible. Murphy's Law is in effect and the only empty chair is front and center. All is eerily quiet and he inevitably barks out the obvious, 'You are late! What is your lame excuse for being late to class?' As you complete the cycle of blushing, you offer this excuse…"

As an example, I stated my answers to the first three questions and offered a twist on the classic excuse (the 4th element) – "The dog ate my car keys."

The excuses that followed from the students were varied, ranging from common to incredible. But, it was a way for students to think on their feet after delivering basic information to their peers. Plus it gives the instructor the first glance at class dynamics.

None of this is to mitigate the disruption that lateness can cause. However, a light hearted look at odd excuses can set the stage for a creative semester with increased student participation. What is your lame excuse?

Joe Bouchard is a Librarian employed with the Michigan Department of Corrections and a collaborator with The International Association of Correctional Training Personnel (IACTP). He is also the author of "IACTP's Corrections Icebreakers: The Bouchard 101, 2014" and "Operation Icebreakers: Shooting for Excellence". The installments in this series include his opinions.
---