Wrap Around Meetings Give Victims a Voice
By Rachel Friederich, Washington Department of Corrections
Published: 08/14/2017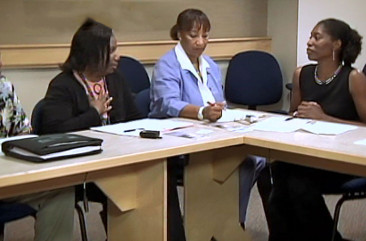 Editor's note: The name of the victim in this story has been changed to protect her identity, but all other details are factual.

KING COUNTY, Wash. – Jane, a 25-year-old woman from King County, sat in a room with her godmother. Also at the table were Department of Corrections' Community Victim Liaison Angella Coker and a community corrections officer.

A relative had served a sentence for sexually assaulting Jane in King County. Now he was getting out of prison in a couple of weeks. She worried about what could happen after he got out.

What if he tried to contact her? What if he stalked her? What if he harassed her at work, or worse, her children? Would he get the counseling and mental health treatment he needs to keep him from doing it again?

These are concerns many victims have when their perpetrators are about to leave prison. Coker and other community victim liaisons address those concerns in meetings known as victim wrap-arounds. Victim wrap-arounds are safety planning meetings that victims can request. They bring victims together with Corrections staff, community partners and their support person(s). It's one of several programs offered through the agency's victim services.

"The most rewarding part of this job is helping victims access the criminal justice system post-sentencing," Coker said. "Because we are internally part of a system that is working with the inmate, we're able to give community victims information and an opportunity to provide input they otherwise would not have."

The Washington Department of Corrections (DOC) has six community victim liaisons who work with victims across the state. They respond to and assist victims of inmates in prison or under community supervision. Caseload sizes can vary. Coker says she provided services to 55 victims during May of 2017.

What Goes On

A victim wrap-around meeting has several parts. The community victim liaison talks with an inmate's prison counselor. They talk about the inmate's behavior in prison and note if he or she took classes or participated in programs. They discuss the inmate's overall attitude and whether or not he or she incurred any infractions.

The community corrections officer reviews terms of the inmate's release plan with the victim. Terms may include staying within defined geographic boundaries, adhering to no-contact orders and submitting to drug tests.

The community corrections officer and community victim liaison discuss steps victims can take to keep themselves safe, such as distributing photos of their perpetrators at their workplace, children's schools and to neighbors. Other precautions include logging and reporting any unwanted phone calls, letters or other contact from an inmate.

The victim wrap-around also gives victims a chance to tell staff and community partners about any inmate behaviors that could signal a "red flag" not obvious to outsiders but well-known to family members.

Making an Impact

Coker has served crime victims for 16 years. She worked at the Thurston County Prosecutor's Office as a victim advocate for five years and became a Washington Corrections' community victim liaison 11 years ago. She worked closely with Steve Eckstrom, who was then a community victim liaison for Thurston County and is now the program manager for the department's Victim Services Program.

"As an advocate at the prosecutor's office, it was helpful to know a victim I was working with was going to continue to be served when an inmate was sentenced to DOC probation or prison time," Coker said. "I saw firsthand how valuable those meetings were for victims."

Coker says her work often has positive impacts on victims and inmates' lives. She recalled a case she worked on for more than six years involving a domestic violence victim. She worked with the planning team to arrange for the woman's abusive husband to live in another county after his prison release.

"She (the victim) was able to finalize the divorce and her children were able to complete school where they had been attending for years," Coker said. "The victim was able to rebuild her life during this time and he remained law-abiding. Even though it may have felt punitive to this man to live out of county, it really offered him the opportunity to be in a different environment to make different choices."

Victims who participate in the victim wrap-arounds say the experience allows staff to humanize a case file.

"Instead of just talking on the phone, they (community victim liaisons) can put a face to the voice on the phone," Jane said. "We can voice our fears and concerns so they can know there's a face to all of this."

Rachel Friederich is a Communications Consultant for the Washington State Department of Corrections. She earned her bachelor's degree in communications from Central Washington University. She has worked communications and public relations for various Washington non-profit organizations as well as a reporter at newspapers and radio stations across Washington including The Daily World, Yakima Herald-Republic, and KGY-AM in Olympia.
---