Superwoman is a Lie - Part 1
By Dr. Susan Jones
Published: 08/21/2017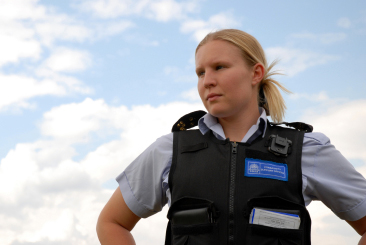 The idea of being a superwoman, capable of being the perfect mom, housekeeper, and career woman is an idea that the women growing upon the 70s were spoon-fed as the ultimate goal. As a result, many of the women who entered the world of work in the 1980s fully expected to not only have it all, but to be able to maintain it all for as long as needed. In the 1984 book, the Superwoman Syndrome, Marjorie Hansen Shaevitz details the pitfalls that these aspiring superwomen were facing as they pursued their goal of having it all. Shaevitz sums it up very succinctly: "the greatest myth ever perpetrated on the modern day woman: That not only can we have it all, but that we should want it all." This type of thinking has been encouraged in many different fields, but the need to look like we have it under control in all areas is particularly important for the women who enter the field of corrections. Corrections, like other traditionally male dominated fields, is still an area where women are being "allowed" to work, but they are not totally accepted. Therefore, the appearance of control in all areas of the individual's life is essential to acceptance in the workplace.

The trap of this type of thinking that we can have it all and should want it all is that most women can't maintain this level of performance in all these areas of their lives over a period of years. A second trap is that this type of thinking implies that all women should not only be able to do it all, but that all women should want it all. While the book the Superwoman Syndrome detailed the issues this type of myth creates, there have been other, more recent publications that have criticized women of later generations for not doing "it" correctly.

"Lean In: Women, Work and the Will to Lead", written by S. Sandburg in 2013, has been referred to as a rallying cry to re-boot feminist ideals for the next generations. This publication and the movement that has arisen since the book was released, examines the ways that women are held back in the workplace and then it goes further to identify ways that women hold themselves back. Many working women have chimed in to this discussion to either support the work of Sandburg or to critique the underlying message. Many times these women are speaking to the myth identified by Shaevitz, the ability and the desire to have it all.

Of course, along the same timeline, there have been other publications or speakers that have addressed the issue of working women who have called for a return to the 50s, where women were home raising their children. These types of messages have not received the same attention as the Sandburg book, in part, because they fail to address the impact of the economy on the ability to raise children on one salary, or the fact that many women are raising children without the help of a spouse.

Working women and particularly working mothers continue to struggle to maintain their responsibilities in all areas of their life. The issues of availability of quality child care, dispersion of the extended family, the rising cost of living, deterioration of school systems, and housework continue to be struggles for many working mothers. While all of these issues can be solved with enough money that is not the world in which most women find themselves. The issues of child care and school systems are complex and have not been addressed in manner that allows access to women throughout the country. Without addressing these two very foundational issues, the performance level of women at work is negatively affected. It is very difficult to be fully engaged it what is going on in your career when you are constantly scrambling to figure out how to ensure your children are being cared for and educated effectively.

The issue of housework is an area that is often identified by working women as a source of stress, unless they can afford to hire help to clean their home, do the laundry, and prepare meals. At first glance, these chores seem minor in comparison to the more complex issues of child care and education, but it is these particular chores that women continue to hold up as measurements of how well they or their counterparts are doing. Underlying this seemingly unreasonable expectation that the home is not only clean, but a show place, is another foundational expectation left over from the 1970s. Women were "allowed" to go to work, ostensibly to find greater fulfillment, if nothing else changed. The family, the house, and volunteer work- it all had to be unaffected. In essence, women were allowed to have a "second" job, only if they were still able to complete their first job – including the housework.

The costs of that this type of double duty takes upon the people trying to have it all is found in their relationships, their work performance, they parenting style, and in their health. The psychological toll includes finding themselves feeling irritable or feeling like running away. The interpersonal toll can be found in the quality and number of relationships. These relationships include people at work, home and in the community. Perhaps the easiest measurement can be found in the physical toll. Fatigue doesn't even begin to describe the way some working mothers feel, every day. Other issues such as heart disease, depression, and cancers can be linked directly to stress, lack of rest, and a lack of "down time."

The effect of the toll that is taken is not limited to one individual - the bigger issue is that the next generation is watching and learning how to cope with the demands of life. Not only are little girls learning, but little boys are also learning what it means to have a wife/mother in the workforce.

One could argue that the world in which we live is changing, and that these changes affect men and women, and that is a fact. The amount of information that one is expected to take in, process, and react to, is increasing at a rate that is difficult to put into words. However, working women were already under stress, before the acceleration of technology changed the game. Consequently, the effect upon women is more pronounced.

Reprinted with permission from the Association of Women Executives in Corrections.

Check back next week for the conclusion of this two part article.

Dr. Susan Jones retired from a warden's position within the Colorado Department of Corrections. She worked in a variety of corrections positions in Colorado for 31 years, including: community corrections, correctional officer, sergeant, lieutenant, manager, associate warden and warden. Dr. Jones research interests have focused on the issues that correctional employees face on a daily basis. Visit Dr. Jones's Facebook page "A Glimpse Behind the Fence".
---