Top Months for Violent and Property Crime
By Leonard A. Sipes, Jr.
Published: 08/28/2017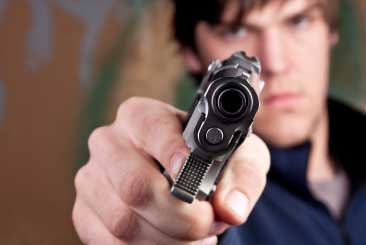 There is endless debate as to which months are more prevalent for violent and property crime. We haven't updated data on this topic since 2010, see Crime by Month.

We asked the FBI-Uniform Crime Reporting Section for a data run for 2015. It's included below.

Note that FBI data is an undercount as it represents "reported" crime. National Crime Survey data indicate considerable under-reporting.

December Dominates?

December seems to dominate all other months for violent and property crime, which doesn't make sense. Crime is a warm weather proposition and, generally speaking, there is more commonality in month-to-month variations than differences.

December has always been a high month for robberies in the past, but it's the warm weather months that lead for violent and property crime.

It turns out that the data is flawed by police agencies submitting their numbers at the end of the calendar year, which inflate December data.

From the FBI: "Our Crime Statistics Management Unit advised that sometimes when a state/agency sends data once a year, the figures fall in December, inflating the December totals."

Thus we discard December data and look to the other months for guidance.

Violent Crime and the Warm Weather Months

June through August have violent crime totals that exceed 100,000 murders, rapes, robberies and aggravated assaults. June is the highest at 110,000. Both July and August have approximately 102,000 violent crimes.

February has the lowest totals for violent crime (68,500).

May has 97,300 violent crimes and September plus October have 96,500 and 94,800 respectively.

But most months fall into the 85,000-95,000 range. Yes, there are wide variations between June (110,000) and February (68,500) but most months share more commonality than variations.

I understand that warm weather months bring increasing crime concerns, but the 15,000-20,000 numerical difference between the 85,000-95,000 rage for most months and the 100,000+ for the summer months may not be a profound issue at the local level when spread over 18,000 law enforcement agencies in the US.

The lesson seems to be that we have more consistency than major variations, thus every month is a concern for violent crime.

Property Crime

June through September are high months for property crime ranging from 699,200 in June to 654,200 for July, 647,100 for August and 624,500 for September. October has 618,800.

January through March are the lowest months. February has 449,100 property crimes.

But most months beyond June-October are in the 540,00-580,000 range.

Thus, like violent crime, property crime remains a concern throughout the year.

Murder

June is the deadliest month with 1,414 homicides. Remember, we are excluding December for this and other categories below.

Rape

June has more rapes than any other month, 11,027.

Robbery

More Robberies occur in June than any other month, 28,700.

Aggravated Assault

June is the leading month for aggravated assaults, 68,700.

Burglary

More burglaries happen in June.

Larcenies

More larcenies happen in June

Auto Thefts

More auto thefts happen in June

Click hereto view chart.

Reprinted with permission from http://www.crimeinamerica.net.

Contact us at crimeinamerica@gmail.com or for media on deadline, use leonardsipes@gmail.com.

Leonard A. Sipes, Jr has thirty-five years of experience supervising public affairs for national and state criminal justice agencies. He is the Former Senior Specialist for Crime Prevention for the Department of Justice's clearinghouse and the Former Director of Information Management for the National Crime Prevention Council. He has a Post Master's degree from Johns Hopkins University and is the author of the book "Success With the Media". He can be reached via email at leonardsipes@gmail.com.
---