Community Support Key to Reentry
By Rachel Friederich, Washington Department of Corrections
Published: 10/02/2017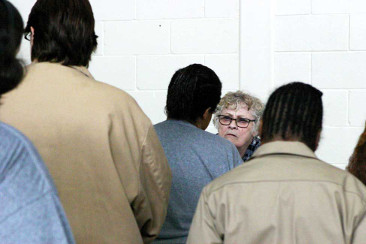 GIG HARBOR – Ahnetta Fields stood at the podium wearing thick glasses and a blue-and-white-striped sweater. Not many people know the 72-year-old grandmother is a former inmate who spent time at the Washington State Penitentiary (WSP) and Washington Corrections Center for Women (WCCW).

"I walked out those doors 45 years ago and this is the first time I've ever walked back in," Fields said. "In 50 years, I've never told my story. I've never told anybody."

Fields told her story at last month's Women's Village Reentry and Resource Fair at WCCW to more than 100 inmates who will be releasing from prison within the next 18 months. More than 75 representatives from local organizations come to WCCW twice a year to talk to inmates about local programs designed to connect them to resources they'll need as they transition back into the community.

Because successful community reentry for individuals leads to safer communities, the Department of Corrections focuses on prosocial activities like education, employment, housing, and family connections for those releasing from incarceration.

Reentry and Resource Fairs are held at most prisons. Organizations that attend the fairs represent local programs related to transitional housing, college and technical schools, job skills training, and substance and mental health counseling, for example.

Fields was the keynote speaker at the fair at WCCW. She recalled how she became a mother and wife at the age of 15, and how living on an Indian reservation in Oklahoma, surrounded by poverty and few resources, led to crime.

A burglary charge sent Fields to the Washington State Penitentiary in 1967. At the time, the penitentiary housed female inmates in separate units outside the prison, according to penitentiary spokeswoman Shari Hall. Fields transferred to WCCW when it opened in 1971, where she served the remainder of her prison sentence. The governor paroled her that year and she served an additional 18 months on work release and community supervision.

After completing her sentence, Fields found a job at Pioneer Human Services (PHS), an organization that helps formerly incarcerated people find housing, employment services and offers treatment for substance abuse and mental health issues. PHS is one of the organizations frequently present at the fairs. Fields has worked at PHS for 45 years and is currently one of its case managers.

She assists formerly incarcerated people to determine what they need to succeed outside prison. This can include addressing outstanding warrants, finding childcare, navigating the repayment of legal financial obligations, and setting goals as part of a change plan.

When she speaks to her clients, Fields hopes her personal experience can help them realize the crimes for which they were convicted in the past don't have to define how they live their lives in the future.

"Really think about what you are going to do next," she advises. "You can overcome anything. I have. If you want to, you can become whatever you want to do."

Despite surpassing the minimum federal retirement age, she has no plans on retiring anytime soon.

"It was very hard walking back in here," Fields told the inmates. "But if I help one of you, then it was worth it."

Rachel Friederich is a Communications Consultant for the Washington State Department of Corrections. She earned her bachelor's degree in communications from Central Washington University. She has worked communications and public relations for various Washington non-profit organizations as well as a reporter at newspapers and radio stations across Washington including The Daily World, Yakima Herald-Republic, and KGY-AM in Olympia.
---