Keeping Prison Gym Floors Clean and Long Lasting
By Robert Kravitz, President AlturaSolutions
Published: 10/16/2017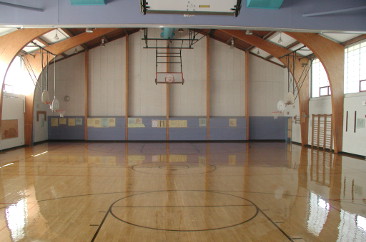 A new prison opened up in Lehigh County, Pennsylvania. The prison includes two gym floors, the traditional maple hardwood floors that we probably all remember from our high school and college days. However, there was a bit of misunderstanding as to the cost to install these gym floors. Some county officials believed the charge would be about $15,000 for the two floors. However, as it turned out, the county ended up paying $102,950 for the two floors.

Of course, everyone was scratching their heads as to why there was such a misunderstanding. So an examination was conducted, and county officials found that the original contracted amount was actually $120,950. So in a sense, county officials were relieved that they ended up saving $8,000. But no one could figure out where the $15,000 estimate came from.

Well, a fascinating story, but here is what we need to know. This all happened in 1991. If those same maple hardwood gym floors were being installed today, the cost would likely be as much as $200,000.

Because they are so costly, it is imperative that prison administrators know how to care and maintain a gym floor. If properly cared for, they can last as long as 50 years. This is far longer than the "artificial" type gym floors now available, which usually last about 15 to possibly 20 years, making maple a much more cost effective gym floor over the long run.

Protecting the Floor

Maple gym floors are popular because they provide a bit of a bounce when walking, running, or jumping over them. So if athletes, or in this case inmates, are playing basketball, this bounce offers a bit of a cushion, protecting feet, knees, and legs.

That's the big benefit. On the other hand, maple gym floors can be a bit fragile and easily damaged. This means the first step in maintaining a gym floor is protection.

Corrections administrators are advised to make sure no food or beverages are allowed on or near the floor. Make sure inmates and others using the floor are wearing the right type of shoes. What we call "street" shoes should never be walked over the floor; even rubber-soled shoes can damage a maple floor. Sports or athletic shoes are the best to wear.

Copies of these guidelines should be posted at all gym entries. They serve as ongoing reminders and can prove to be very useful.

Several feet of matting should also be installed in all entries that lead to the gym floor. An efficient matting system removes and collects dust, debris, and moisture from shoes. If enough matting is installed, as much as 70 percent of these contaminants, possibly more, will be removed and not walked onto the floor.

Gym Floor Cleaning

In many ways, gym floors are cleaned the same ways as traditional floors. But what is most important to know is that only the correct cleaning solutions and finishes must be used. These may not be the same as those used to clean and maintain a traditional floor.

To help us better understand the cleaning needs of gym floors, we turn to Mike Watt with Avmor, a leading North American manufacturer of professional cleaning solutions, including products made specially for cleaning and maintaining gym floors.

According to Watt, here are the steps we need to follow to help keep gym floors clean and long lasting:

Daily Cleaning

Gym floors should be dust or damp mopped daily to remove dust and grit; if damp mopped, select a floor cleaning solution specifically designed for cleaning these floors.

Interim Cleaning

More detailed cleaning is necessary if the floor shows heal marks, becomes heavily soiled, or begins to darken with time and use. This can be monthly or every two or three months. When this happens, an auto scrubber is necessary. Make sure a non-abrasive pad is attached to the scrubber, and a pH neutral cleaning solution is used for this cleaning task.

Restorative Cleaning

This is a very labor-intensive process requiring specialized tools, cleaning solutions, and equipment. It can be delayed if the daily and interim cleaning measures just discussed are performed properly on a regular schedule.

A scrubber is necessary to help remove the finish from the floor. In the process, surface soils will also be removed. Once this is completed and the floor has been rinsed and is dry, a new finish can be applied.

Always remember that floor finish dries from the top down. So even if the finish is dry to the touch, that does not mean it is thoroughly dry. Usually, three to four thin coats of finish are necessary. This is enough to protect the floor and give it a high-gloss look.

"One of the most important things to know is that when selecting floor cleaning solutions and finishes, it is best to select all the products from the same manufacturer," says Watt. "In most cases, the products are all designed to work together. This synergy makes them more effective."

Additionally, Watt advises corrections administrators to make sure the cleaning solutions and finishes have been evaluated and provide adequate slip resistance. "When playing basketball or any other type of sport on a gym floor, people run and jump quickly. With proper slip-resistance, we can help make sure there are no accidents."

Robert Kravitz is a regular contributor to Corrections.com and is a frequent writer for the professional cleaning industry.
---