What should corrections students know before entering the profession?
By Joe Bouchard
Published: 11/13/2017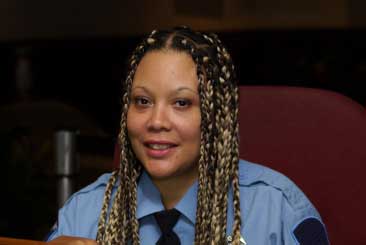 The following is an installment in "Icebreakers 101: Hello, My Name is Problem", a series featuring "Ice Breaker's" designed to promote training awareness and capabilities in the corrections industry.

Corrections staff are a special type. Like a resolute stone in the stream, they stand impervious to the constant pressures that try to erode the position of stability. This raises a question. How does one make a normal student into a rock?

Many corrections jurisdictions require that new employees obtain some college coursework prior to entering the field. In my agency, for example, fifteen college credits in corrections and criminal justice are required.

Some may wonder if this is necessary. If there is an academy, why should there be any college? I think that the broad background is a necessary part of the preparation that makes non-corrections people into effective staff. Without it, the new recruit has to start from square one. That is, everything one knows about corrections is derived from the sometimes-misleading media. Orange is the New Black may be entertaining, but it isn't likely to be authentic for all work places.

In my opinion, the onus if education does not fall solely on the academy. I believe that those who teach these pre-professionals in colleges have a responsibility to deliver information to keep the students safe in their future. College courses in corrections and criminal justice will naturally cover history, current issues, larger systems, smaller components, and criminal justice theories.

Perhaps the most important element of this learning is the reality of working inside a correctional institution. I am not saying that only those who work inside can teach these classes. But those who do not have experience inside the walls should utilize guest speakers to bring practice in line with theory and text learning. Students should know the entire spectrum – from the horrible blasts of adrenaline to the long stretches of routine boredom.

At the end of the lectures, instructors (be they adjuncts or full professors) wonder what their students will take with them into the field. At the end of sixteen weeks, there should be a list of maxims that each student can use later.

During a recent semester, I field tested an icebreaker called, "So, what did you learn?" It is very simple and requires nothing but pen and paper. The three steps are:
Break class into smaller groups;
Allow them ten minutes to write down at least five corrections lessons learned during the semester;
Have each group report what they chose as memorable corrections lessons.
Below is a list of some of the lessons learned in a recent semester. The important point is that the following is what students chose as the important lessons.
Understand the 'back against the wall' mentality. Many staff acquire the dislike of people standing behind them.
Officer is the term to use. Do not call corrections professionals guards, as it degrades the profession.
Look before you feel. A contraband search done with the hands rather than the eyes can lead to infection.
Know your surroundings. Plan ahead.
Know where your back up is located.
Listen and observe for more information whenever possible.
Do not use the names of others in stories to protect yourself and them.
Do not be someone you are not in any circumstances. Be yourself.
Work together well. Be professional and respectful.
Communicate.
Don't underestimate people
De-stress with positive means whenever possible.
Contraband is a pervasive and persistent challenge to the corrections profession.
Once groups report what they have learned, I will distribute a short list of what I believe are the important lessons. These are lessons that are rarely found in text books. They come from years of experience and reflection on my early days in corrections.

It is important the instructors reflect on the lessons that students found important enough to list in this exercise. That which is listed are the lessons that were emphasized. Still, the instructor might reflect on why some lessons were not listed.

What do you think students should know before entering the profession? No two lists are the same. But, I believe that all should point toward the safety of staff, prisoners, and the public.

Joe Bouchard is a Librarian employed with the Michigan Department of Corrections and a collaborator with The International Association of Correctional Training Personnel (IACTP). He is also the author of "IACTP's Corrections Icebreakers: The Bouchard 101, 2014" and "Operation Icebreakers: Shooting for Excellence" among others. The installments in this series include his opinions. The agency for which he works is not in any way responsible for the content or accuracy of this material, and the views are those of the contributor and not necessarily those of the agency. While some material is influenced by other works, all of the icebreakers have been developed by Joe Bouchard.

Visit the Joe Bouchard page

Other articles by Bouchard:
---