Understanding the Social Determinants of Health Among African-American Men
By Barbara Granner, National Commission on Correctional Health Care
Published: 12/11/2017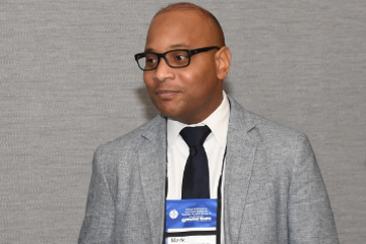 Social determinants of health are defined as the conditions in which people are born, grow, live, work and age – the complex social structures and economic systems that are responsible for most health disparities. An understanding of those conditions and their effects can help correctional professionals who work with African-American male inmates, especially in mental health-related situations.

Mark Fleming, PhD, CCHP-MH, vice president of operations for Corizon Health, explored "The Social Determinants of Health Among African-American Men: Diagnostic and Treatment Implications" at the National Commission on Correctional Health Care's National Conference in November, along with associates Scott Eliason, MD, CCHP-MH, regional psychiatric director, and Adam Love, PsyD, clinical director.

Dr. Fleming listed the following social determinants of health:
Economic stability or instability: employment, income, expenses, debt, medical bills, support
Neighborhood and physical environment: housing, safety, transportation, opportunities to be outdoors
Education and literacy: reading skills, language development, early childhood education, access to vocational school or college
Community and social context: social integration, support systems, community, discrimination (or absence of)
Health care system: access, ability to pay, provider availability and cultural competency, quality of care
For many black men, Dr. Fleming explained, the three key social determinants are low socioeconomic status, racial discrimination and incarceration. "Just imagine how stressors prior to and within incarceration and life after release can impact health status," he said.

In addition to those factors and attitudes toward African-American men within the wider society, many black males hold certain ideas about themselves, as men, that are counterproductive when dealing with the stresses of life, said Dr. Fleming. While every individual is unique, understanding these common cultural attitudes, he said, can make clinical and therapeutic transactions more effective and productive – a win-win.

Men in general, and black men in particular, tend to be socialized to value control, power and competition. They don't like to show vulnerability for fear of being judged as not a "real man" and as a rule are not interested in self-exploration. "Not only do black men avoid self-disclosure in life, but they also hold negative attitudes toward help-seeking behavior," he said.

Many black men live with a sense of invisibility, "an inner struggle with the feeling that one's talents, abilities, personality and worth are not valued or even recognized because of prejudice and racism," according to Dr. Fleming.

They also tend to be suspicious of doctors, therapists and security staff, and may see them as extensions of the oppressive system. This "healthy cultural paranoia," as Dr. Fleming calls it is not particularly conducive to the possibility of change and growth.

Dr. Fleming suggests that the following approaches can break through those roadblocks and be effective for both mental health professionals and others who interact with this population.
Carefully assess your own beliefs about African-American men
Engage in professional development on working with black men
Consider the individual's background when interpreting their actions
Don't interpret the client's actions without fully understanding their problems and challenges
Recognize the reality and impact of socioeconomic barriers
Be aware of the structural pressures that African-American men face as a function of discrimination
For mental health professionals specifically, the following approaches can be useful:
Agree on the goals of counseling
Gear counseling toward promoting confidence, self-esteem and a sense of personal power and responsibility
See the client as the expert
Explore and redefine masculinity
Openly discuss shame
Evaluate interventions in relation to the cultural realities of the inmate's past and present life
In conclusion, Dr. Fleming said, "The goal is to be aware of how culture and society interact with health, to embrace differences and not to be afraid to integrate cultural awareness into the physical and mental health of all our patients."

Dr. Fleming will be presenting a preconference seminar on cultural competency at the Spring Conference on Correctional Health Care, April 21-24 in Minneapolis. Go to Spring Conferences on Correctional Health Care for more information.

Barbara Granner is marketing and communications manager at the National Commission on Correctional Health Care.
---