KUBI Camp Lets Children of Incarcerated Parents 'Just Be a Kid'
By Rachel Friederich, Washington Department of Corrections
Published: 01/01/2018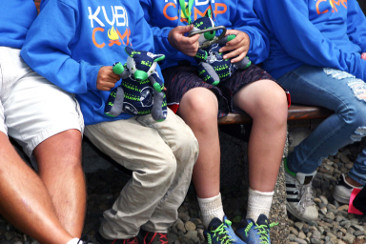 Twenty-two children hiked through the woods, swam in a lake, ate sloppy joes and sat around a campfire.

They laughed and giggled while doing normal kid stuff.

"I like the arts and crafts," said 13-year-old Ja'Shon.

"The archery is really fun," added his 12-year-old sister, Maliyah.

They're like most kids their age. Except they have a parent in prison.

The same was true for all campers at the Kids United By Incarceration summer camp, also known as KUBI. The Department of Corrections, in partnership with the Girl Scouts of Western Washington, hosted the camp August 28-31 at Camp Lyle McLeod, a slice of wilderness along Lake Bennettsen, just west of Belfair.

The camp is a way to give kids who have an incarcerated parent an experience they might not otherwise have been able to have. And to do so with peers, who are struggling with the same emotions and stigmas that can come with having a parent behind bars.

"Ultimately, it gives them the freedom to be who they are and there's no judgement here," said Cory McLaughlin, a classification counselor at the Washington State Penitentiary, who has volunteered at KUBI camps for the past couple years. He and other employees from at prisons, headquarters, and field offices from all over the state volunteer as camp counselors. "They know that every kid they're looking at has a similar situation to them and the great big secret they have isn't such a secret anymore and they can just be a kid."

KUBI camp launched in 2015. It was so successful the following year, Corrections partnered with the YMCA to launch a second KUBI camp in eastern Washington, at Camp Dudley in Yakima County. The eastern Washington camp, held Aug. 23-25, hosted 18 kids.

"I appreciate the agency staff who are giving their time to support this important effort at KUBI camp," said Corrections Secretary Stephen Sinclair. "While this is not our agency's typical work, it reflects the values of our agency by empowering those who want to learn and grow. The agency has always supported and engaged families in our facilities and those in community supervision, and KUBI camp is a different approach to help support strong families, which is in line with Governor Inslee's vision of safe and healthy Washington children and youth."

Ja'Shon and Maliyah have attended three camps. They say they spent a lot of time this year helping staff set up activities and serve as leaders, introducing new kids to camp.

He says it's hard learning how to talk about a mom or dad who is in prison.

"For some kids it was a little bit difficult because when I bring it up, then they start to cry," Ja' Shon said. "I try to cheer them up and say it's going to be okay."

Messages from Behind Bars

The camp also serves as a way for parents to stay involved in their kids' lives, even if they have to do so from behind bars.

Incarcerated fathers at the Washington State Penitentiary made hand sewn bears to give to the campers, while incarcerated mothers at the Washington Corrections Center for Women made the campers' t-shirts.

All the campers' incarcerated parents filled out applications and wrote letters explaining what it meant for them to have their son or daughter attend camp. Bea Giron, family services unit specialist, read the letters to each child on the final day of camp:

"Before I got in prison, I really struggled to provide the basics. KUBI summer camp would be an awesome opportunity to meet new friends, create some memories and come off of summer on a positive note."

"I want him to know that I want to be a part of his life, even though I can't take him to do some of these activities myself."

"My daughter has never been to camp before. I want to make a big impact in her life. She'll benefit a lot from this camp. It'll open her horizons to new things and let her see a whole new world instead of the environment she's used to."

"I want my boy to have fun and not be sad. He's a good kid who deserves a couple of days to enjoy nature and other kids whose parents are also incarcerated."

"It will help her with her self-esteem and other issues she may have. It means giving her something of her own, even if I can't be there for her and maybe she can learn some skills to help cope with my incarceration."

"I don't think it's about what it would mean for me, but more what it would mean for them. It would be an experience for them to appreciate and remember for years. These types of activities will have a positive impact on them. I want to be heavily involved in my children's lives and let them have the opportunity to explore what it means to them."

"I want them to know that they are not alone."

Rachel Friederich is a Communications Consultant for the Washington State Department of Corrections. She earned her bachelor's degree in communications from Central Washington University. She has worked communications and public relations for various Washington non-profit organizations as well as a reporter at newspapers and radio stations across Washington including The Daily World, Yakima Herald-Republic, and KGY-AM in Olympia.
---