Food Safety Starts in the Fridge
By Robert Kravitz, President AlturaSolutions
Published: 01/15/2018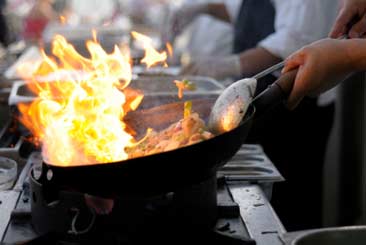 A 66-year-old retired but very active man, who worked out at a gym every day, died within 24 hours after eating at an Indiana restaurant. The man and his wife had just watched their 6-year-old granddaughter play her last soccer game of the season, and when it was over, decided to have a late lunch.

The man ordered a burrito and his wife, who also became sick, had a chicken enchilada. The granddaughter was not hungry and just ordered some rice.

About 1:00 am in the morning, both the man and his wife woke up with severe, flu-like symptoms. An ambulance was called, and both were taken to the hospital. The wife's condition soon stabilized and improved. Not so with the husband. He continued to decline with each passing hour until he died.

Referring to her husband, "one of the nurses said she had been in the ICU (intensive care unit) for 20 years and had never seen someone so sick," said the wife.

Indiana health inspectors scrutinized the restaurant where they had eaten their late lunch and cited the restaurant with 34 health code violations, 17 of them considered critical. Among the most prominent were the following:
Raw beef, pork, and chicken stored in the refrigerator above produce and dairy products. These items should always be stored at the bottom of the fridge so no drippings land on other food items.
Improperly cleaned kitchen utensils.
Employees that failed to wash their hands before touching different food items.
What was referred to as a "green, white, and fuzzy substance" on peeled garlic found in the refrigerator
Chicken, beef, salsa, and other food products stored at improper temperatures in the refrigerator.
Ultimately, it was determined that the man died—and his wife sickened—by a bacteria known as Clostridium perfringens, also known as C. perfringens. This bacteria is one of the most common causes of food poisoning in the U.S., and according to Foodsafety.gov, is most common in locations where foods are prepared in large quantities. "That's why outbreaks of these infections are usually linked to institutions such as hospitals, school cafeterias, and prisons."

If we take a closer look at these "prominent" code violations listed above, all but one could have been prevented— and this incident averted—with proper training. Making sure meat and poultry items are always placed at the bottom of a freezer or refrigerator; ensuring that all kitchen utensils are properly cleaned; proper handwashing; and tossing out anything that looks "green, white, and fuzzy" not only can be taught, but just takes common sense.

However, things get a bit more complicated when it comes to the refrigerator. Even if none of the other violations had been found, if refrigeration equipment is not working correctly, for one of many reasons, such an unfortunate incident could happen.

C. perfringens, according to Foodsafety.gov, will not grow in a refrigerator or freezer if kept at the proper temperature setting. But they also say it will "thrive" in temperatures above 40 degrees (F). In the U.S., commercial freezers are to be set at zero degrees or below and the refrigerator is to be set at 40 degrees or colder. However, "settings" and actual temperatures in the refrigerator may be two different things.

As mentioned before, this could be due to a variety of issues such as the unit simply not operating correctly, a door that has been left open or a unit that is opened and closed too often, causing warm air to enter.

Sometimes this happens when too much food is delivered and placed in the freezer or refrigerator at one time. Once again, it causes the temperatures inside the unit to become warmer.

This can especially be true in those correctional facilities that use a food service to prepare food for inmates. The service may deliver large quantities of food to be served over a two- or three-day period, possibly longer. Placing all that food in refrigeration equipment takes time, which can lower temperatures.

So how can correctional administrators address this temperature issue? We know C. perfringens is a significant cause of food poisoning in the U.S., impacts prisons, and can thrive when food is not kept at a proper temperature setting.

One option, according to Ed Sharek with DayMark Safety Systems, which manufactures products designed to enhance food safety, is to use what many restaurants and food service facilities now use: advanced technologies that continually monitor and log freezer and refrigerator temperatures.

"But they do much more than just monitor temperatures," adds Sharek. "If temperatures vary or enter what can be called a 'danger zone,' an alert is texted or emailed to administrators, making them aware of the problem instantly."

This allows administrators to take steps quickly before food spoils.

Because refrigerator temperatures were a problem in the Indiana restaurant discussed earlier, it is possible, if this technology had been in use, this incident may never have happened. They took risks that should never had been taken.

But with US correctional facilities now caring for more than two million inmates, we just can't take such risks. Fortunately, with new technologies, we do not have to.

Robert Kravitz is a frequent writer for the correctional industry.
---