Devastation: NJDOC Officers Aid Puerto Rico in Aftermath of Hurricanes
By Patrick Lombardi, New Jersey Department of Corrections
Published: 02/26/2018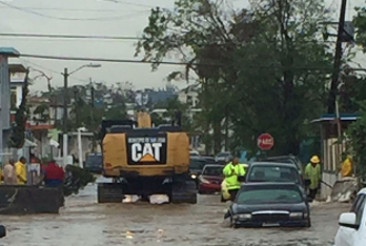 The United States territory of Puerto Rico recently was ravaged by two separate hurricanes within one month.

In the beginning of September, Hurricane Irma, a Category 5 storm, barreled through the island, causing several casualties and approximately $1 billion in damages. Before the month was through, another Category 5 storm, Hurricane Maria, destroyed the country's power grid and left millions without electricity. The storm took more than 30 lives and caused an additional $90 billion in damages.

New Jersey was among the first states to deploy agencies to the island following the second storm. On September 29, Governor Chris Christie announced that he would send more than 1,000 emergency responders to the island to assist in recovery efforts. Among the first responders was the Special Operations Group (SOG) of the New Jersey Department of Corrections (NJDOC), which consisted of eight officers from Central Office headquarters (COHQ) and three Correctional Emergency Response Team (CERT) officers from separate facilities. The officers were deployed to San Juan, Puerto Rico's capital and largest city.

The 11 officers had little time to prepare for their trip abroad, and not even the extensive media coverage could prepare them for the devastation they would witness in Puerto Rico.

"When we got down there, everything was in disarray," said Sergeant Kevin McGowan of COHQ.

Senior Correction Officer Mario Smester of CERT at East Jersey State Prison spent much of his childhood in Puerto Rico, visiting his grandparents for several months every summer until he was 14. He was distraught to see the effects of the storms.

"I know the beauty that was there, and it wasn't there anymore," Smester described. "The mountains that were once green were brown; the vegetation was gone; areas were destroyed."

Buildings had collapsed; palm trees were bare and uprooted, and much of the island's infrastructure was either destroyed or severely damaged.

"It was heartbreaking to see the state of the island when we arrived," said SCO Steve Hernandez of COHQ, who had just visited Puerto Rico last April.

The NJDOC officers faced long days as they worked to keep the citizens of San Juan safe and at ease. The officers would awaken at approximately four o'clock every morning to be at their posts by 7 a.m., where they would remain on their feet for 12 hours in the heat, wearing 30 pounds of equipment. But the officers noted that they weren't the only ones who faced long hours every day, as those who lived on the island were largely without electrical power and many vital resources but still sought to provide for their families.

"You had people waiting in line for three hours for one bag of ice or for one case of water," McGowan said. "And at the end of the day, there may be people still waiting in line, and they may not have gotten their bag of ice or the case of water."

Due to the storms' catastrophic impact, the individuals representing the agencies that were deployed to the island were some of the only respected, authoritative figures working each day.

"Directly after the second storm, only about 30 percent of Puerto Rico's police force showed up to work," Lieutenant Clay McClain of COHQ explained. "So there was a lot of additional lawlessness that was transpiring down there."

Before first responders from the U.S. arrived on the island to provide security, the citizens of Puerto Rico were worried about waiting long hours in lines with large amounts of cash in order to purchase necessities.

"Even when we first got down there, the citizens were apprehensive about us being there," said SCO Mark Wilson of COHQ. "We were down there for force protection and security, but we had to make those people who lived there comfortable, too."

The officers remained friendly and social with the San Juan residents, which allowed them to feel comfortable and more upbeat.

"By the third or fourth day, the residents were actually looking for us to talk to us," said McClain, adding that the residents also were happy to share their stories, even under the circumstances. "One family had 21 family members living with them, because the other houses they lived in were destroyed."

The people were thankful that the NJDOC officers were present each day, and they shared their gratitude in a number of ways.

"You'd have people who looked like they had nothing walk up to you with water and say, 'Here, officers, please take this,'" said SCO Charles Burkhardt of COHQ. "A woman on the street was selling food, and she gave some to Mark and the lieutenant, and she didn't want money. You'd have to throw it in her basket or else she wouldn't take it.

"Someone who probably lost a lot is giving you food and water," Burkhardt added. "That spoke volumes."

SCO Jaime Rivera of CERT at Edna Mahan Correctional Facility for Women stated: "We are out there helping them, and all they want to do is help us for nothing in return. It was a very humbling experience."

Since the officers would see many of the same people every day, they explained that they began to form bonds with them, making it difficult for the officers to depart when the two weeks were finished.

"I wanted to stay longer," said SCO Cisco Hernandez of CERT at Garden State Youth Correctional Facility. "I missed my wife and my kids, but even with those long days with the sun beating down, I wouldn't have it any other way. They were the longest, hardest weeks of my life, but they were some of the best weeks of my life as well."

Likewise, the San Juan citizens, workers and local police officers were saddened to see the NJDOC personnel depart.

"We had officers and civilians start crying, because they knew that our contingency was leaving," Wilson stated. "We were being replaced by another law enforcement aspect, but because we were that first deployment effort, they grew attached to us. And we grew attached to them too."

The NJDOC officers were thankful for the experience. They gave much of their time and energy to aid Puerto Rico and its residents as the country works tirelessly to get itself back to normal. The officers all agreed that they'd return to help in a heartbeat if the opportunity ever arose.

"It's always about the people," McGowan said.

Patrick Lombardi had been a staff member of the New Jersey Department of Corrections' Public Information Office since September 2016.
---