Sweet Science: Senior Correction Officer Is Fighting the Good Fight
By Matt Schuman, New Jersey Department of Corrections
Published: 03/26/2018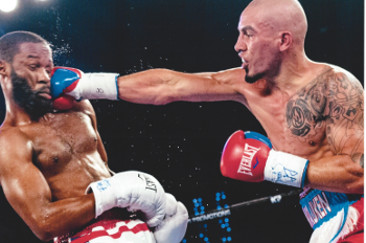 Corrections is Carlos Rosario's profession, but boxing is his passion.

"I feel so fortunate to be part of this department," said Rosario, a senior correction officer at New Jersey State Prison who has been with the New Jersey Department of Corrections (NJDOC) since June 2016. "I love the prison. I love the people I work with. There's not a day that goes by that I don't learn something new."

However, the place in which he feels most comfortable is a boxing ring.

"It's almost like an addiction for me," the 27-year-old Rosario admitted. "Even if I tried to stop boxing, I know I'd end up back in the gym. Not only is it the norm for me, but the vibes I get from everyone at home and in work is that they want to see me keep going as far as I can in boxing. So that's what I'm going to do."

After an outstanding amateur career, during which he compiled a 27-4 record and reached the state finals in the Diamond Gloves tournament, Rosario turned professional in the summer of 2014, shortly before going to work for the NJDOC. His 7-3 record includes a defeat in his pro debut, followed by seven consecutive victories, then losses in his two most recent fights.

"The seven straight wins came right around my time at the [Correctional Staff] Training Academy," Rosario noted. "I don't think that's a coincidence. In fact, my current training regimen is very similar to what I was doing at the Academy."

The two recent losses convinced him to take time off to focus on training. When he returns to the ring, it will be in a different weight class – 140 pounds, up from 130.

"I attribute both of those losses to weight cutting," he said. "They certainly were the two best fighters I've faced so far – they had a combined record of 20-2 – but there's no reason I shouldn't have been able to beat both of them if I felt 100 percent. At the time of the fights, I didn't feel like anything was wrong. But the tape doesn't lie. When I went back and looked at those fights, I could see things. I was wearing down as the fight went on.

"Going forward, we want to go into fights not having to worry about maintaining my strength and stamina for the entire fight," he continued, "so we have decided that my best fighting weight is 140."

By "we," Rosario was referring to himself and his older brother, Nick, who introduced him to boxing and serves as his trainer.

Although Nick Rosario never fought, he has long been a fixture at boxing gyms. By the time Carlos was 10, he was accompanying his brother to the gym on a regular basis, even though his father wouldn't allow him to actually fight.

Instead, Rosario participated in other sports, most notably wrestling. He went on to earn all-conference recognition in wrestling at Pennsauken High School.

However, boxing remained his first love.

"In the beginning, boxing was just a hobby for me," he related. "I enjoyed the workout, and the gym was a good place to burn off all of that energy that most young kids have. As I got older, I started to realize that I could only go to a certain point with wrestling, but with boxing, I eventually could make some money and hopefully fight for titles."

At age 18, eight years after entering a boxing gym for the first time, Rosario finally had his initial amateur fight.

"I remember being nervous and getting tired really quickly," he said, "but it was an awesome experience."

After a seven-year amateur career during which Rosario fought many of the top competitors locally as well as nationally, the decision was made to join the professional ranks.

"It's not an easy transition," he said. "You have to take off your headgear, fight with lighter gloves and fight four or more rounds [amateur fights are three rounds]. But after talking it over with my brother, I decided it was the right time to go pro."

His first fight as a professional was August 23, 2014, at Bally's in Atlantic City, a split decision loss to Grashino Yancy.

"I made my entrance with the music playing, the fans cheering, the whole shebang," Rosario recalled, chuckling. "I actually thought I won the fight, but even though I didn't get the decision, I definitely wasn't discouraged. I couldn't wait for my next fight."

He won that next fight, held at the Valley Forge Casino and Resort, just outside Philadelphia, by unanimous decision, then followed that with a knockout victory at the 2300 Arena in South Philadelphia. Five more wins, then two defeats followed.

Rosario is both excited and confident as he prepares to move up in weight class when he returns to the ring. He trains at least 20 hours per week, including five-mile runs four days each week.

"It seems as if everyone wants an undefeated record, but I don't really care about that," Rosario declared. "I just want to be known for having great fights and, hopefully, winning great fights. To do that, you have to face quality opponents, which I don't mind doing. I've already fought for a regional title" – his last fight was for the World Boxing Federation's Junior Regional North American Championship – "and I see no reason I can't fight for titles again."

He's unconcerned about the possibility that his power will be negated against bigger opponents, since larger sparring partners have assured him that his punching power is more than sufficient.

He also expects his cheering section in upcoming fights to be more than sufficient, especially if he continues to fight in New Jersey or Southeastern Pennsylvania.

"When I first turned pro, all I had were family and friends coming out to my fights," he said, "but since I've been at the Department of Corrections, a lot of my co-workers have been at my fights, and it's really increased the size of my fan base. I can't tell you how much that means to me."

Matt Schuman is a former newspaper reporter and editor who serves as the Public Information Office for the NJ Department of Corrections. He has been with NJDOC since 2000.
---