Accountability Letters Kindle Remorse, Healing
By Rachel Friederich, Washington Department of Corrections
Published: 03/05/2018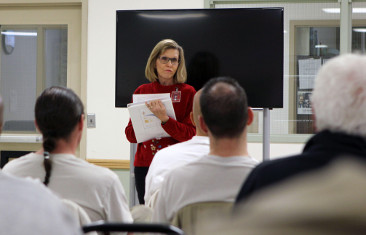 Photo: Judy Dutcher (center), facilitates a Bridges to Life class at Monroe Correctional Complex. She regularly promotes the Department's Accountability Letter Bank program, which allows inmates to write letters intended for their victims so they can take responsibility for their crime and express remorse.

Judy Dutcher spent years in a dark place after a neighbor murdered her 13-year-old daughter in 1989.

She never thought receiving a letter from the person who killed her daughter would be the key to helping her feel whole again.

"Reading a sincere letter from the person who has caused harm to you or a loved one can make the difference between carrying around anger and hate and finally feeling some peace again," Dutcher said. "It helped me to release the bitterness in my heart that was eating away at me for so many years."

She received the letter through the Texas Department of Criminal Justice's "Offender Apology Bank" program. It lets inmates write letters to their victims to let them know they've taken responsibility for their crime. It also gives them a chance express remorse and share steps they've taken to change their lives. Staff place the letters in the letter bank, where they remain until a victim asks to receive them. Washington state's Department of Corrections launched a similar "Accountability Letter Bank" in 2015.

Dutcher, who now lives in Port Orchard, Wash., regularly promotes the letter bank in a course she facilitates in prisons called Bridges to Life. Throughout the course, crime victims visit inmates in the prisons. The victims share stories of how crime adversely affected their lives. None of the people who speak in the course are victims of specific inmates in the program. The idea is to build victim empathy to deter inmates from committing another crime after they get out of prison.

"Since the murder of my daughter, Kelly, it's been very important to me that those who commit crimes hear 'the other side of the story,' so they know the tremendous impact and hardship they have inflicted on others," Dutcher said.

Use of Letter Banks

Washington is one of only 12 states that have a letter bank program. Since its launch 2 ½ years ago, victim services staff has tried to generate more interest in the letter bank among inmates and victims. In addition to promoting the letter bank among inmates in Dutcher's class, Victim Services placed information about it on the on the DOC's public website. It also created a brochure about the letter bank that can be distributed to victims.

To participate in the program, victims must enroll in the victim services notification program and ensure the "accountability letter bank box" is checked.

Victim Services Manager Steve Eckstrom estimates approximately half of the victims who enroll for notifications have "opted in" to receive potential letters an inmate may write them since the option has become available. He hopes to create further awareness of the letter bank for victims who enrolled years ago, but never had the option to participate.

Eckstrom says letters might be able to answer questions victims have only an inmate can answer, such as why he or she committed the crime. The letters could also give inmates a chance to talk about other events led up to the crime. Finally getting those answers could potentially give a victim a sense of resolution and a chance to stop wondering about the unknown.

"When victims hear a defendant deny they committed the crime in court , or minimize their responsibility during a sentencing hearing, it can add to the fear or pain that they feel, or leave them with an abiding anger that can't be resolved, "Eckstrom said. "They often struggle with the perception that the person who may have caused grievous harm to them or to a loved one never took responsibility for what they did. Receiving a letter from the inmate accepting and acknowledging his or her responsibility can, for some folks, help relieve the burden of carrying that unresolved anger or fear."

The process for submitting a letter is complex. Writing a letter is completely voluntary and it has no impact on an inmate's custody level or release date. Letters must also meet a strict set of guidelines. It must communicate an inmate's understanding of the harm he or she caused and acknowledgement of the crime. Victim Services staff review the letter for appropriateness. It cannot contain any threats or derogatory language.

Inmates in Washington prisons have submitted around 50 letters, Eckstrom said. There hasn't yet been a situation where a victim has opted into the letter bank program and read a letter addressed to them, Eckstrom said, noting sometimes it can take years for someone in prison to feel they are ready to acknowledge their responsibility for a crime. He also noted receiving a letter from the person who committed a crime can conjure up a lot of painful emotions for a victim, and sometimes they decide later they don't want to receive a letter after all.

Other states that run letter banks have reported various amounts use. The Washington DOC did an informal survey of letter bank use in other states. Pennsylvania, for example, has operated a letter bank since 2012. As of Sept. 31 of last year, it had received 3,709 letters. Of those, approximately 250 had been delivered to victims. The state of Kansas has operated a letter bank since 2002. It had received 207 letters by the end of September, 2017. Of those, 22 had been delivered to victims.

A Rehabilitation Tool

Inmates say the letters have helped with their rehabilitation.

Derrick M., 26, has been incarcerated for the past 11 years for second-degree murder.

He wrote a letter to his victim as part of the Bridges to Life course. He said he was able to figure out what led him down the path to crime. Derrick said his father was murdered when he was a boy and the case went unsolved. So he got involved with the 'gang life' to deal with his pain and anger.

"I myself was a victim of crime, and I was always judging the man I couldn't see," Derrick said. "When I committed my crime, I only focused on harming one person. In reality, I was hurting my victim's family members in a deep, emotional way… I've matured in many ways since that violent day. I've denounced my gang membership years ago and have taken great strides to become a productive, not destructive, member of society."

Jonathom O., 39, is serving a 22-month conviction on drug charges at Monroe Correctional Complex. It's his second time in prison following other drug charges and failing to register as a sex offender in Pierce County. He says he wound up in prison again because he never truly accepted responsibility for his past crimes. Writing accountability letters has helped change that.

"For me, the best part about writing the letters is that once I have it in black-and-white, I can't deny it to myself anymore," Jonathom said. "It leaves me no more room for self-deception or minimizing it."

There's no guarantee Jonathom's nor Derrick's victims will ever read the letters intended for them. But something good may still come of it, according to Eckstrom.

"If writing a letter, even if it never gets read, if it gets an inmate to think about the past, present and future, it's worthwhile."

Rachel Friederich is a Communications Consultant for the Washington State Department of Corrections. She earned her bachelor's degree in communications from Central Washington University. She has worked communications and public relations for various Washington non-profit organizations as well as a reporter at newspapers and radio stations across Washington including The Daily World, Yakima Herald-Republic, and KGY-AM in Olympia.
---