Focusing on Living
By Sgt. Bobby Hike
Published: 03/12/2018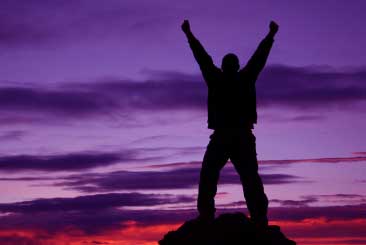 A friend recently passed after battling cancer for almost 2 years, and one thought about him keeps resonating in my mind. When he received his diagnosis, his family was devastated — but he did not fret. He stepped back and looked at the situation, then told his friends and family not to worry. His new focus in life would now be on living, not dying.

He spent the last 18 months of his life serving everyone around him, and he never lost his focus on this. He traveled to multiple countries and helped spread his message, mentoring many youth and couples through his church.

How could someone do this, you might ask. He had a plan. He ignored his pain and suffering, and focused on serving others. He woke up each day and reprogrammed himself mentally and physically to live the day with this focus.

What could this mean for you and me? How often do we press the reset button? How important is it to start the day off afresh, refocusing on what is important in our lives or in the lives of others? How often do we do something for others, but really expect that they pay us back in time or money? I think we are all able to reset in this way after a long weekend or maybe a vacation, but how long is it before we slip back into our comfort zone? Because it's way easier to do that than to maintain our new focus, right?

I can tell you what this means for me and my life. I realize that it's not about me. Of course, I have things I need to accomplish on a daily basis and goals to attain, but that should never stop me from helping others or taking an extra minute when I see someone struggling. I find more and more that we get so immersed in the busyness of life, that we forget (I forget) what is really important. Life is really pretty simple, but we let it get too complicated. I know what it means to live for me. If I don't feel like I'm making a difference, I'm really just going through the motions, and I don't want to live like that. Each life we change or affect for the better matters and can create a ripple effect that affects many, even though we may never know about it.

If you haven't tried hitting the reset button, I suggest you do. But make an effort to do this on a more routine basis. Ask yourself, "What mark will I leave?" Next time a co-worker, friend, or family member asks you for something or tells you something, I challenge you to stop what you're doing and what you're thinking and truly listen. I challenge you to take time each day to make a difference, to do something for someone, even when it's not convenient for you. Most of the time in our type of work we will never see what positive effect we have, but that shouldn't stop us. Know that with the right focus, you will change those around you. My job is to make those around me better, but I can't do that if I don't believe I've got what it takes. I can't help those around me unless I find a way each day to cleanse my soul from the bad things I have seen.

My friend's body eventually began to fall apart from the cancer. Shortly before he died, despite of the pain he must have been feeling, he asked his family, "Did I do enough?"

Day by day I can and I will make a difference.

Day by day, I will focus on living.

This article as been reprinted with permission from the February 2018 Issue of Correctional Oasis, a monthly e-publication of "Desert Waters Correctional Outreach".

Sgt. Bobby Hike is a 14-year veteran of the Douglas County Department of Corrections in Omaha, Nebraska. He works mostly in segregation and medical, and has been involved in the Training Department for about 10 years.
---