CCHP Test-Takers Laud Convenience, Speed and Accuracy of Computer-Based Testing
By Katie Przychodzen, National Commission on Correctional Health Care
Published: 03/12/2018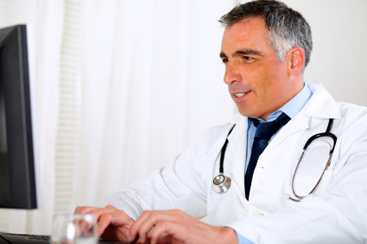 The following has been reprinted with permission from the Winter 2018 CorrectCare publication.

Last year, NCCHC partnered with PSI/AMP to offer computer-based testing to those taking the Certified Correctional Health Professional exam or one of the CCHP specialty exams (Mental Health, Physician, Registered Nurse). PSI/AMP offers testing services solely to health care certification organizations and has more than 30 years of experience and more than 100 clients. Prior to NCCHC's partnership with PSI/AMP, candidates had to take the written exam at an NCCHC conference or at one of the regional sites organized a few times per year.

With computer-based testing, candidates can opt to take the exam at one of 300 testing centers nationwide, at a time that fits their schedule. Additionally, those who choose computer-based testing get their exam results within two weeks, versus six weeks for the written exam.

We asked a few recent testers to share their experiences with the new computer-based format.


---


Rio Manalang, MSN, APRN, CCHP-MH
Clinical Mental Health Provider, High Desert State Prison, Indian Springs, NV
Testing details: CCHP-MH exam, January 25, Las Vegas

Q: Why did you decide to test when and where you did?
A: I initially planned on taking the exam at the National Conference in Chicago last November. Due to budgetary constraints, plus the fact that I was not able to prepare adequately for the test, I decided to take it later after it was announced that the exam can be taken at local testing centers.

Q: What made you want to take the exam?
A: After passing the CCHP examination, I was determined to take the CCHP–Mental Health exam. At High Desert State Prison I am the facility's primary clinical mental health provider. I feel the CCHP-MH credential validates my work.

Q: Describe the exam application process. What was easy? What could have been improved?
A: The application process for computer-based testing is the same as for the written exam (submitting an application along with valid credentials and the exam fee). After I postponed taking the examination at the conference, I later registered to take the test at the PSI testing center. The process was easy, and I was able to complete everything online. This process seems to be smooth and efficient.

Q: Did you prefer the computer-based test to the written exam?
A: I took the initial CCHP exam in one of your regional sites in Los Angeles last June. There was not really much difference in terms of the exam content. However, I am old school, so I feel I had more confidence answering the written one than the computer-based exam. I found it easier to go back to my "uncertain" answers with the written examination. But if computer-based exams are the way to go, then I have no reservations taking another one.

Q: Would you recommend the computer-based exam to a colleague interested in taking the CCHP or CCHP specialty exam?
A: Yes, I would recommend taking the computer-based exam at a local PSI testing site, particularly to examinees who are adept with technology. Aside from the convenience and savings of not having to book a hotel room, one could use any extra time for "cramming" (like I always need) if the test site is nearby.

Q: What general comments or questions do you have about the computer-based exam?
A: Nothing except keep up the good work of being proactive for those aspiring to be good correctional health providers!

Patricia Blair, PhD, JD, CCHP-RN, CCHP-A
Health Law Attorney, The BLAIR Firm, Tyler, TX, and NCCHC board member
Testing details: CCHP-RN exam, January 2, Houston

Q: What inspired you to take the CCHP-RN exam?
A: I am a registered nurse as well as an attorney. As an NCCHC board member, I represent the organization and believe that I should have all the credentials that NCCHC offers in order to show my commitment to its mission.

Q: What was the process for finding a testing center and scheduling the exam?
A: I was given the website address. I followed the instructions. It was a matter of clicking on the exam I wanted to take with a particular certifying organization. Scheduling required that I know what dates and times I could be available to take the exam and comparing that with available testing dates, so scheduling was not a problem.

Q: What did you like and not like about the computer-based testing process?
A: The process was straightforward. The testing center representative gave clear instructions prior to my entering the computer room. I followed the directions and had no problems. Although I took care of personal needs – bathroom, eating, etc. – prior to testing, it's worth knowing that a break would cut into the testing time. [Note: This policy also applies to the written exam.]

Q: Did you prefer the computer-based test to the written exam?
A: Yes, I prefer computer-based testing. For me, it's easier to take on a computer than in longhand. It also allows for corrections without too much stress. And it's convenient as far as time and location.

Q: Did you interact with PSI staff? If so, what was the reason for the interaction? Were they helpful?
A: Yes. I needed to give information to confirm my identity and also to make sure that I was not bringing any material in that would potentially compromise the testing process. The PSI staffer was very helpful, professional and easy to communicate with.

Q: What general comments or questions do you have about the computer-based exam?
A: I am happy to know that NCCHC has progressed to this level of testing. I also appreciate not having to wait for a long time for test results; I got my results in a week.

Mandy Altman, MPA, CCHP
Correctional Health Program Manager, Hepatitis Education Project, Seattle
Testing details: CCHP exam, January 19, Bellevue, WA

Q: Why did you decide to test when and where you did?
A: I appreciated the convenience of being able to take the test locally. I also like electronic tests more than paper tests.

Q: What inspired you to take the CCHP exam in the first place?
A: Many colleagues have suggested that I achieve certification to gain more opportunities to work in correctional health. I am a health educator and work in various correctional facilities in Washington State and work with correctional health care professionals across the country and internationally. I think having a standardized credential that is recognized by correctional health care staff and administrators is an asset to me as I work in so many different facilities.

Q: What was the process for finding a testing center and scheduling the exam?
A: I was able to easily search for an exam center that was close by and pick a date and time that worked for me.

Q: What was easy to use or understand about the computer-based testing process?
A: The instructions for the exam were clear and it was easy to progress through the exam.

Q: Describe the testing facility. What did you like or not like about it?
A: The facility was in a convenient location with easy parking. There were several different testing and education businesses in the building, which made it a bit confusing to find the right place. The testing center was a bit impersonal, and there are many different people taking tests for a variety of subjects. Also, the testing facility required several forms of identification and took my picture, which I wasn't expecting. There wasn't a sense of trust in the test taker, but that is understandable given the variety of important exams administered.

Q: Would you recommend the computer-based exam to a colleague?
A: I would absolutely recommend the computer-based exam to anyone taking the CCHP or CCHP specialty exam. It's very convenient to take in your own community, and taking the computer-based exam feels faster and easier than an old-school pencil and Scantron that paper-based exams are administered on.


---
SIDEBAR

NCCHC's new CEO, James Pavletich, recently earned his CCHP credential after testing at a PSI center in downtown Chicago on December 22. "The exam content fairly and accurately measured my knowledge of the Standards," he said, "and the PSI environment was very conducive to testing – clean, quiet and comfortable, with new equipment and a friendly staff. I prefer this format to the many written tests I've taken over time."

The CCHP exam and specialty exams will continue to be offered at NCCHC and partner conferences in paper-and-pencil format. The next written exam takes place at NCCHC's Spring Conference in Minneapolis on April 22 and exam applications are due March 16.

Katie Przychodzen, MA, is marketing and communications manager for NCCHC.

For more information on the computer-based exam and to apply, please visit www.ncchc.org/cchp. For a short video on what to expect at a PSI test center, go to https://online.goamp.com/CandidateHome/CandidateInformation.aspx.
---