You Can't Say That in a Classroom
By Joe Bouchard
Published: 03/26/2018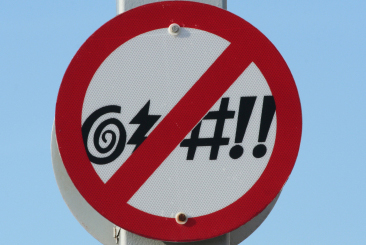 The following is an installment in "Icebreakers 101 - Volume IX: UNDAMMING THE ICE", a series featuring "Ice Breaker's" designed to promote training awareness and capabilities in the corrections industry.

Chances are you will hear swearing every single day while you work in corrections. To most, it is not unusual. In fact, it is as normal part of the job as a burn is to a fry cook. But profanity can polarize staff and cause bigger problems than initially suspected.

Is it realistic to think that profanity will disappear from our worksites? That will never happen. But, we can control what comes out of our mouths. It is a simple matter of modifying habits and thinking before speaking.

Whatever your stance on 'swear words', it remains that corrections professionals are under intense scrutiny. And profanity can lead to time consuming endeavors. Sometimes investigations are launched over words that are construed as demeaning or of a sexual tone. What starts as a joke or a different sort of expression can become harassment.

This is not just a corrections phenomenon. Comedian George Carlin shocked the world in 1972. There were, in his estimation, seven words that you could never say on television. From that monologue, Carlin expanded it to 300 plus words over a decade later. With the rise of cable television, changing of standards, and pushing of envelopes, things changed.

Not too long before the writing of this icebreaker, a colleague and I were discussing a topic that (to the untrained professional) sounded less-than-professional. In fact, it was a mental exercise. We were trying to compile an a – z list of expletives. Oddly, one really must think hard to find twenty-six swear words (one for each letter). The project was placed on hold until we can fill in the last few elusive profanities.

This prompted the idea that this compilation is an example of an icebreaker one can never say in class. No matter how funny, engaging, or even how instructive that could be, "The Expletive ABC's" is forbidden in an agency for which we worked. It is not that there is not foul language in our worksites. However, work rules and professionalism officially preclude use of those words by employees. Granted, there is the real and the ideal.

But we know when we have to employ the latter and when the former may be acceptable.

Still, we can assess how we train corrections staff and criminal justice students by employing a few questions. List these on the board or on a projected word document to keep the ideas flowing.


What are some topic that we cannot officially talk about as corrections professionals while on the job?
Is the training room exempt from these rules?
Make a list of training topics you can never experience in an agency such as this. DO NOT develop the training. Rather, just list the topic. Here are a few examples:

Sexual positions – a poll
Drinking 101 with actual alcohol on hand
Cigarette, drugs, and pills – a hands on sampler
Mean things to call convicts

Why are these things forbidden topics? Will discussion of the topics potentially harm the agency?
This is a great segue into modules that cover employee rules, discriminatory harassment and humane treatment of offenders.

So, give this icebreaker a whirl. You may even learn a bit about yourself and the participants. In fact, you might even have a (expletive deleted) time!

Joe Bouchard is a Librarian employed with the Michigan Department of Corrections and a collaborator with The International Association of Correctional Training Personnel (IACTP). He is also the author of "IACTP's Corrections Icebreakers: The Bouchard 101, 2014" and "Operation Icebreakers: Shooting for Excellence" among others. The installments in this series include his opinions. The agency for which he works is not in any way responsible for the content or accuracy of this material, and the views are those of the contributor and not necessarily those of the agency. While some material is influenced by other works, all of the icebreakers have been developed by Joe Bouchard.

Visit the Joe Bouchard page

Other articles by Bouchard:
---