Breaking the Chain
By Joe Bouchard
Published: 04/09/2018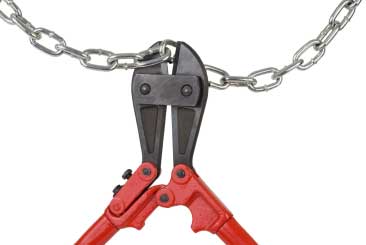 The following is an installment in "Icebreakers 101 - Volume IX: UNDAMMING THE ICE", a series featuring "Ice Breaker's" designed to promote training awareness and capabilities in the corrections industry.

The chain of command is important in corrections. It is a great way for question to filter from the ranks and for answers to disseminate. And many times, when there is confusion over a situation that has not yet happened before, a broken chain may be the blame.

Not long before I crafted this icebreaker, I had just one person show up for a class which I was teaching. It was an unusual occurrence, as attendance had been strong up until that point. Still, one had to wonder why. If fact, we two – student and I, the instructor- pondered the reasons that just one person showed for class. The theories between me and the student were many:
Mistake over extended spring break
Spring fever
Many could not contact me because of emergencies
Bouchard made a mistake
The semester is too long.
Still, much to the amazement of the lone student, I covered that which I had set out to do with a full class. When the full class reconvened the next week, I asked two questions.
Given the circumstances, what would you do if they were in my shoes? They answered:

Continue with class
Call students
Email
Close class
Go home

If I, as a professor did not show up but they did, what should punishment they should be able to impose in me?

Nothing – probably an emergency
All 'a's for everyone
I would go back home
Pick up where we let off next week
Extra credit for final exam.
Propose that scenario in terms of your training program. Ask the participants both of the bolded questions above.

This segues nicely into a communicators or chain of command module. Our vocation runs on good communication and the chain command is a framework for this. A discussion of this is best achieved by issuing the guideline that real names and scenarios shall not be used as examples. It is best to make it generic and broad. Some discussion topics for this are:
Give an example of a chain of command that is too lax.
Give an example of a chain of command that is too rigid.
How would corrections run without the uniformity offered by the chain of command?
Joe Bouchard is a Librarian employed with the Michigan Department of Corrections and a collaborator with The International Association of Correctional Training Personnel (IACTP). He is also the author of "IACTP's Corrections Icebreakers: The Bouchard 101, 2014" and "Operation Icebreakers: Shooting for Excellence" among others. The installments in this series include his opinions. The agency for which he works is not in any way responsible for the content or accuracy of this material, and the views are those of the contributor and not necessarily those of the agency. While some material is influenced by other works, all of the icebreakers have been developed by Joe Bouchard.
Visit the Joe Bouchard page
Other articles by Bouchard:
---